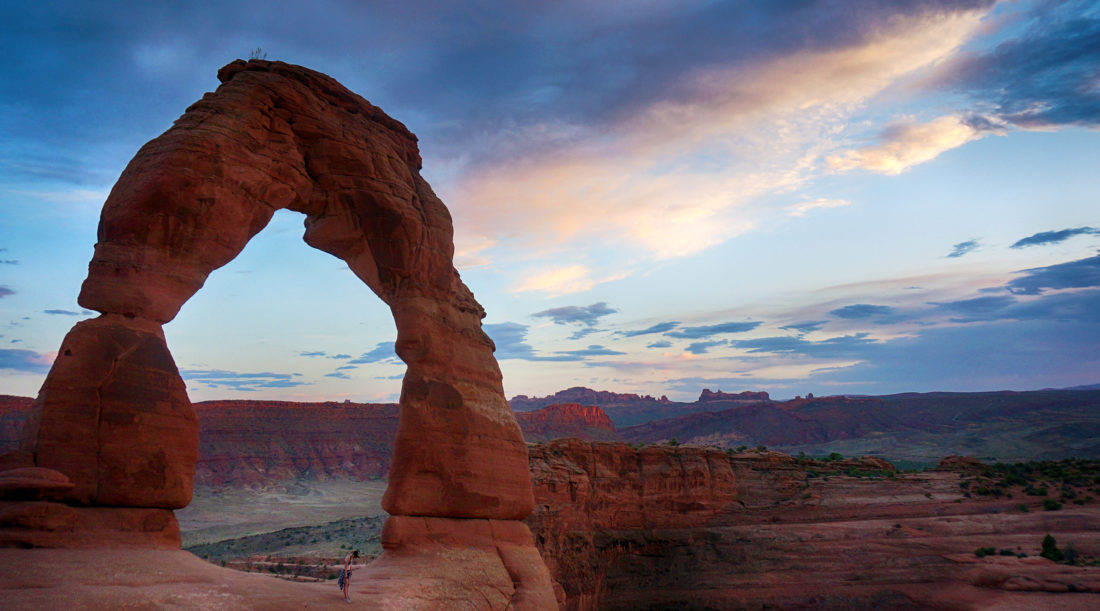 As a day trip from Moab, we headed in early June to the fourth of Utah's "Mighty Five" national parks, Arches.  Actually, we did this several times!  Arches is just a few minutes from Moab, and since it was insanely hot, we decided to do multiple, shorter trips in the mornings and evenings.  (National parks: the only good reason to wake up early.)
Arches is a desert park chock full of huge, stunning rock formations.  The most famous formations are the natural rock arches, but there's quite a lot more, sprinkled seemingly at random throughout the otherwise empty landscape.  For example, near the entrance is a formation called Park Avenue, a massive – but thin – rock wall which evokes Manhattan skyscrapers.
Another famous landmark is called Balanced Rock, visible throughout much of the park's scenic drive.  The eponymous rock is the size of three school buses, and it somehow sits on an impossibly small pedestal, 128 feet above the desert floor.  Someday it will fall – but hopefully not while any tourists are nearby.
Arches Square
Park Avenue and Balanced Rock were cool, but we came to Arches for one thing: arches!  The park is well named, with over fourteen billion natural arches present inside its boundaries (approximately).  Beautiful arches were found practically everywhere we looked.  Our favorite of these was the magnificent Double Arch – note how small the person in the photo appears:
There were a lot more arches to be seen, all with unique names that we have since forgotten.  Arches is definitely more fun to show than tell, so check out a few of our favorite arch photos below.
















Most of the arches were found along the Devil's Garden trail, an extremely cool hike which took us through, around, and over tall rock formations that looked much like shark fins.  Well… maybe not entirely "cool," since it was 100 degrees by noon, but we endured for the sake of adventure.
















A Utah Delicacy
After roasting on our Devil's Garden hike, we took a break from the heat for a couple days before returning to Arches one evening near sunset.  Our aim was to visit the most famous landmark in all of Utah: Delicate Arch.
You may not have heard of it, but this iconic arch shows up everywhere in the state.  It's even on their license plates!  And although we were prepared to be disappointed by the hype, we found that Delicate Arch more than lived up to its reputation.
The arch is gorgeous in person.  It really is a perfect arch, tall, thin, and gracefully proportioned, and we were lucky enough to capture it during an incredible sunset.  We took a lot of photos on our trip, but our Delicate Arch pictures are some of the best.
One thing you don't see in our photos are people, but trust us, it was crowded.  Arches is a pretty busy park in general, and Delicate Arch particularly so.  We had to snap our pictures during the brief windows between selfie-takers, which isn't that unusual but does add a degree of difficulty.  There was quite a crowd sitting in the amphitheater-like area overlooking the arch, just watching and enjoying the sunset.  It made for quite a silhouette.
Twinkle Twinkle
It was dark as we headed back from Delicate Arch, so we decided to try something we'd been meaning to do for a while: night photos!  We stopped near Park Ave., got out our tripod, set up the camera, and… realized we had no idea how to take night photos.
Luckily for us, a young man on a motorcycle stopped to take his own photos, and he noticed us peering at the buttons on the camera and Googling things like "night photo how" on our phones.  He was kind enough to give us a quick tutorial and help us get set up, something we're eternally grateful for.   And with a little help from our new friend, the night photos we took at Arches turned out pretty well!  They're a little blurry and digitally "noisy," but we're still happy with how they came out.
It doesn't look it in the photo, but it was almost pitch-black outside.  However, the camera collects enough starlight over thirty seconds to light the entire shot.
By the way, after our photographer friend left to go further down the path, there was silence for a moment.  But he must have found another group, because we soon heard him patiently give the same tutorial to another group of clueless newbies.
Something tells us there's a business opportunity there.