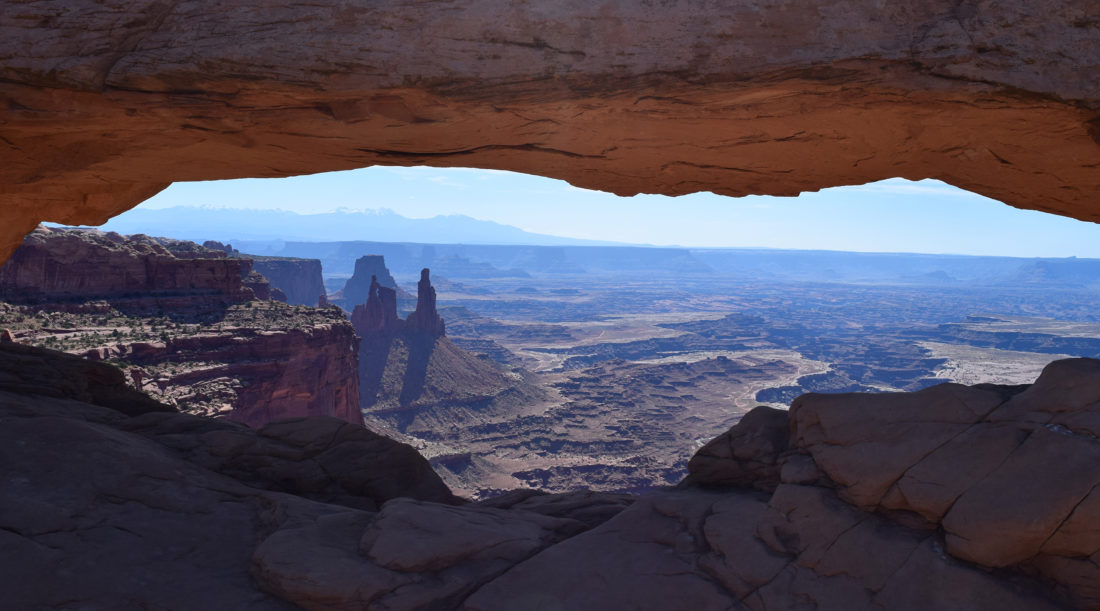 Week 49.2: Canyonlands
Sorry, friends, it's been a while since we posted one of these.  But now we're back!
Let's return to early June.  As our final day trip from Moab, we headed out to Canyonlands National Park, the final of Utah's "Mighty Five" national parks.  Canyonlands is split into three districts, and we visited the most popular and well-developed district, "Island in the Sky."  We had also planned to visit The Needles, another district to the south which focuses on hiking, but we ended up skipping out due to the constant 100+ degree temperatures.
Canyonlands' third district is known as The Maze, and it is a natural preserve devoid of services, "one of the most remote and inaccessible areas of the United States."  We weren't too keen on recreating the events of 127 Hours – which took place just to the west of Canyonlands – so we decided to stick to Island in the Sky.
We have no regrets.  Island in the Sky's evocative title is fitting: this section of the park encompasses a massive, flat-topped mesa, and the district's scenic drive took us around the rim of the plateau for stunning views in every direction.  The park reminded us of the Grand Canyon, and although the vistas may not be quite as spectacular, they are much more varied and weird.
And we like weird.
You Got Your Arches in My Canyonlands
We started things off with an incredible view – through an arch located on the edge of a cliff.  It was pretty early in the day, so we probably didn't fully appreciate how cool this was at the time.  But that's why we take photographs!








Awesome.  After the arch, we had fun climbing around on some giant, spherical mounds that arise out of the center of the plateau.  They connect to each other on each end, looking a bit like a giant stone caterpillar or snake.









To be honest, it wasn't that thrilling in person, but the surrounding terrain was beautiful.







As you can see, we took a lot of nifty photos of each other standing on cliff edges at Canyonlands.  For the below shot, we wandered slightly off the trail to take some cool adventure shots.  Jake had everything lined up when a Swiss hiker saw what we were doing and decided to get his own photos.
He did this by walking directly into the frame, then up next to Heather – where he proceeded to stand and obliviously admire the view for about ten full minutes.  Seriously.
That's fine, random Swiss guy, take your time.  We're just standing around here, holding a camera and posing and glaring at you, for your own amusement.  At least the photos turned out pretty well, once he left.
I can see for miles and miles…
After the crater, we stopped for lunch at one of the prettiest picnic spots you will ever see, located right on the edge of the plateau.  The pictures don't quite do it justice, unfortunately.
From there, it was just one stunning overlook after another.










If you need an awesome picture for your Facebook profile, we recommend Canyonlands.
Roads go ever ever on
On our way out, we stopped at an overlook we had skipped in the morning.  (As crafty national park veterans, we knew its east-facing view would be better once the sun had risen higher.)  There was a rather cool cliff to stand on here, and walking the narrow ledge to get there was only slightly gulp-inducing.
We love that shot, but we mostly wanted to draw your attention to the road you can see running down the canyon.
That's White Rim Road, a crazy, 100-mile dirt road that you can drive with a 4×4 vehicle.  We actually saw someone driving it in a jeep.  It takes 2-3 days to drive the whole thing, at which point we assume you are helicoptered out because you had to saw off your own arm.
Here's how you get down.
Dead Horse Point State Park
OK, so you've already gotten the cliffside arch, the stone caterpillar, the crater, the overlooks, and the crazy dirt road – but wait, there's more!  Right next to Canyonlands is Dead Horse Point State Park, which was named after early settlers herded wild horses onto the plateau, tamed a few, built a wall to hold in the rest… and then inexplicably left all the horses to die of thirst.
Sorry, horses, that's some pretty terrible stuff.  Today, the park exists as basically a single, $10-per-vehicle overlook, piggybacking off of the national park next door.  But man oh man – what an overlook!














One of the prettiest views we've seen.  If you're curious, the bright blue water in the last few photos is from a potash factory.  Obviously unnatural, but kind of beautiful anyway.
That's the end of this blog post, and as it turns out, the end of our stay in Utah.  Stay tuned for a quick diversion to Colorado before we get to the biggest, baddest parks of them all.