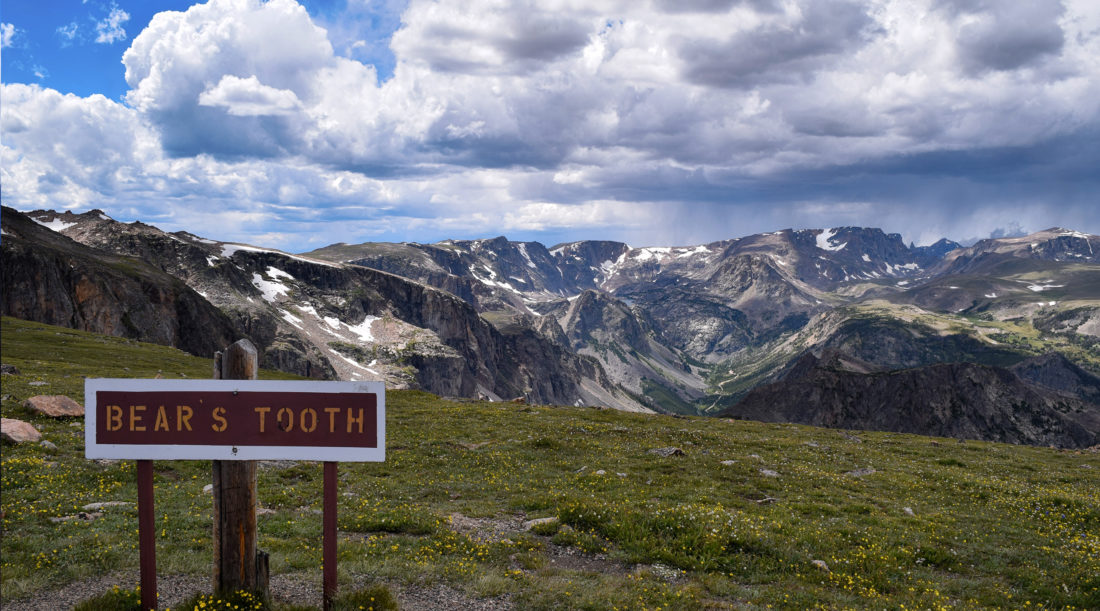 Week 55: Beartooth Highway
We traveled southeast from Glacier just over one year ago, on July 13, 2016.  (Yes – that means we have officially lapped ourselves in blog post writing!)  We drove across rolling farmland through rural Montana, an area exactly as desolate as it sounds.  We noticed with a bit of sadness that each hill was a little less roll-y as we moved away from Glacier and the Rocky Mountains.
Our first stop was Great Falls, Montana, because unlike the east side of Glacier, Great Falls was large enough to have a Target – and even better, wi-fi at the RV park!  Blessed, blessed wi-fi.  Plus, Jake's dad was flying out of and staying overnight in Great Falls after spending a few days visiting the Fischers near Grand Teton.  So we had a nice reunion and some tasty food at – where else?  The local Jakers Restaurant.
Gesundheit
The next morning, we once again drove southeast through rural Montana farmland, cutting a zigzag path through one of the country's emptiest states.  We eventually made it to a real highway (I-90), and stopped for two nights in the tiny town of Columbus, Montana.  Our destination was a free, town-run campground, curiously called Itch-Kep-Pe Park.  We never found out the origin of the name, but for free, it was certainly nice. Itch-Kep-Pe Park sits on the banks of the Yellowstone River, and some spots offered amazing river views (but not ours, sadly).
One night, we heard a camper in a tent nearby getting sick outside.  An unexpected benefit to living in a motorhome is that you have your house with you when you travel, and so we happened to have Pepto Bismol on hand.  It's just like lending your neighbor a warm, pink, goopy cup of sugar.
Highway to the Danger Zone
While staying at Itch-Kep-Pe, we took a drive down to see the Beartooth Highway.  The road runs from Red Lodge in southern Montana across the Wyoming border, ultimately leading to Yellowstone National Park.  It's one of the most famous and beautiful highways in the country, switchbacking up steeply through beautiful mountain country and then cutting across a high ridgeline for miles.













After climbing the mountain, you arrive at a meadow formed by glaciers, with boulders and lakes around every bend.

















And full of hairpin turns.
This would be an extremely bad place to bring an RV, but we saw people trying anyway.  We didn't drive the entire length, as the road climbs to more than 12,000 feet and Jake began getting a headache and altitude sickness.  (Also, we had just been in Yellowstone!)  Nonetheless, there were some amazing views.
On the way back, as we passed through Red Lodge, we noticed an incredible number of motorcycles and bikers parked on the town's main drag.  We had unknowingly visited during the Beartooth Rally, a large motorcycle gathering that attracted all sorts of people wearing leather.  We didn't stay – it was a little intimidating, to be honest – but it nicely foreshadowed something we would soon be walking into face-first.
We'll save that story for another time.