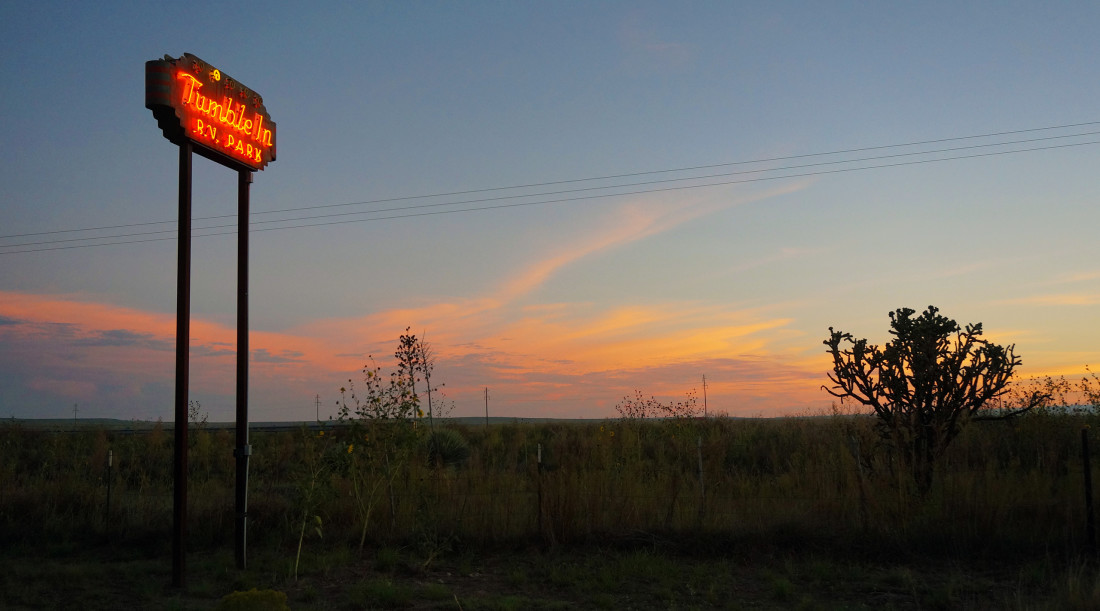 Week 17: Tumbling In To Marfa
After a brief stay at the spectacular Caverns of Sonora, and carefully avoiding some crazy flooding, we headed west to our second-to-last Texas destination:  Marfa, Texas.  Marfa is a tiny town of approximately 2,000 people, located in the west Texas desert, one of the most middle-of-nowhere places you can find in the United States.
You might imagine this to be the most boring drive imaginable, and you wouldn't be wrong about that.  The distances are long, the roads are painfully straight, and the cactus-to-person ratio is unmeasurably high.  It's certainly more relaxing than driving the RV through, say, New Orleans rush hour (protip: never do that), but you quickly run out of things to do.  Jake spent his non-driving time holding his phone steady to make sped-up, "hyperlapse" videos of how intensely boring the drive was:
A 16x hyperlapse, so 5 minutes in about 18 seconds.
Another 16x hyperlapse (as best we can remember), driving into the big city of Alpine, Texas (population 6,000).  
That said, the drive was still a lot different than we imagined.  When we thought of the Texas desert before this trip, we pictured flat, sandy plains.  However, one realization we have made from exploring the deserts of the Southwest is that "desert" almost always goes hand-in-hand with "mountains."  Desert scenery is spectacularly mountainous; if you look carefully in the hyperlapses, you can see ridges in the background.  In person, the landscape is arrestingly beautiful.
And there is almost never sand.  Sometimes we saw grass and trees, like back home.  Mostly, Southwestern deserts are scrublands, endless fields of small green bushes atop brown, rocky soil.  This makes the mountains stand out even further, and gives new, important meaning to TLC's 1990s classic, "No Scrubs."












The other thing worth knowing about the desert is that it is, as a nature documentary would say, a land of "contrasts" and "extremes."  What they mean by that is "it gets really freaking hot during the day, and really cold at night."  With so little humidity, temperature is overwhelmingly driven by the sun.  Stand full in its glare, and you'll be sweating; step three feet away into the shade, and the perceived temperature drops about thirty degrees, just like that.  It doesn't help that Marfa and much of the southwest is at a surprisingly high altitude (see, e.g., Santa Fe), so the temperature swings at night were, umm, rather extreme.
Wear layers.
So, back to Marfa.  As we said, it is tiny, consisting of just a few streets and a single stoplight.  Marfa historically existed for ranchers and as a stop-over for travelers, and during World War II, there was an Army base there.  However, the future of the town took a very unique turn in the 1970s, when minimalist NYC artist Donald Judd began staying and working in Marfa part-time.  He ultimately ended up buying huge amounts of property in the area, including the abandoned Army base, and created some stunning works of art in the middle of the desert.  Over time, other members of the NYC art scene visited and worked in Marfa.
Today, Marfa still services ranchers and travelers, but it also has numerous museums and galleries.  It's a fun and funky place, with food trucks, an organic grocery store, and a campground named El Cosmico where you can stay in a teepee or a yurt.  To the sometimes-consternation of the residents, these things have lead to Marfa becoming increasingly hip:  BEYONCE stayed at El Cosmico.  It's really all pretty amazing, although the incongruities can be a bit jarring:  for example, seeing a farmer's dirty, hard-working pickup truck driving behind a gleaming new Escalade was surreal.
We stayed at an adorable RV park called the "Tumble In," and it was tough to beat the sunsets or the price.  If you're ever just passing through the Chihuahan desert – as we all do, from time to time – it's well worth a visit.
















Since we were in Marfa, we stopped to see some of Judd's work.  Judd converted the Army base into a showcase for his and his friends' work, installing large sculptures into the existing buildings.  For example, three warehouse-sized structures contained a series of beautiful, polished, waist-high aluminum rectangles, each one with different sides and interiors.  We weren't allowed to take pictures of them, but you can see some here.  Outside, 15 huge concrete forms – mostly hollow, open-ended cubes – made for silent, geometric guardians in the desert.  It was all extremely cool.  There was more, including a series of colored light installations set up in former barracks halls, and a downtown warehouse full of sculptures made from crushed cars, but you'll have to visit Marfa to see them.




















We took a day trip outside of Marfa to go hiking in the Davis Mountains, about a half-hour to the north.  (Do you like straight, flat roads with no humans?  If so, that is the drive for you.)  We stopped in to the visitor center to make sure the hiking trails hadn't been washed away in the recent flooding, and the friendly female worker there assured us they hadn't.  Then, she excitedly told us that the hike was "great" because there was a "huge black rattlesnake" at the top of the mountain we'd be climbing.
"You and I have very different definitions of 'great,'" Jake said.  But we never encountered the rattlesnake, and the hike was a good tune-up for our next adventure:  Big Bend National Park (blog post sold separately).














We're getting slightly ahead of ourselves, but we wanted to show you one more thing near Marfa, since it's semi-famous for it.  (Marfa is also famous for the Marfa Lights, but the night we tried to see them was cloudy, and nothing appeared.)  About 20 miles northwest of Marfa, on the way to El Paso, artists created the Prada Marfa store.  It's a fake boutique with some real (but unusable) Prada products inside, all alone in the middle of the desert.  It's a symbol, a prank, and a fantastic photo opportunity, all rolled into one.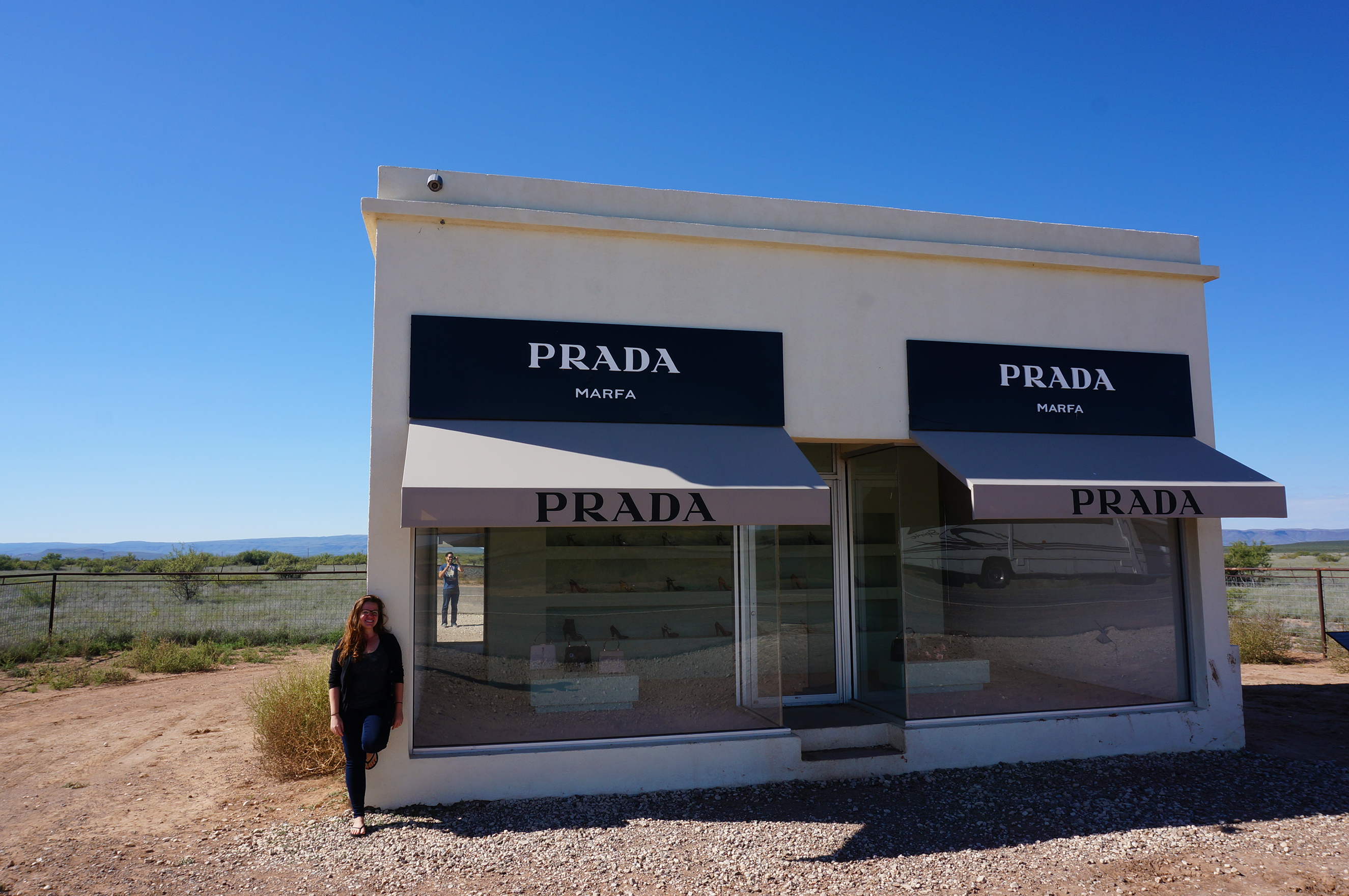 RECENT NEWS
What's now:  We are in Morro Bay, California, celebrating Jake's birthday!
What's next:  We are heading to Pinnacles National Park, followed by some more of coastal California.
Obligatory social media self-promotion:  If you want to follow along and you haven't yet, please Like us on Facebook and/or follow us on Twitter (@NothingMundane) and/or Instagram (NothingMundane) to make sure you get all the updates.  All your friends are doing it.
Shamefully missed a prior post?  We made a list of the most recent ones, just for you.  To see every road trip blog post, click here.