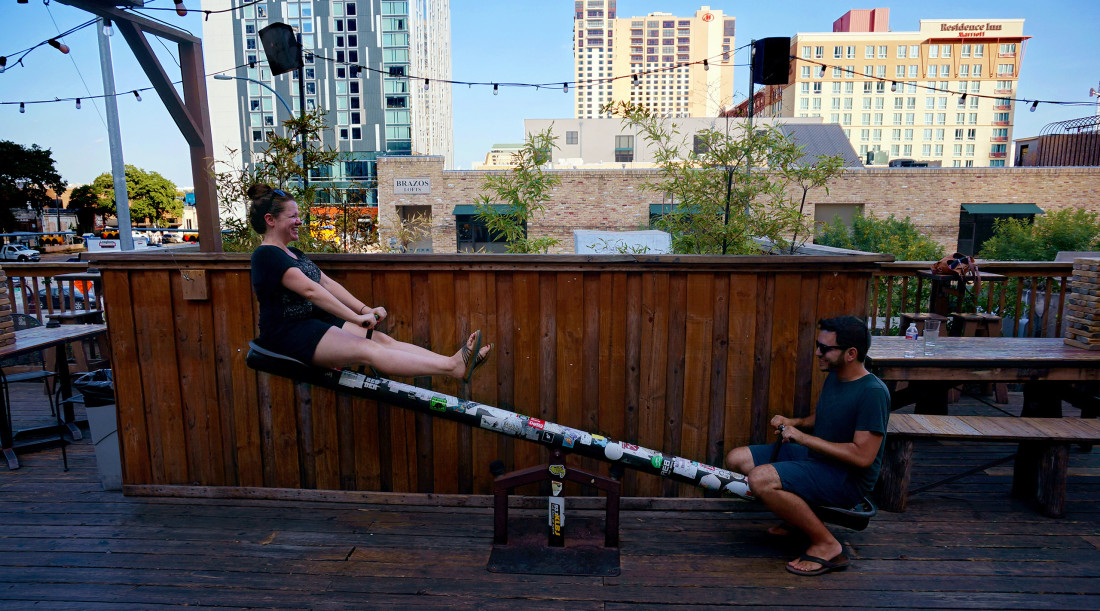 Week 16: Adult Distractions in Austin
After much fun in San Antonio, we departed to spend a few days checking out Austin – a city high on our pre-trip list of "places we might live."  We certainly found a lot to like there, and in some ways, the city was really cool.  Unfortunately, it was less cool in other, more literal ways.  Austin was brutally hot while we were there, with record temperatures for mid-October in the mid-90's (and humid).
Weather aside, we had a great time exploring Austin, and it's definitely on our list of places to visit again.
Straight and Narrow Sprawl
Since we've been driving everywhere, we've come to notice and appreciate (usually) the little quirks in the roadways in different areas. Vermont had endless rolling hills, while Louisiana's highways were built on incredibly long, flat, straight bridges through the bayou. The West Texas desert had beautiful, perfectly-maintained roads, while the roads in Southern California are in such bad shape they sometimes seem closer to gravel. In New Mexico, you can sometimes go 20 miles at a time without a curve in the road. You get the idea.
Well, one Texas quirk is that the highways leading in and out of the cities tend to be lined with businesses for miles and miles, long past where people actually live. They are typically clustered right by the highway on frontage roads (another Texas quirk – they love frontage roads), with giant billboards every few feet, but there's nothing at all behind them.  A mile wide and an inch deep, you might say, and nowhere was it more apparent than on the drive between Austin and San Antonio.
The drive between the cities is relatively short, about an hour and a half in our RV, but it's pretty empty, population-wise, by the time you get to the midpoint. Except… the businesses never really stopped. There were no towns, not even really houses, but still, we drove past an endless row of billboards and fast food joints and mechanics and car dealerships and gas stations and everything else you can think of. It was definitely a unique experience for us, since we grew up where trees cover everything and the towns have gaps between them. But hey – seeing new things is why we're on this trip!
We Missed You, Nature
We met up with friends in Houston and San Antonio, and although we were excited to show our RV off to them, the RV parks we were staying in at the time weren't ideal.  They were cramped, with neighbors parked as close as possible to each other, and very little in the way of trees or shade.  Unfortunately, this is a fairly common occurrence, especially close to big cities, where space is at a premium.  Houston was particularly bad, since there was almost nothing by way of nature around to see.
That's why we're happy to say that our campground near Austin was awesome.  Like all of our favorite spots, it was located in a park, not a commercial RV campground, and it was gorgeous.  We had a spacious, shady spot underneath the trees, completely surrounded by vegetation so it was utterly private.  (First picture in the slideshow below.)  Plus, we were still quite close to Austin!  We have stayed in all sorts of places on our trip so far, but McKinney Falls State Park remains one of our favorites, even if the falls were non-existent when we were there.










Going Downtown With Burt Reynolds
Austin is known as a very fun city, and it definitely lived up to its reputation.  On our first day in town, our friend Brian was visiting as well, so we wandered around downtown and stopped in at a random local bar, called HandleBar.  It turned out to be a wise choice, as we got to enjoy a friendly bartender, great beers, many mustache-related decorations, and a rooftop full of "adult distractions," like a see-saw and giant Jenga blocks.  Drinking and toys?  Sign us up.






After a while, we headed downstairs and checked out the back room.  There were pinball machines, a vending machine selling fake mustaches, and best and weirdest of all, a giant picture of Burt Reynolds lying naked on a bearskin rug.  Crazily enough, that was the second time we had seen that picture in a bar in about three days.  At our friend's wedding afterparty in a swanky nightclub just a few days before, the ladies' room also featured a giant picture of Burt Reynolds lying naked on a bearskin rug, except that one was backlit!
Burt Reynolds – still going strong in central Texas.
There are a lot of other cool things to do in the city as well, but we didn't have time for much.  The live music scene is famous, and we are happy to report that it was going strong when we visited.  Nearly every bar featured a band of some kind, even on a Thursday night.
We stopped for some tacos at the original Torchy's Tacos, which started as a food truck before becoming a successful (and insanely delicious) local chain.  Note the jugs of water in the photo below – they were giving it out to people standing in line so nobody died from the heat!
Mmmm, Red Planet
We also caught a film at the Alamo Drafthouse, another local Austin business that has hit it big.  The Drafthouse is a pretty awesome place to see a movie, with unique promos they create and show in place of previews; we saw The Martian, and they showed very entertaining parts of so-bad-its-good Mars-themed B-movies.  This was followed by an amazing montage of people chowing down in competitive eating contests, with the audio track replaced by soaring speeches about going to space and achieving human greatness.  5 stars for the juxtaposition alone!
Speaking of eating, the Alamo Drafthouse serves food and drinks, including beer, delivered at any time during the movie.  You simply place a note in a little stand in front of your own personal table, and black-clad ushers quickly quietly bring whatever you ordered without disturbing the other patrons.  So while Matt Damon was almost starving to death on Mars, we were sipping some frosty, freshly-made peanut butter-chocolate milkshakes.  How's THAT for a juxtaposition?
Texas Cave Country
Our final destination in Texas was the Longhorn Caverns, a series of gorgeous caves in Texas Hill Country with an interesting backstory. This area is beautiful, by the way, with endless rolling hills, more greenery than you'd expect, and interesting scenery around every turn. The Longhorn Caverns themselves have seen many uses, serving variously as a Native American meeting place, a hideout for bandits, and a tourism destination – sometimes at the same time.
Later, during Prohibition, a stage was built in the largest cavern, and it housed a popular speakeasy and restaurant. That ended with Prohibition, but, in the 1930s, the caverns were renovated by the Civilian Conservation Corps into their present form. As we understand it, this "renovation" was primarily about "removing a million boulders by hand," so we're grateful as always to the formerly-young men of the CCC. (If you're not familiar with the program, it's worth reading about. Probably half of the parks we've visited were improved by the CCC!)
Nowadays, you can tour the caves, have dinner and get married on the stage, and maybe even hide out from law enforcement. We opted for the first one (with a little bit of the third), and the Longhorn Caverns were quite a spectacle, although they paled in comparison to our next stop. It didn't hurt that we had a fantastic tour guide, a former drill sergeant whose love of showing off the features of the cave was second only to his love of intensely bad puns.
He really rocked.

One of the buildings constructed by the CCC, made out of rock quarried from the park.


Modern entrance to the caverns. During the prohibition, smaller entrances through the "ceiling" were used.




The walls are covered with quartz crystals.


A non-blurry photo of the quartz crystals.




"Waterfall" rock formation.


This is not a sculpture of a dog. This is supposedly a naturally formed rock formation!


The main room, where they got their party on during the prohibition. Today, concerts and weddings are held here. There are great acoustics in this room.


These smooth limestone walls were carved millions of years ago by underground streams.




RECENT NEWS
What's now:  We immediately extended our stay in San Diego because weather.
What's next:  Heather is still trying to make us leave San Diego to try to catch the wildflowers blooming in Death Valley.
Obligatory social media self-promotion:  If you want to follow along and you haven't yet, please Like us on Facebook and/or follow us on Twitter (@NothingMundane) and/or Instagram (NothingMundane) to make sure you get all the updates.  Feel free to steal your friends' and loved ones' phones and sign them up, too – we're not that picky.
Shamefully missed a prior post?  We made a list of the most recent ones, just for you.  To see every road trip blog post, click here.