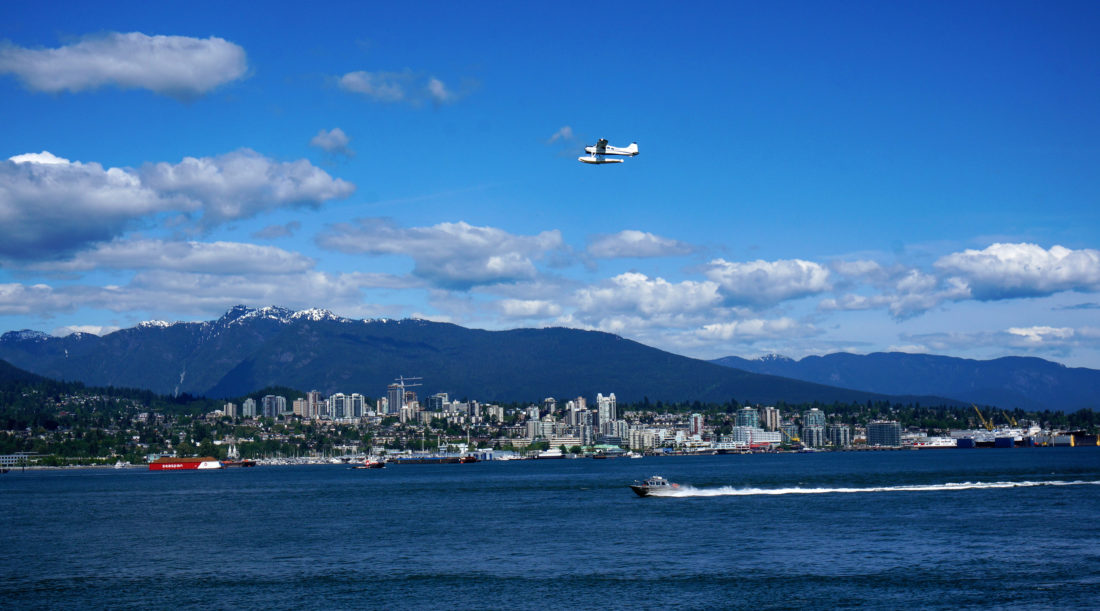 Week 45: Seattle & Vancouver, Eh?
After an impressive showing by Olympic National Park – which earned a gold medal in "wettest national park" and a bronze in "most deserted" – we headed east to Seattle.  With a tour guide assist from a friend, the Emerald City turned out to be a pretty excellent place – as was Vancouver, its friendly neighbor to the north.
Pacific Northwest, you've got it going on.
Seattle's Best
Since we were staying fairly far away from the city center, we decided to tour Seattle in one epic day, just as we did for other favorites like San Francisco and Savannah.  We started out early with some pastries from Pike Place, the famous fish market (it has lots of other types of shops as well), and then wandered around downtown for a bit, enjoying the quiet before the city woke up.  A particular favorite was the Olympic Sculpture Park.



















We then tried to stop by the Space Needle, but sweet zombie Jesus it was crowded.  So we bailed, and made up for at an excellent overlook in a tiny city park.  In the background, you can even see the iconic Mt. Rainier.
Soon afterwards, we met up with Eliz, Jake's old law school classmate, and her husband Rick.  Rick and Eliz graciously volunteered to give us a tour of Seattle, and just like our "local's tour" in Los Angeles, it was fantastic.  There was some touristy stuff, like the Fremont Troll (located under a bridge, of course), but we also enjoyed just wandering around the neighborhood and a local marina.
The weather was beautiful, so we picnicked on the beach with awesome Cuban sandwiches and freshly shucked oysters.  Later, we headed to a brewery – one of, like, fifty in a four-block radius – and the superb Gas Works Park, created on the site of an old industrial building.  On such a nice weekend, the harbor was busy with boats and kayaks, but we watched in amazement as a Tailspin-style seaplane nonetheless landed on a tiny patch of open water directly in the center of all the activity.
This is apparently pretty common, but, man – gutsy maneuver, for everyone involved.










We finished the day off with some incredible sushi and a drink that was, essentially, alcoholic green tea.  Thanks for showing us an amazing time, guys!
International Suspension
Speaking of day trips to big cities, we decided to hit up Vancouver while we were "in the area," i.e., about ninety minutes away.  This was actually our first time leaving the country on this road trip, despite being within spitting distance to Mexico in both El Paso and San Diego, but everything went smoothly.
Well, mostly smoothly.  We stopped in Vancouver's Chinatown to eat lunch, but when we went to pay at the parking meter, we suddenly remembered that… Canada has its own currency.  Oh, right.  Coincidentally, all of our debit cards had just expired and we hadn't yet received the replacements, so an ATM was out, and Heather ended up circling the block while Jake made a quick exchange at a local bank.
After lunch, we toured around downtown before checking out the Lions Gate Bridge and Stanley Park.  Stanley Park is a gorgeous area with a great view of the downtown skyline – a view that we got to see twice, since we totally missed the exit from the 15-minute, one-way scenic drive on our first attempt.
As we said… mostly smoothly.














Our final stop made up for all the mistakes.  Capilano Suspension Bridge Park is one of the coolest theme parks we've ever been to, because the theme is "trees."  It's set in an old-growth forest, and numerous elevated walkways stretch between the ancient giants.  It was a very fun place to explore, and we were happy to see that all of the bridges are secured by pressure-fit collars, so nothing harms the trees.










There was also a huge river gorge, crossed by the namesake Capilano Suspension Bridge.  It's 450 feet long and pretty impressive in person – as well as, umm, bouncy.
Even cooler was the steel-and-glass Cliffwalk, a beautiful architectural marvel that made us gulp just a little bit, despite being hardened by previous cliffside hikes like Camelback Mountain and Pinnacles National Park.  Luckily for us, the bolts held firm, and we have to say: this was one of the coolest things we've done on this trip.









Natural Selections
There was plenty more in the Seattle area, including a visit to the spectacular North Cascades National Park – blog post coming next – and a pretty hike to a local waterfall.  (If you're read our prior blog posts, you may have noticed that the Pacific Northwest is big on waterfalls.)  We've collected a few pictures from the hike below.









Before we sign off, we'd like to note for posterity that the drivers we encountered in the Seattle area were exceptionally great – polite, patient, and careful.  In other words, the complete opposite of drivers in NYC, Boston, and Los Angeles.  Thanks for restoring some hope for humanity, Seattlers!