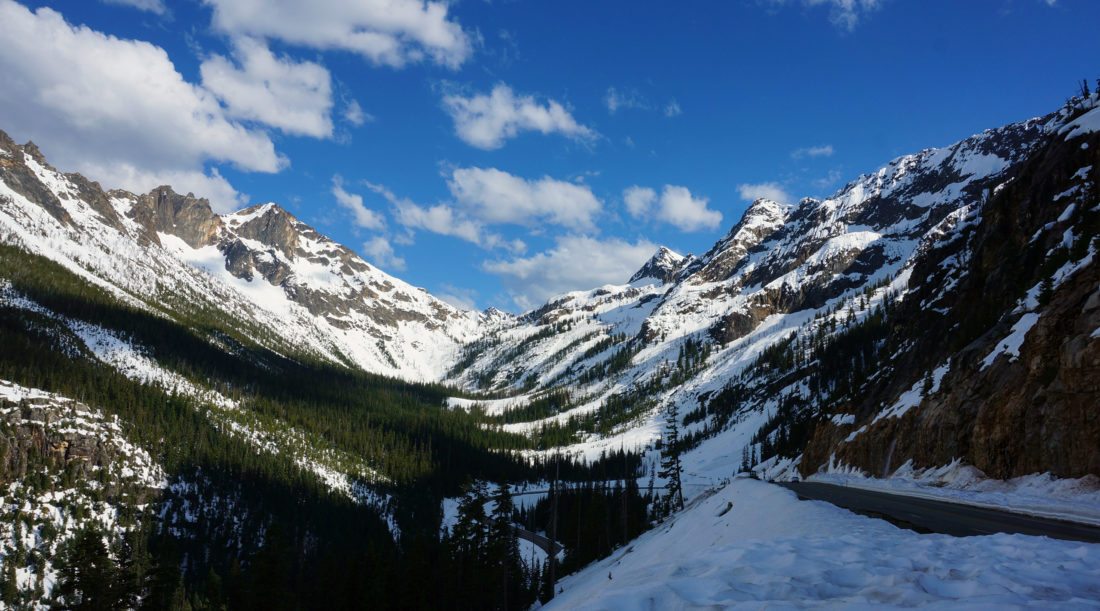 Week 45.1: North Cascades National Park
As a day trip from our campground north of Seattle, we headed out to North Cascades National Park.  The park is situated northeast of the city, very close to the Canadian border, and all we can say is:  Wow.
North Cascades is a stunner.
North Cascades is somewhat unusual in that there isn't all that much to do – the park is mostly undeveloped, save for a village servicing the hydroelectric dams and some hiking trails and overlooks.  We were there in early May, and as it happened, that was too early in the season even for most of the hiking trails.  (You'll see why later.  Foreshadowing!)  So, although we love to hike at national parks, we just drove through and enjoyed the views.










Jack Kerouac once worked as a fire spotter at North Cascades for a few months, at the colorfully-named "Desolation Peak," and we can see the appeal.  The views here are incredible.  The lakes are bright blue, colored by "rock flour" – stones ground to dust millennia ago by the weight of the glaciers.  Most have since retreated, but the park still holds many of the country's glaciers.  In fact, in many ways, the park is like a less-developed version of Glacier National Park.








U.S. Route 20 runs through the park, and it had only just opened when we arrived.  We didn't fully understand why until the road began to climb – and the snow piled up alongside us.  Soon, we were driving past massive snow banks, 10+ feet high, the road cutting sharply through the drifts.  In May.

















We were wondering about the mammoth job required to clear the road, which can receive up to 40 feet of snow per year and is prone to massive avalanches.  However, when we reached the pass which marked the unofficial end of our scenic drive, we got to see it in action:  the road crews hadn't quite finished with their snow removal.  The scenic overlook was completely snowed in, with two gigantic plows waiting to finish the job.
Of course, we had to get a picture.
Luckily, a fellow tourist alerted us to an alternative overlook a mile down the road, where we enjoyed a truly epic view.  North Cascades is definitely a "show, not tell," kind of park, so we'll leave the rest up to the pictures.