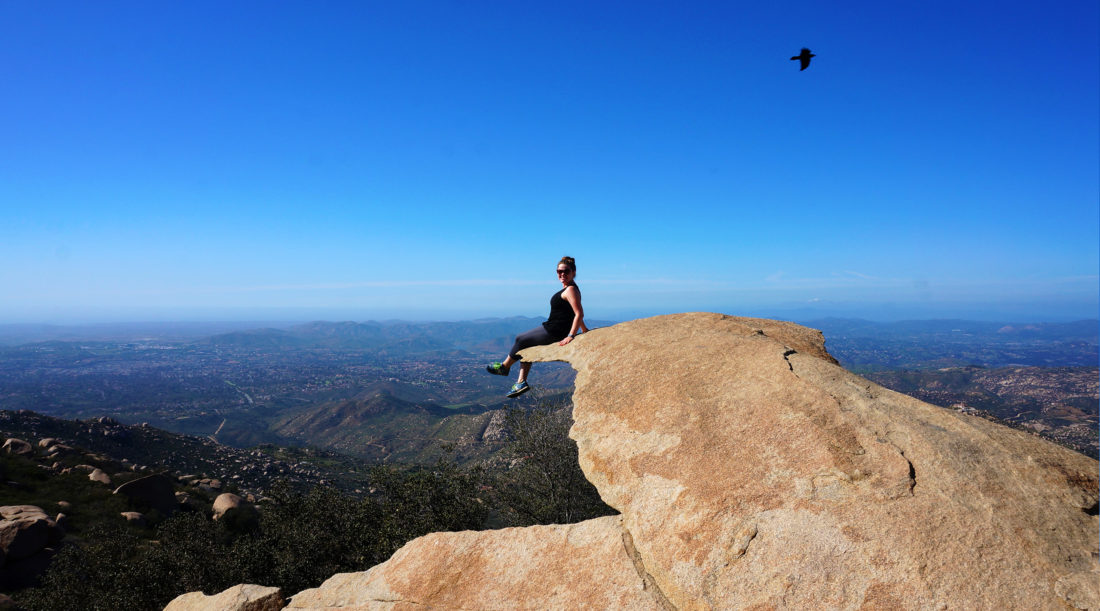 Weeks 33-34: Swooning Over San Diego
We enjoyed our two weeks in the Los Angeles area, but although the weather is great and there's tons to do, the traffic is inhumane.  As we said in our blog post / rant, it doesn't just make it hard to get around, it turns people into animals, and animals into… well, they stay animals, actually.  But they probably hate the traffic too.
So we headed south of LA, to a place with even better weather and a much more relaxed state of mind:  "San Diego."  We may never know what it means, but we learned what it represents:  an awesome city with cool people and the best freaking weather ever.
Fair warning, friends… we may move there.
That Weather
As you can see above, when you talk about LA, you end up talking about traffic.  (This is the royal "you," of course.)  Well, when you talk about San Diego, you end up talking about weather.  We originally planned to stay for 1 week, but after two days of being kissed by God, we immediately added on another week.  And this was in February!
If you've never been to San Diego, here's what it was like.  We would wonder to ourselves, "I wonder what it's like outside today?"  Then we'd step outside, and no matter what time it was, or whether we were wearing clothes, or violating public indecency laws, the answer was always: "perfect."  Not too hot, not too cold.  It's just always perfect out, all the time, always.  Think 75 degrees high, maybe 60 degrees low.  And it almost never rains – it's rarely even cloudy! – so every day just rocks.
It was so, so hard to leave.
Food & Drink
Beyond the weather, San Diego is known for having tons of great restaurants and breweries, and it did not disappoint in that regard.  We visited the downtown Gaslamp Quarter, and enjoyed some delicious food and drink served with a side of people-watching.  We also met up with Heather's friend Alena, who happened to be visiting for the weekend, at the enormous Stone brewery.  (It's actually one of several!)  While some sort of blizzard was hitting the Northeast, we were eating our dinner on the outdoor patio, and arguing over whether that was really Slash at the other table.  Take that, former home!
Sorry Northeast, that was a little bit of a cheap shot.  We just really liked it in San Diego.  If it makes you feel better, it wasn't really him, just some guy in a Slash costume.
A Whale's Viewing Station
Cabrillo National Monument is at the end of a peninsula that juts out into San Diego's harbor, and it offers gorgeous views of the city and the ocean.  From the promontory cliffs, we were even able to see whales in the ocean below.  The whales can be spotted by the circular bubbles that rise to the surface when they exhale below the waves, which is pretty cool.
Less cool were the people at the viewing area, who seemed compelled to announce every bubble ring they saw, loudly, to the entire group.  "There's one!"  "Over there!"  "There's one!"  "Over there!"  "There's one!"
*shudder*
After a while of that, we escaped the viewing party and headed over to an old lighthouse and museum at the monument.  They were fine, notable mainly for the in-depth explanations in the exhibits.  (Not too many museums frequented by children provide the physics equations for refracting light through a lens!)  We then took a short hike down along the waterfront, passing the spot where the US military hid a camouflaged spotlight and gun battery during World War II.  It rolled in and out of a cave on rails, just like the obese during the 19th century.  [Ed. note: that is not at all what happened in the 19th century.]
History is fun. We also took a walk down to the tide pools around low tide. We didn't find much sea life, but the rocky shoreline was pretty neat.












Hike Life
We've been hiking a lot on this trip, trying to work off the pounds and urbanity of New York City.  In San Diego, we did quite a few hikes, including several that started from our campground (a county park).  One of our favorites was at Torrey Pines, where we trekked up a bluff along the ocean for some beautiful views, some of which included a randomly vibrant patch of purple wildflowers.  (Spring comes early to San Diego.)  We then headed down to the beach and looped back, and although we were fearful of repeating our Cape Cod death march, our worries were unfounded.  Hardly anybody died this time.














The crown jewel hike, however, was Potato Chip Rock.  This was a wicked climb up Mount Woodson, under a blazing sun with no shade*, roughly 8 miles round-trip with a 2000 foot elevation gain.  The mountain is about 30 miles inland from the coast towards the desert, so it was noticeably hotter than San Diego proper.  Doesn't sound like much fun, and to be honest, it wasn't – until we got to the top.
Where it was all so. worth. it.
Potato Chip Rock is basically a sliver of stone sticking out from the peak of the mountain, shaped a little like a crescent potato chip (think Pringles).  It's not as dangerous as it looks in pictures – the rock looks thin, but it's pretty solid.  You can jump up and down on it as much as you want… until the day that changes, of course.
As for the cliff… well, there is definitely a cliff there.  But there is a little bit of ground right under the rock, so falling off wouldn't kill you.  (The roll afterwards probably would, though.)  I (Jake) definitely get a bit nervous around heights, and I made it out there just fine.
That said, as a gentleman, I let Heather go first.















Animal Crossing
One of the frequently recommended places to visit in San Diego is La Jolla, a posh beach town.  We made it there for sunset and took a few snaps, along with about 1,000,000 other people.  It was another good spot for people watching – we particularly enjoyed the person using a drone to shoot engagement pictures from an otherwise-impossible angle.
Unfortunately, the animal watching wasn't as much fun as the people.  The main attraction is supposed to be seals, who lounge around on the beach, fish, and model for the selfies of adventurous tourists.  But when we were there, "lounging" had seemingly progressed to "comatose" – only one of them was even moving, and we are pretty sure that was more of a gravity-assisted slide.










Far be it for us to criticize a lazy afternoon, but it was a bit of a letdown.  Luckily, we had another animal outing planned: a trip to the famous San Diego Zoo!
Yes, it is kind of brutally touristy, but it was still a fun way to spend a day.  The enclosures are large and the animals seem reasonably happy, which is important.  Plus, all the megafauna were there – big cats, elephants, Galapagos tortoises, and more apes and monkeys than you can shake a banana at.

























We did see the famous giant pandas, but we have to say, it's nothing you need to see before you die.  The scene reminded us of seeing the Mona Lisa – way too many people crammed into a tiny space, all to see something that's a lot less cool in person than you'd imagine.
And the selfies!  Good god, the selfies.
Also, to get onto our soapbox for a moment, giant pandas are pretty useless animals.  They can barely keep themselves alive under optimal conditions, they are terrible at reproducing, and China trades on their popularity by bartering them for things that are objectively way more valuable – like URANIUM.  Frankly, if giant pandas weren't cute, they'd have been ended long ago… although to be fair, that's true of newborns, puppies, and kittens.
All of which is a thinly disguised excuse to link you to a video about babies playing with puppies and kittens.  Enjoy.
Still alive?  Check.
Where are you now?  Near Salt Lake City, Utah, where we accidentally booked a campground in the beautiful but freezing mountains.  Whoops!
Next location?  About to start our grand tour of southern Utah, which involves something like 8 national parks in three weeks.  You may want to start getting jealous now to save time.