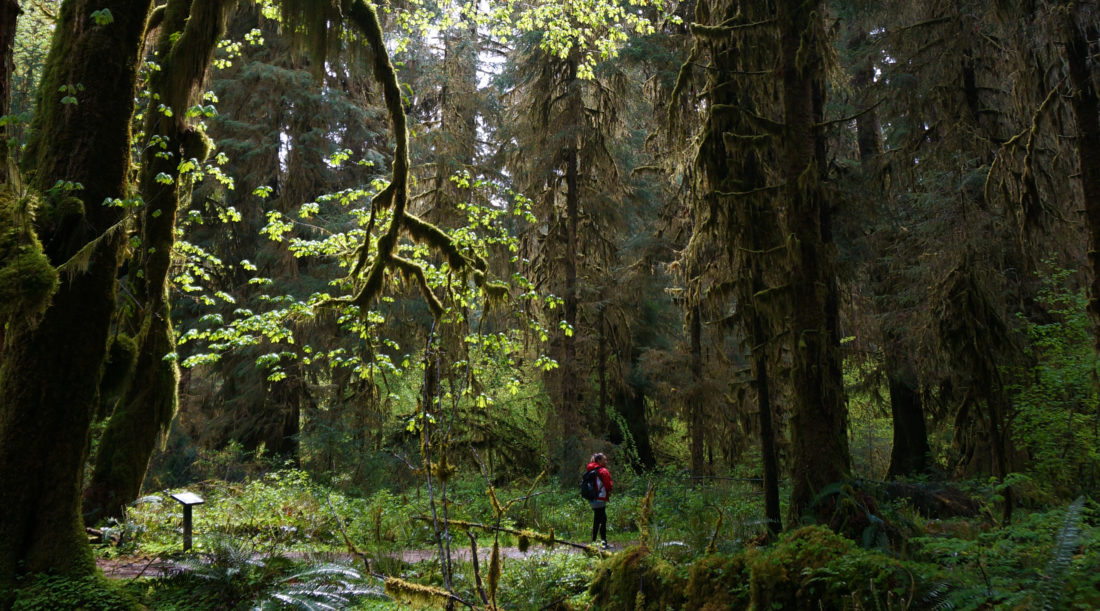 Week 44: Olympic National Park
We left Portland near the end of April, driving sadly away from the land of food trucks and fast Internet to the far northwest. We made slow time along small, curvy, quiet roads, until we reached our destination: Washington's Olympic Peninsula. The region is dominated by Olympic National Park, which fills the center of the broad peninsula with mountains, lakes, and rainforests.
It is stunningly beautiful.
Olympic is a wild place, yet. The forests feel ancient, like remnants of a more primitive time, and the waves crash onto the shore with fury. It won't last – Seattle is not far, connected by large highways that will, in time, change the park irrevocably, smoothing the raw edges. The transition is inevitable. But right now, it still feels untamed, and we were thrilled to get to peek behind the curtain of civilization at the backdrop of the real, natural world.
It probably helped that it was the off-season.
Hoh Tell
The main draw at Olympic National Park is a scenic drive into the mountains at the heart of the park, particularly Mount Olympus. Unfortunately, because of snow and seasonal closings, that road was closed when were there, so you'll have to wait until we get to the North Cascades to see some mountains. We did get to see something even cooler, though: the Hoh Rainforest, the wettest place in the continental United States.
Hoh is an epic forest. The trees are covered with moss, huge ropes and blankets of it, and everything is deeply, deeply green – not the bright, kelly green of spring, but something darker and more mysterious. Out of sight of the other visitors, it felt a little spooky.
It was also wet, of course. We spent a lot of time taking off and putting on our raincoats, as rain came in short, steady bursts that always ended just after we got everything out of our packs. We could have left our raincoats on, but it was warm and the humidity was impossibly high, making hiking while covered up very unpleasant.
That said, it was a pretty amazing place to walk around. Like Fern Canyon, it felt positively Jurassic.



















As we were leaving, the ranger on duty mentioned we could see Mt. Olympus from the road on the way out. We were a little bummed that the scenic drive was closed, so we followed his directions: drive 17.2 from the visitor center, stand on the painted spot on the asphalt, and look northeast. Well, we dutifully reset out trip odometer, drove 17.2 miles, found the paint spot, and looked northeast, but… no mountain.
Oh well. At least we got to see a lot of moss.
Twilight Beach
On the way back from Hoh, we stopped at a "beach" on the Pacific coast. The scare quotes are because the waves are wicked and wild here, and instead of sand, the beach is littered with giant logs.
How do the logs get there? So glad you asked! They fall over somewhere, get swept down a river to the ocean, then the waves launch them onto shore during storms.  Like the equally wild Cape Perpetua in Oregon, it's certainly striking, and hey – if you like to tan dangerously, this is the beach for you.










By the way, to get to the coast, we passed through the town of Forks, Washington.  The name sounded familiar, but we couldn't quite put our finger on it. Then… we saw the sign, and it opened up our eyes.
Yes, Forks and nearby Three Rivers are the setting for the Twilight books and movies. In real life, there isn't a lot going on – this is pretty remote country, almost as far north and west as you can possibly go in the continental United States. However, we did find the vampire / werewolf "treaty line," along with a few scattered signs and banners that looked like they had seen better days.
Someday, when today's tweens are older, this will be a nostalgic vacation getaway spot. For now, we're sticking with Cabo – the vampire threat level is "high," after all.
Potpourri
There was lots more to see at Olympic National Park, including the comely Crescent Lake. (Our thesaurus is running low on synonyms for "beautiful," and we haven't even hit Utah!) We passed by it every day on our drive, and every time, we just had to stop and take pictures.










We also hiked to Sol Duc Falls, a… pulchritudonous… waterfall with an unusual three-fall design. Looks man-made, but it isn't (we hope!).
And speaking of threes, we actually thought we found Sol Duc about three times before we go to the real falls – there are a lot of waterfalls here!




















Our final visit was to Port Angeles, the big city in this area. We got some great burritos from Little Devil's Lunchbox (great name) and watched unimaginably giant barges float into the harbor, bound eventually for Seattle or Alaska or Japan or who knows where. The Pacific Northwest is pretty cool like that.  Then, it was on to Seattle.