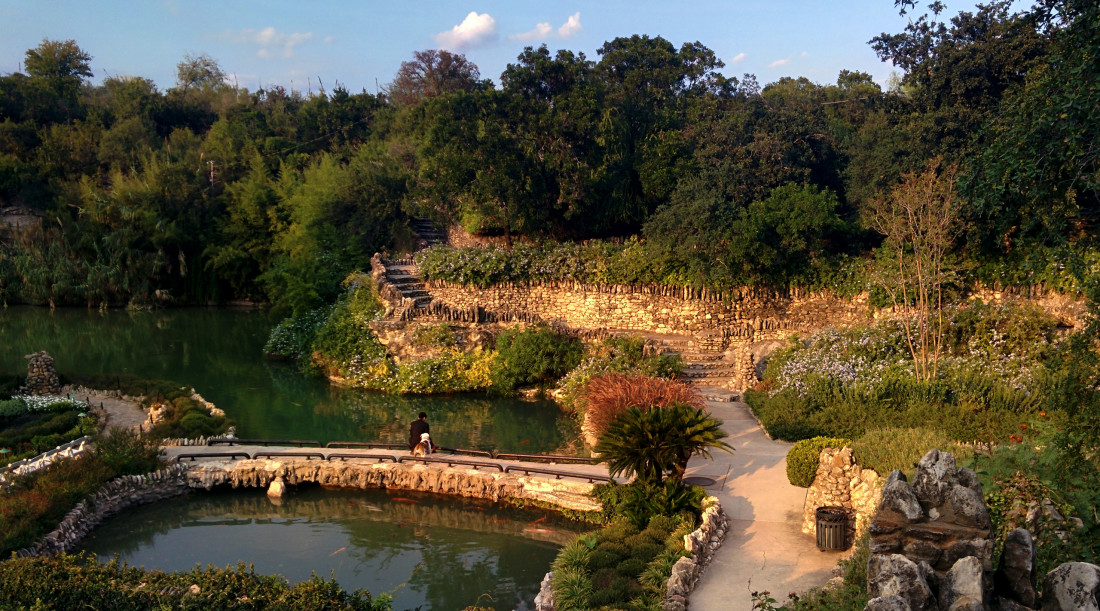 Heading west from Houston, we made it to San Antonio in just a few hours.  If you're like us, you might picture this part of Texas as a desert, but it's actually still quite green, in a scrublands sort of way.  And humid!  And very, very hot.  In fact, Houston, San Antonio, and Austin are all surprisingly, unpleasantly humid and hot, which is why air conditioners are mankind's greatest invention.
But the people are friendly, and your dollar goes far.  Despite the proliferation of cowboy boots and some unfortunate dining experiences, we certainly had a good time.  Enough chit-chat; on to the post!
Heading: Wedding
The first item on our agenda in San Antonio was the wedding of our friends, Danny and Rose.  This was the only event on our calendar for quite a while, and it drove a lot of our planning to this point, so we're happy to say we made it on time. The ceremony and reception were lovely, held in a beautiful Japanese tea garden on a hot-fading-to-pleasant October evening. We had a blast, especially since lots of our friends came into town for the wedding.
You can see a few pictures below.  Apologies for the qualities of the photos in this post – because we were out and about with friends, they were mostly taken on a phone.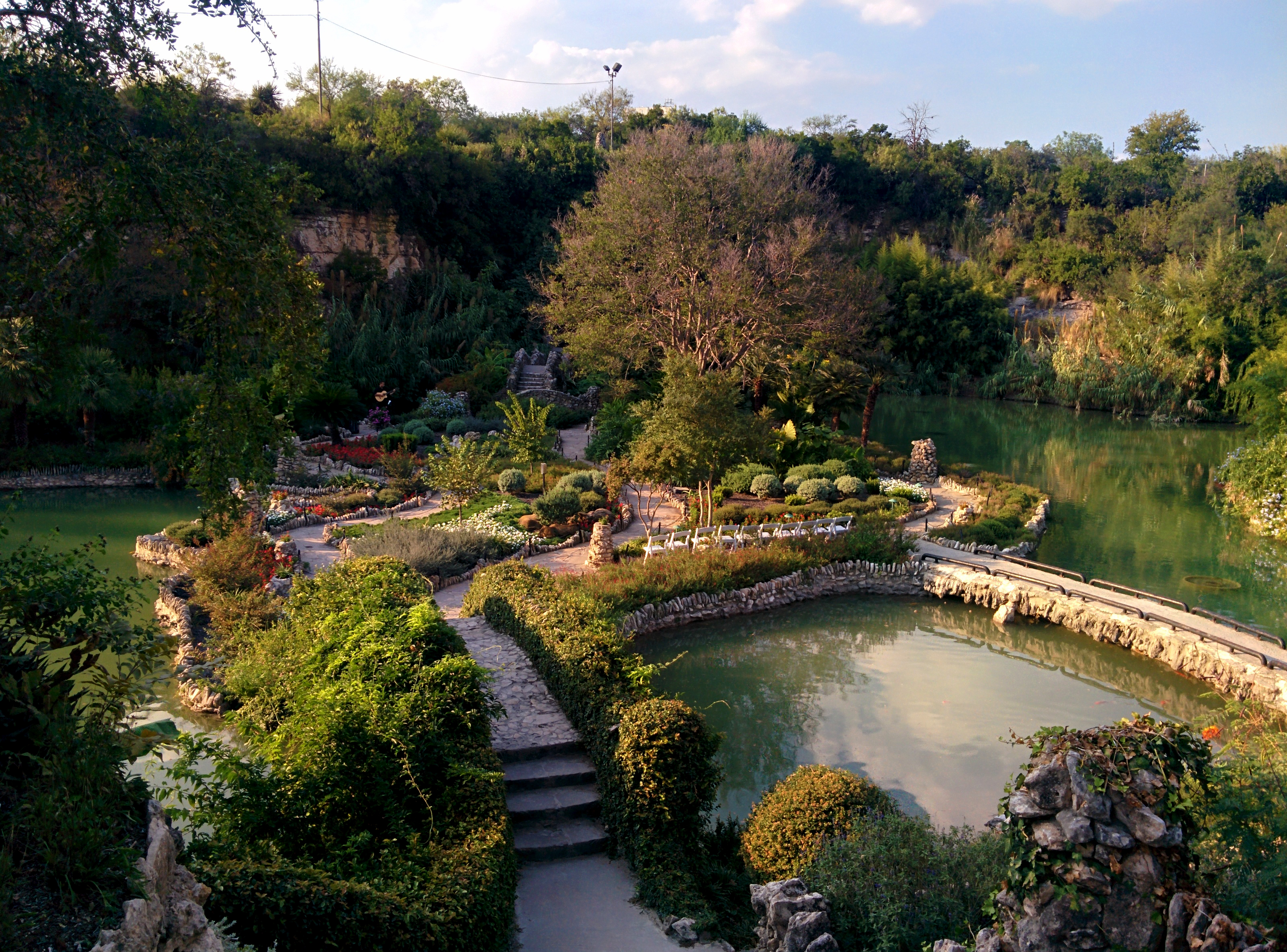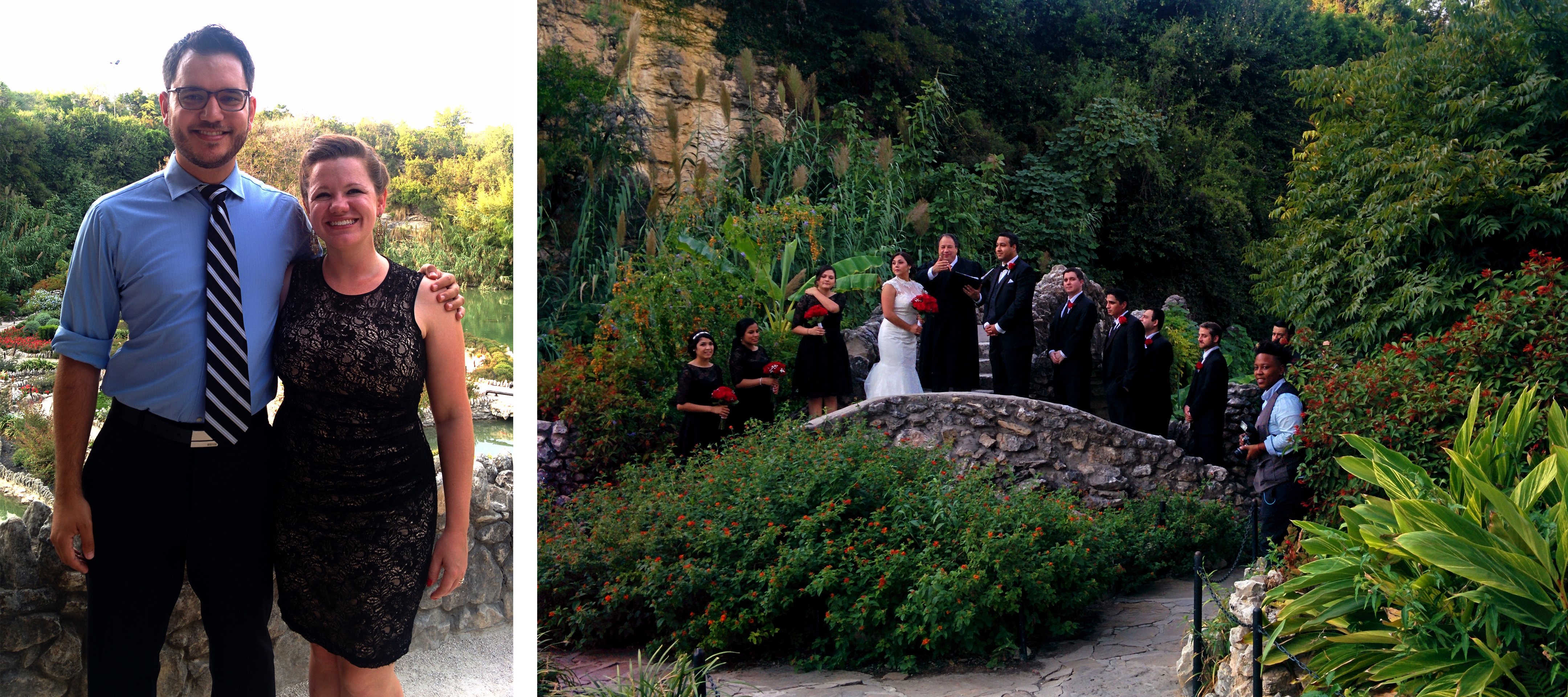 Remembering The Alamo
If you know one thing about San Antonio, you probably know that it is the location of the Alamo. But if you haven't visited, you may not know that the Alamo is actually in the city, not far from the Riverwalk (discussed below). It's really quite small, the size of an old Mission church surrounded by walls, which is basically what it was.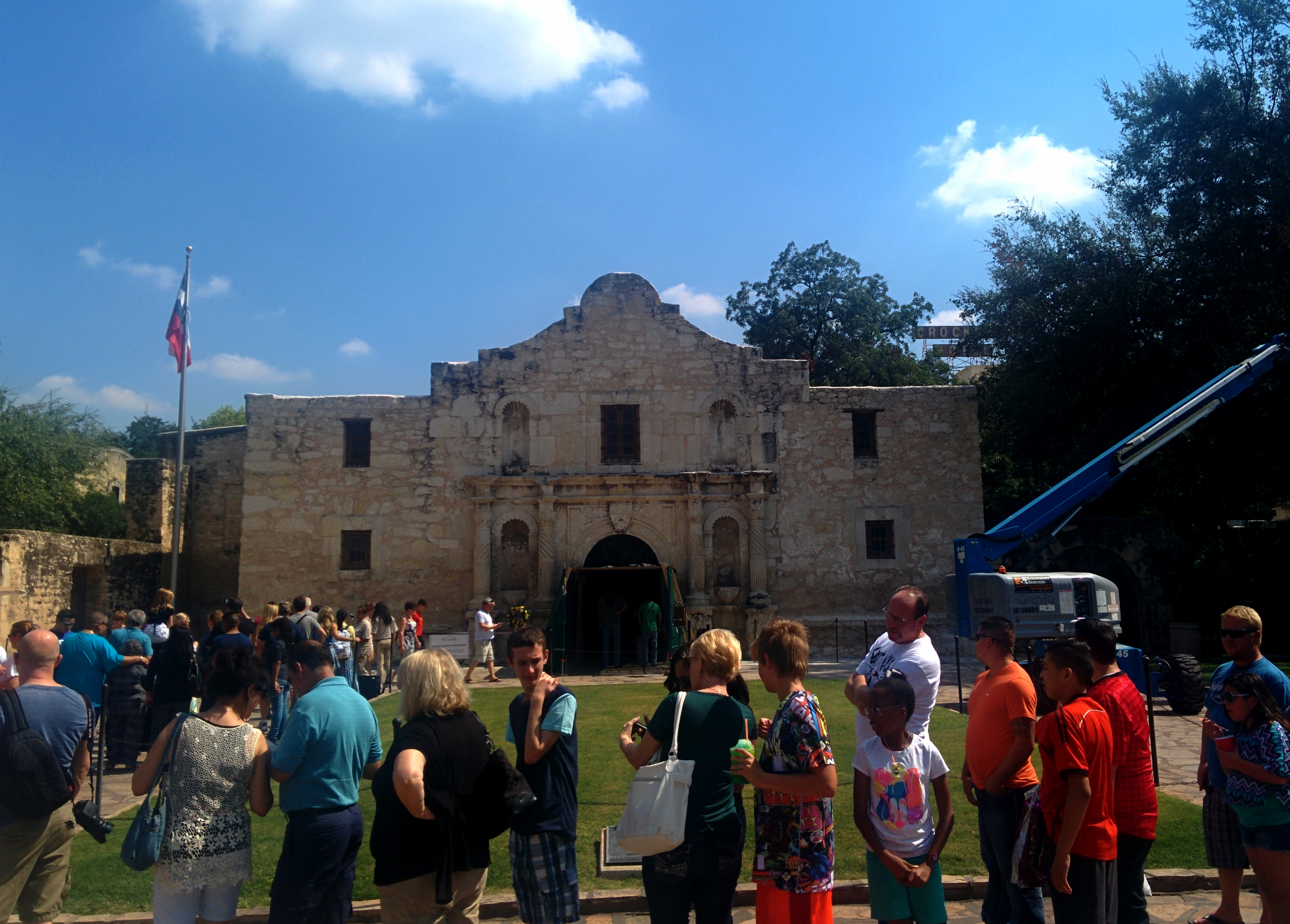 As you can see in the picture, there was quite a line, so we decided to skip going inside at first, and instead went to check out the surrounding grounds.  There was a museum playing a (b-roll) History Channel documentary on loop, and it also contained some unnervingly strange Alamo-related paraphernalia – including a lock of Davy Crockett's hair. Why does that exist, and more importantly, who decided it needed to be displayed at the Alamo museum?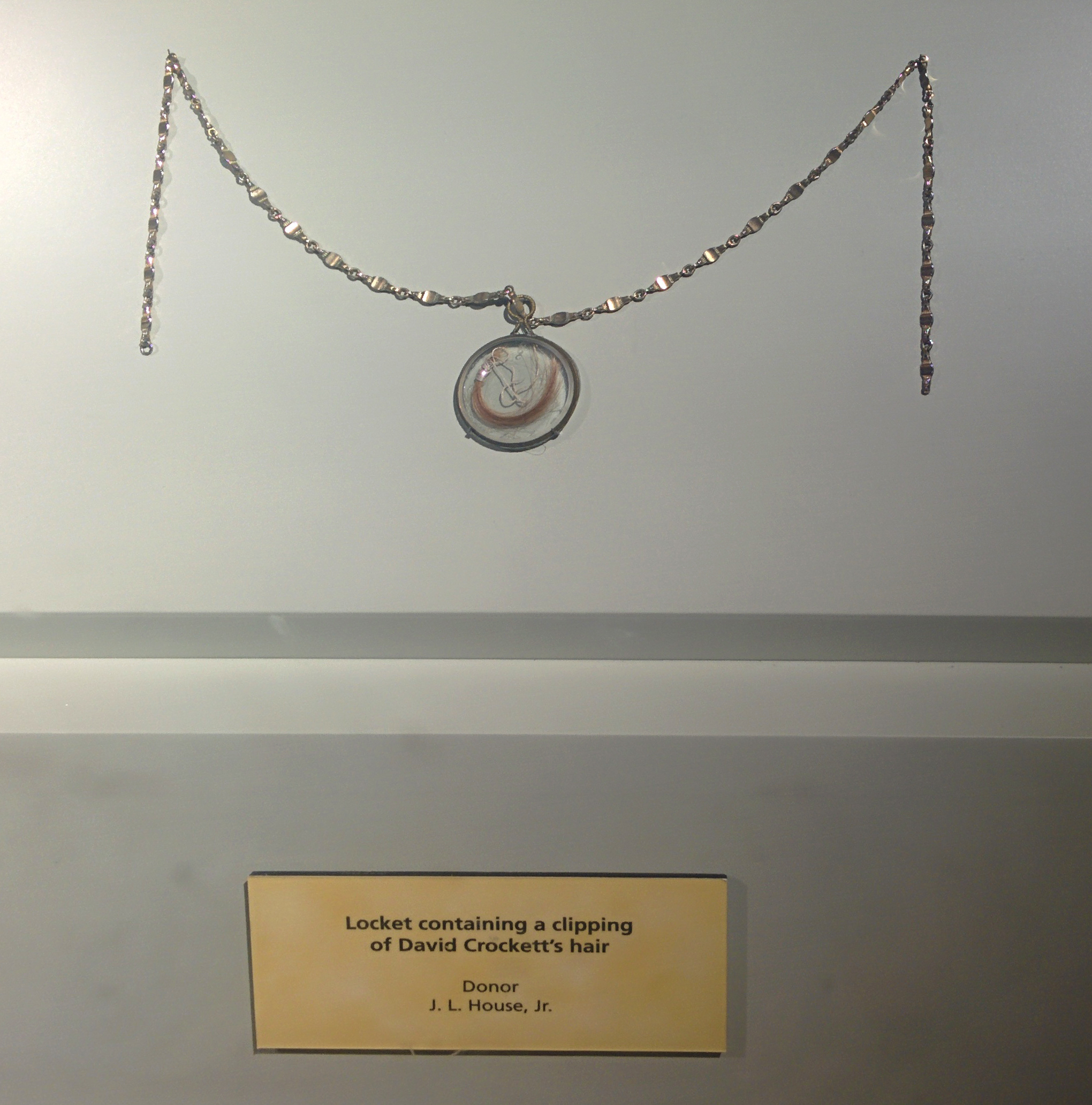 Semi-Factual Sidebar
The Battle of the Alamo was fought in 1836 after Texas declared its independence from Mexico. Mexico sent an army into Texas to return the wayward state to the fold, and about 250 "Texian" soldiers were overrun by the Mexican army at the Alamo. The Texians were all killed, even the famous ones like Jim Bowie and Davy Crockett, because Twitter follower accounts could not easily be verified back then. The non-Alamo Texians then banded together, defeated the Mexican army, and captured the President of Mexico (who was personally leading the army – rookie mistake). A new country was created and absorbed by the U.S., yadda yadda yadda, oversized belt buckles and cowboy boots.
The line we showed you before eventually disappeared, and we entered the main attraction: the "Shrine to Texas Liberty."  The Shrine was under construction when we were there, so instead of entering via an historic door, we ducked under a tarp.  There wasn't a lot going on inside; the most impressive part of the Alamo may be the gift shop, which was probably larger than either the museum or the Shrine.
That feels right, somehow, because the Alamo is really just a huge tourist trap. Right outside the doors (or tarp), we spotted a Ripley's Believe It or Not, a wax museum, and several funnel cake stands – a holy trinity of  touristry. Not really our cup of tea. (Not to say funnel cakes aren't delicious. But we don't put them in our tea.) (Although… maybe we should try that.)
Eating In A Restaurant Down By The River
We said that if you know one thing about San Antonio, you probably know that about the Alamo. Well, if you know TWO things about San Antonio, you probably know about the Riverwalk. The Riverwalk is actually a pretty cool idea – a walkway along the banks of the river, featuring hotels, restaurants, bars, and shops, live music, and even police boats (!!!). It's very well-trafficked, but we question the implementation; for one, some of the restaurants are horrible (keep reading), and second, the river is kind of gross.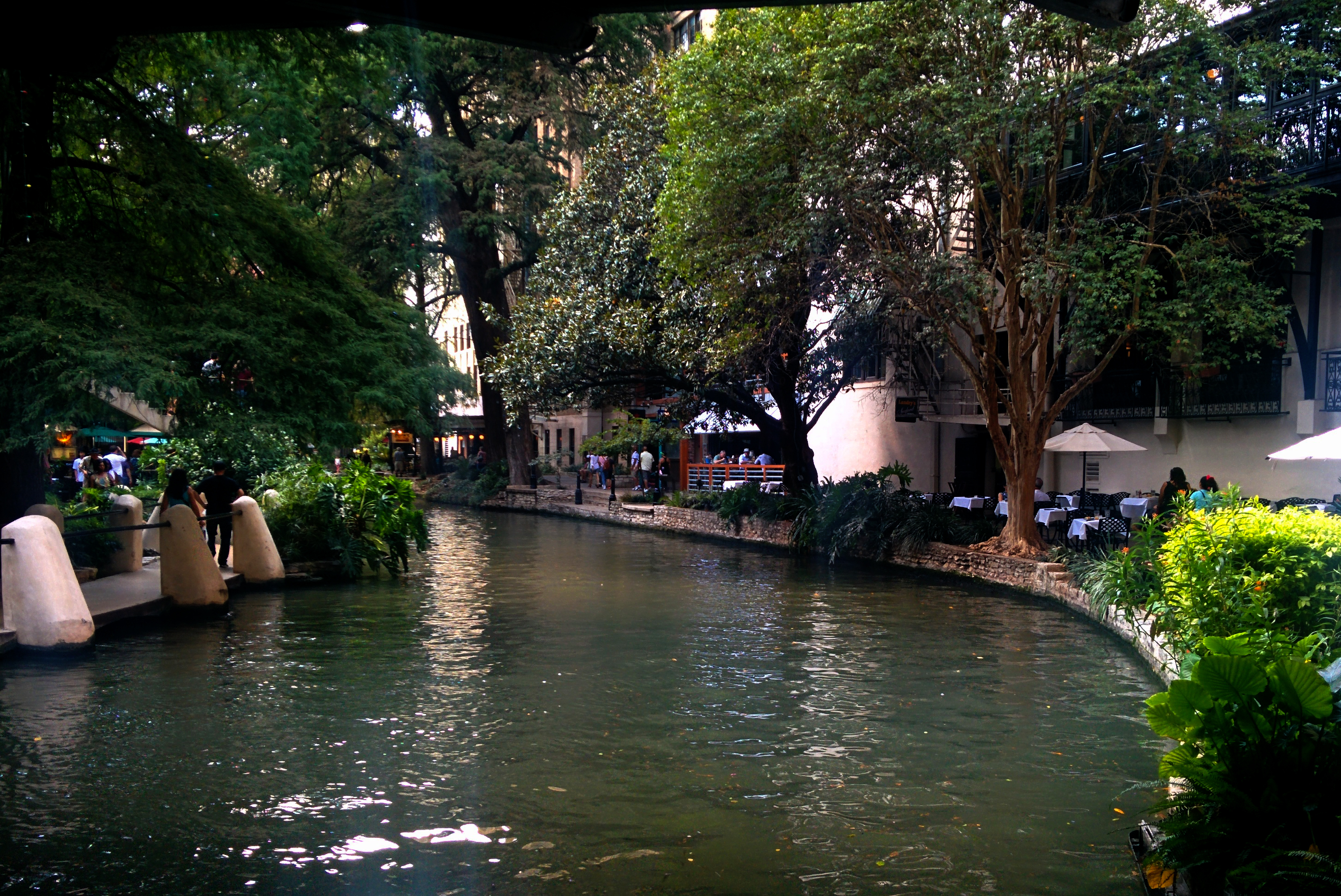 It doesn't smell, really, but the water is noticeably green. Like "the Chicago river on St. Patrick's Day" green, or "pond you would never want to go swimming in" green. It's not very photogenic, and frankly a little concerning, sanitation-wise. So although some of the shops and restaurants were quite nice, the overall experience doesn't reach its full potential, even though we had fun there.
We will admit that the river does look very pretty at night (photo from Wikimedia, because we were too busy drinking to take our own). Speaking of drinking, we have to wonder: how many drunk people have fallen into that water?  And how many times would you have to shower afterwards to feel clean again?
The morning after the wedding, a hung-over group of ourselves and our friends walked along the Riverwalk to get some brunch. There were a ton of options, and we tried to pick one using Yelp, but we got lost on the way there. We ended up just picking the Mexican restaurant we were standing in front of when we realized we were lost, and this turned out to be a mistake. Friends, we think this may have been the worst restaurant we've ever been to in our lives. The location was nice, but the food and service were… unique.
Our waiter was very friendly, possibly a recovering or current drug addict, and strangely honest about his poor service. Our friend Kate ordered water with lime. "I think you mean with lemon," our waiter said, and when she again stated her preference for a lime, he proceeded to argue with her about it. Limes were all the way upstairs at the bar, the waiter explained, and so it wasn't really worth the hassle for him. Kate finally agreed to lemons instead, which he then forget to bring for about 45 minutes. The waiter then brought a handful of cut limes – literally in his hands – and politely dropped them on her plate.
After we got our food, Kate then made the mistake of requesting some green salsa (the same green salsa that was on about half of the plates at our table).  Our waiter, never one to miss a haggling opportunity, counter-offered with red salsa instead.  Kate stuck to her guns, though, and although it seemed like this was going to turn into a Texas "pistols at dawn"-style duel, the waiter eventually stood down and acceded to her minor request.
It was certainly one-of-a-kind service. A Yelp review we read later said that while the reviewer was waiting forever for their food (happened to us also), they had this entertaining scene unfold:
"We ordered drinks and never saw our server again. While we were waiting we saw another server drop an entire tray of food on the floor. This isn't really a big deal, except that the server then just walked away without picking anything up. The spilled food sat on the floor going on 20 minutes without being cleaned up. While drafting this review, another server was walking to a table and slipped and fell on the food and broken dishes which still had not been picked up. After another 5 minutes it was finally cleaned up."
Speaking of the food, real Mexican food is delicious and flavorful. This was like Mexican food as made by your middle-school cafeteria, except without the chocolate chip cookie alternatives. The taste actually wasn't even the worst (or best?) part: check out the menu, which features some pretty amazing "Spanish" phrases: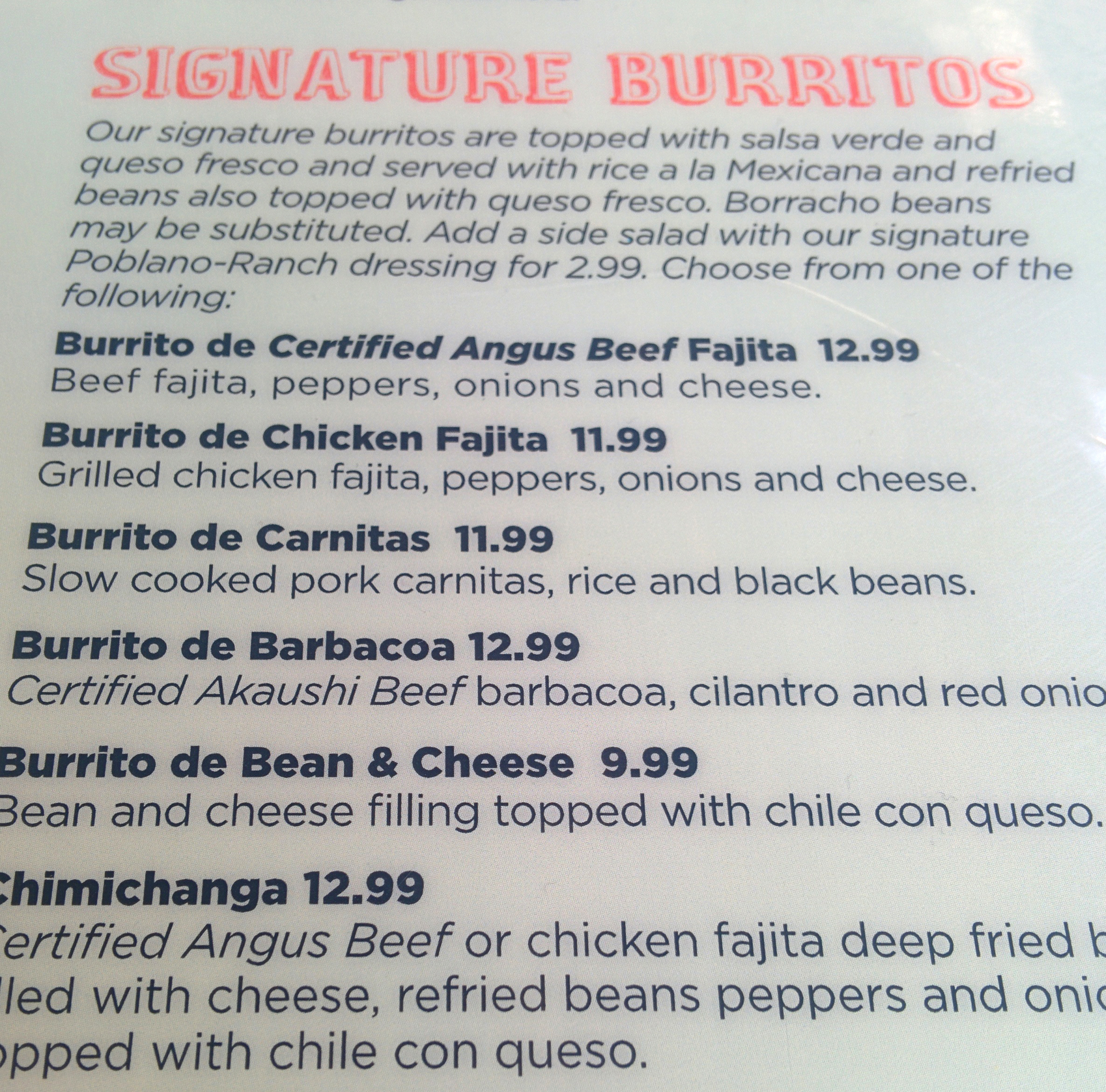 Look at the names of those menu options!  Our favorite is a tossup between "Burrito de Certified Angus Beef Fajita," which doesn't even really make sense, and "Burrito de Bean and Cheese," which is some truly lazy translating.
We will say this:  it was certainly a memorable dining experience.
#JustTexasThings
It may not seem like it based on our descriptions of the Riverwalk and the Alamo, but we had a really good time in San Antonio – twice, in fact. After everyone left, we headed to Austin for a week, which we will get to next. We then came back for a few days and hung out with the newlyweds, Danny and Rose, since they weren't leaving on honeymoon for a while. Their house has dogs, a big screen TV, and amazing barbecue, which is always a winning combination, but we also got to do some things with a more "local" flavor. One highlight was dinner at a hole-in-the-wall restaurant that serves incredible – and incredibly huge – hamburgers. We were full after splitting the medium size burger (see below) – they go up to at least three pounds!  (No word on whether they were made with Certified Angus Beef.)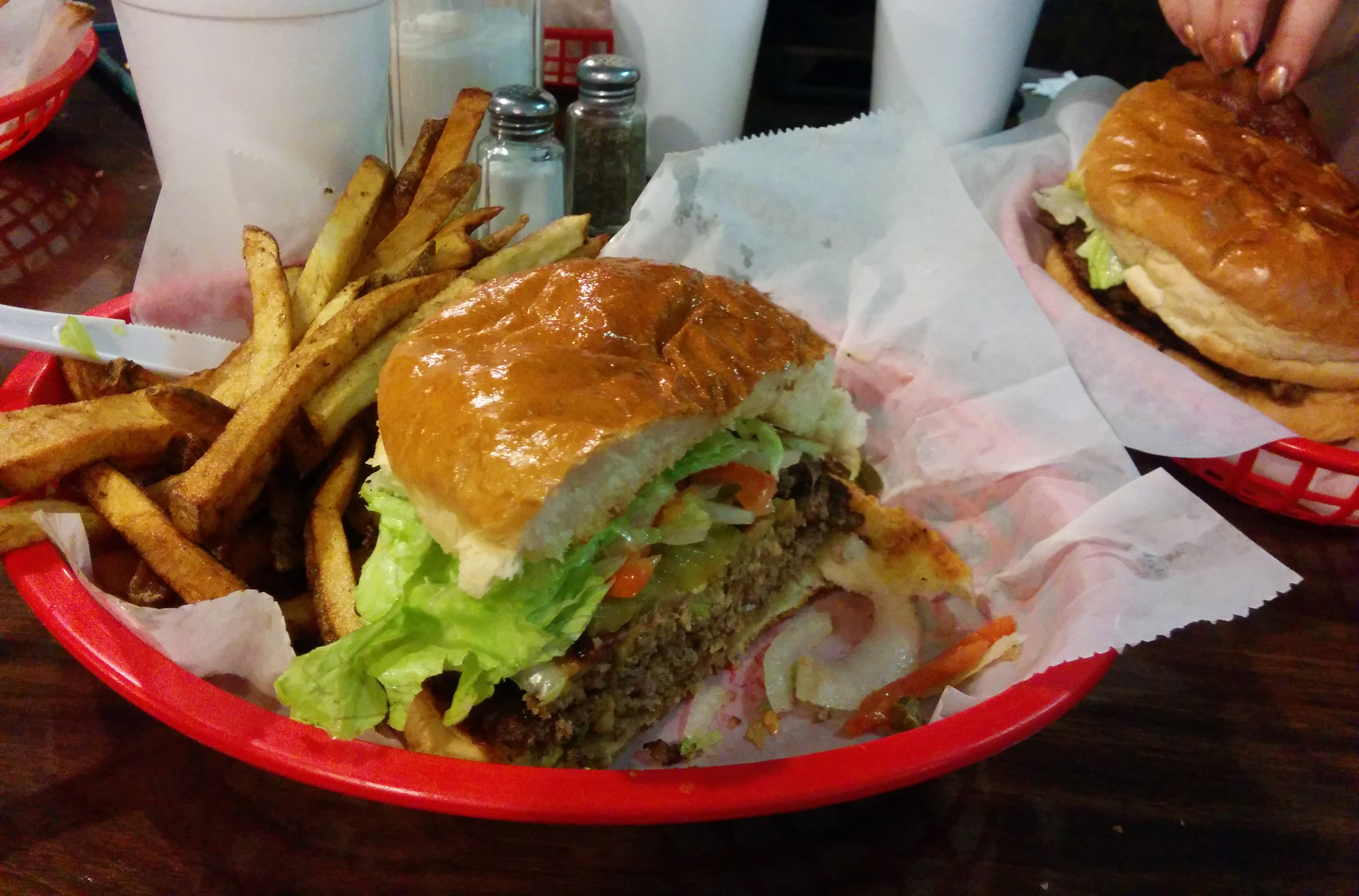 Besides cramming meat down your gullet as fast as possible, what do you do in Texas? Shoot off some guns, that's what! Since Danny owns a small arsenal – as required by law of all Texas residents – we headed to the range and blasted some targets. It was Heather's first time shooting a gun, but she did pretty well, even with Danny's "I can't believe you get to own this" AR-15.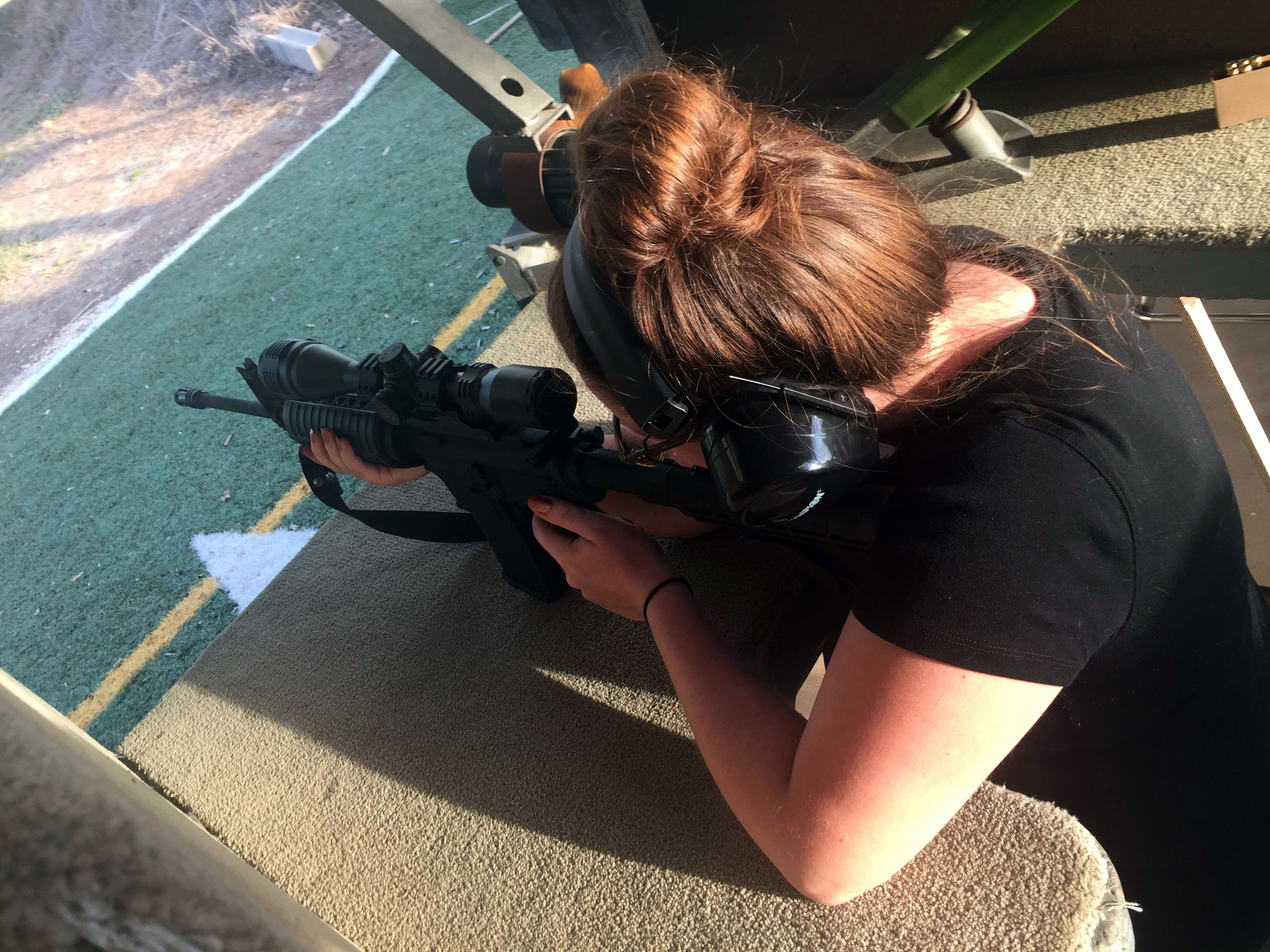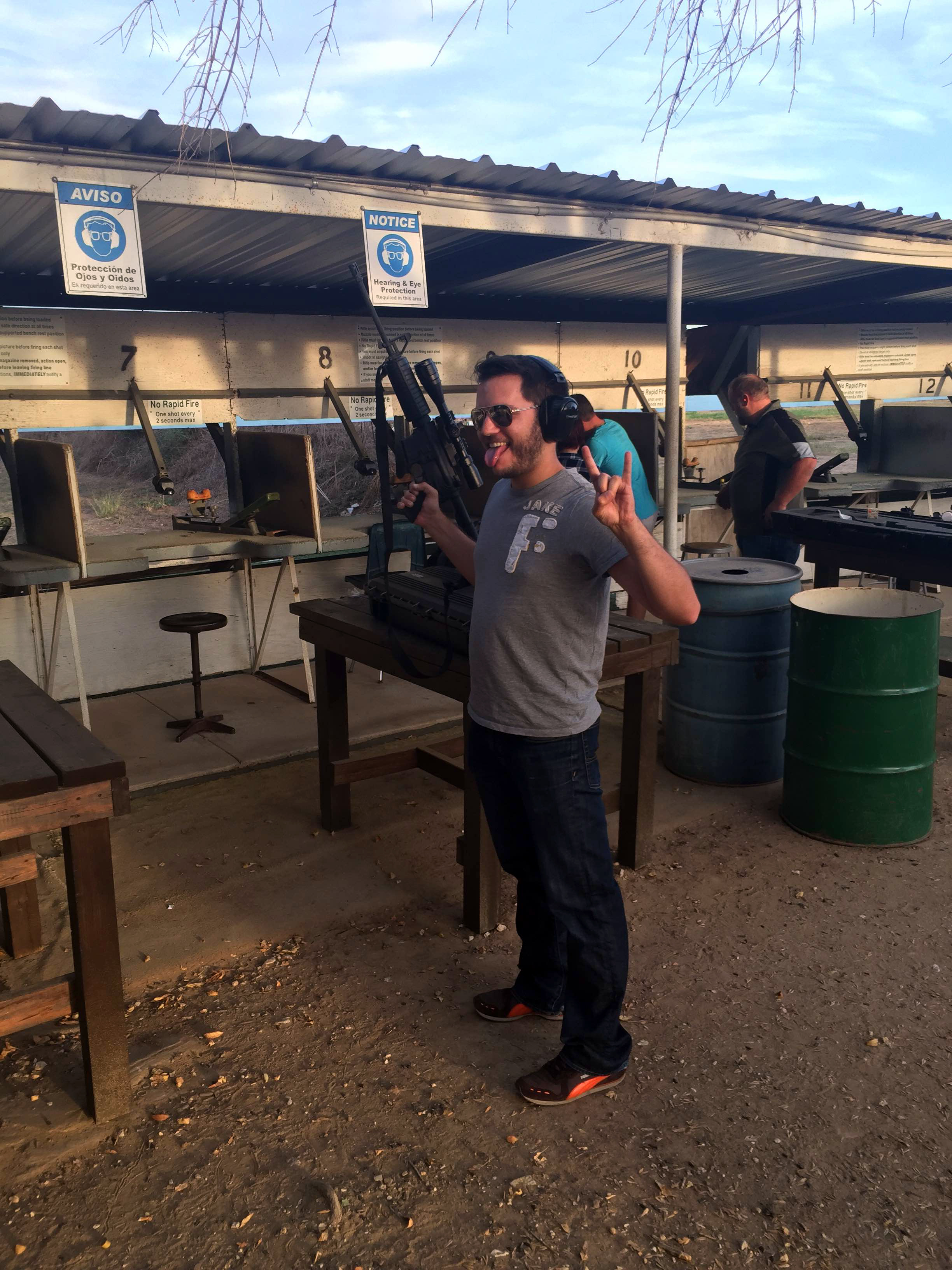 RECENT NEWS
What's now:  We're in San Diego, and the weather is amazing.  Jake doesn't want to leave.
What's next:  Heather is going to make us leave San Diego to try to catch the wildflowers blooming in Death Valley.
Obligatory social media self-promotion:  If you want to follow along and you haven't yet, please Like us on Facebook and/or follow us on Twitter (@NothingMundane) and/or Instagram (NothingMundane) to make sure you get all the updates.  All updates are certified organic!
Shamefully missed a prior post?  We made a list of the most recent ones, just for you.  To see every road trip blog post, click here.