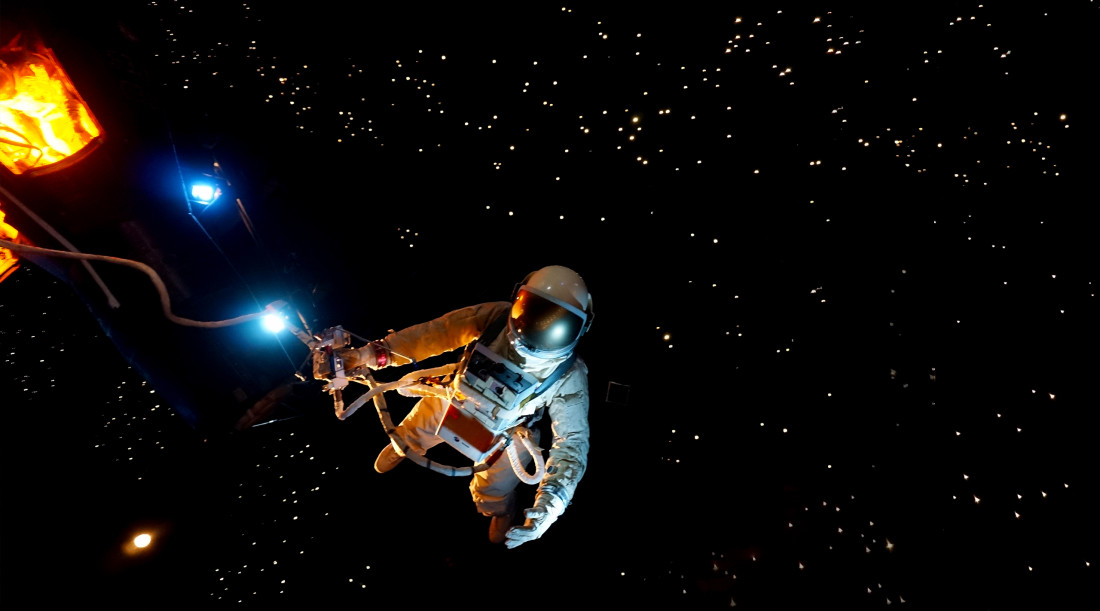 Week 15: Rocketing Through Houston
In early October, we left the small town of Sulphur, Louisiana and headed west. It didn't take long until we made it to Texas – exit 878 on I-10, to be exact (numbered by mile). Jake texted his mom, who lives in El Paso, to let her know we had finally made it to the State That Shall Not Be Messed With. "Cool!" She replied.  "See you at exit 13."
Yes, Texas is a big state, and it would take us the entire month of October to travel those remaining 865 miles to El Paso.  Our first stop was a quick 3 days in Houston, a hot, humid, concrete jungle with a surprisingly good (and nerdy) vibe.
Blast-Off
While Houston's downtown seems to be mostly corporate headquarters, it does have quite a few interesting museums. With only a short amount of time to work with, we decided to visit the most iconic (and the one not actually downtown) the Johnson Space Center. It's the home of rockets, astronauts, and NASA mission control, and it's fun for the whole family!
A little too fun, if we're being honest.  The day we visited turned out to be Homeschooled Kids Day, and everywhere we went was overrun with swarms of young children. Sometimes it was kind of cute, watching them fill out their field trip homework forms under their mother's watchful eye, but mostly it was just clogged up.
Ahhh, the peaceful few minutes of walking in the parking lot before we discovered it was Homeschooler Day. By the way, you can actually tour the inside of this space shuttle today! Unfortunately, it was still under construction during our visit.
Because of all the youngsters, we had to ride the line ride for about an hour to take a tour of the grounds, but it was worth it. One of the stops is the mission control room as it existed in 1969, complete with old-school computers and a red phone that connects straight to the Pentagon (although probably not anymore). NASA monitored nine Gemini and all Apollo missions, including the moon landing, right in that room.
Check out the slideshow below for some pictures.  We're testing this out as a replacement for the galleries, which had some big problems on mobile devices – let us know what you think!







We sat in the front row of the observation room, a room where several heads of state have sat in the past. It's pretty cool to think that we may have placed our butts into the same seat that Queen Elizabeth, JFK, Nixon, Lassie, etc. once sat on.
The current mission control room is actually directly underneath the old one.  Doesn't seem like the safest place to put it to us, but hey, we're not the scientists.
The rest of the tour was pretty interesting, too. The Space Center is a sprawling campus of weird NASA-related stuff, the kind of place where very large vats of liquid nitrogen just "chill" on the corner of the block.  We made a stop at a gigantic hangar, which turned out to contain an unused
Saturn V rocket
– the booster rockets that propelled mankind to the moon. It was scheduled to be used for Apollo 18, but that flight was cancelled, and so now it is on display at the Johnson Space Center.
The scale of the rocket is frankly incredible. It's hard to do it justice in a single photo, but it sits in a room the size of an indoor arena or field house and fills it completely. The sections are broken apart so you can peer inside various components, and although every inch of the casing is covered with wiring and tubing, it's basically hollow inside.
Except for the rocket fuel, of course.
Can you imagine strapping yourself to one of these and blasting off to the moon?














We also got to take a peek at the
Space Vehicle Mockup Facility
, an even-more-massive room filled with a replica of everything astronauts might interact with in space, including a mockup of the International Space Station. We also spotted replica space capsules, such as the Russian Soyuz, and even a SpaceX Dragon.  So cool!  (Luckily, the Nerd Alert is flashing continuously there, so nobody noticed us geeking out.)




















There was also a pretty cool museum which was, for some reason, partially sponsored by Angry Birds.  Animals in space – what a perfectly thin excuse for one of our favorite gifs!
If you're interested further, you can take a look at the slideshow below for some snaps from the museum.  We got to touch moon rocks!  And view a life-size astronaut mannequin in the space shower (that circular tube thing), which probably wasn't necessary.






















Old Friends, Nerd Places
Despite the fact that neither of us had ever really been there before, Houston was a great place to go to meet up with old friends. Our friend Brian works in New York, but has been getting sent to Houston every week by his work for months, so we got to hang out. We were happy to get the chance to play some board games (there's that Nerd Alert again), enjoy the first of what would turn out to be roughly 92 straight Tex-Mex meals, and hitch a ride in his Ubers.
We also met up with our friends Sean and Maggie. Maggie moved to Houston last summer to work for the Houston Chronicle, presumably so she could write hard-hitting pieces like "Moody Gardens turtles predict Super Bowl 50 winner." (Sorry Maggie! In fairness, she also wrote this beautiful essay.) As it happened, Sean was visiting her one of the nights we were in town.
We all met up at the most gloriously nerdy bar we have ever been to in our lives (noticing a theme?), Neil's Bahr.  There were board games for the bar patrons to play, which isn't that unusual, as well as video games, including a "vintage N64," which is a bit more unusual. There were comic books available for people to read, and one TV played nothing but the Simpsons 24/7, which is always a good idea. Mostly, though, it was the people inside who brought it down (or up?), such as the guy who visited while dressed up as a Ninja Turtle (it's his "thing," he said), or the two geeky-looking guys at the table next to ours.  Their geeky looks weren't just for show: they were, in fact, building a model Millenium Falcon on the table.  At a bar.  While arguing about the Star Wars extended universe.
Sorry, ladies, we did not get their phone numbers.
RECENT NEWS
What's now:  Doing some Los Angeles sightseeing.  The weather is great, the traffic is less so.
What's next:  Heading to San Diego for a week, then hopefully up to Las Vegas and Death Valley.  This would all feel more satisfying if winter had not decided to skip the Northeast this year.
Obligatory social media self-promotion:  If you want to follow along and you haven't yet, please Like us on Facebook and/or follow us on Twitter (@NothingMundane) and/or Instagram (NothingMundane) to make sure you get all the updates.  It hasn't killed anyone yet!
Shamefully missed a prior post?  We made a list of the most recent ones, just for you.  To see every road trip blog post, click here.