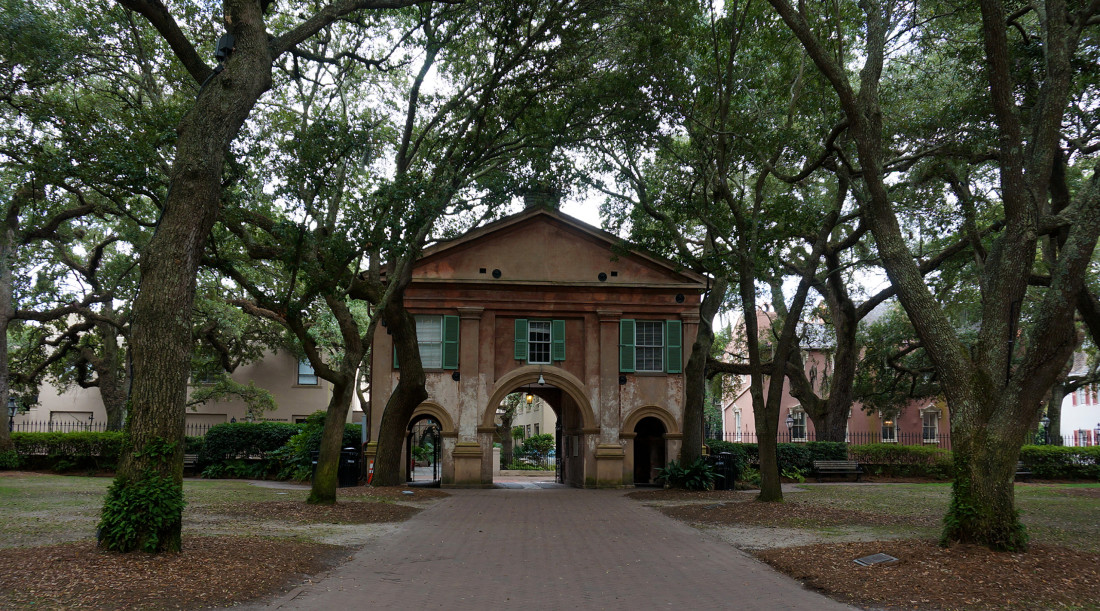 Week 13: Charleston Style
Happy New Year from Nothing Mundane!  We're back with another blog post, covering our visit to the friendly Southern city of Charleston, South Carolina.  We were planning to write about Savannah, Georgia, as well, but the post was getting way too long, so we're going to publish that one separately.  Of course, we're way behind as usual, this time around three and a half months; we were there in late September.  We've thought about jumping to the present time, but for now we've decided to keep writing about the past.  For more recent adventures, please check our Facebook and Instagram feeds.
In case you are curious, we figure that if we don't write about our past travels, we'll probably forget about them, and that would be a real bummer.  In some ways, then, this is all just a love letter to our future selves.  Hope everything is going well, Future Jake and Heather!  Sorry about all those life decisions we've been making.
Drinking In The Town
Charleston is a great Southern city with a lot of history.  The city is a lot of fun, and we had a good time walking around downtown and taking photos.  The water is lovely, as are many of the buildings, although quite a bit of the area looks like it could use a new paint job.  We had some incredible food in Charleston, and even went on a mini-pub crawl for Heather's birthday.
We took a million pictures because it was just so pretty. So many palm trees, bright colors, and beautiful buildings.
One highlight of our visit was over-stuffing ourselves with some traditional Shrimp & Grits and a "Charleston Nasty Biscuit" from the iconic Hominy Grill. It was probably the best fried chicken either of us has ever had.  We then tried to work off some of those calories by walking around the city, including through the beautiful campus of the College of Charleston.
We are total suckers for Spanish moss.
We were hoping to get a beach day during our visit, but unfortunately the weather did not cooperate. So, during our final, overcast day, we decided to check out Fort Moultrie on Sullivan's Island. We joined a tour group with some children, but decided that was way more learning than we wanted, so we ditched the tour group and just wandered around on our own.  A highlight was the long tunnels underneath the fort, where other visitors were taking advantage of the echoing and trying to imitate a wolf. We give them an A+, very realistic howling!  (Howling… howling… howling…)
Race Problems
While we had a wonderful time in Charleston, we must also mention that the drivers in Charleston are kind of insane.  Now, we grew up in the Northeast and lived for years in New York City, so it takes a lot to raise our eyebrows when it comes to driving.  The NYC metropolitan area, along with Boston, features some truly terrible, selfish, impatient, and unnecessarily aggressive drivers, but we haven't see much of that type elsewhere in the country… except in Charleston.  Everybody drove fast, and simple things like making a left turn always seemed to require some pedal-to-the-floor madness.  Driving the RV through Charleston felt like pushing a car in neutral across an active NASCAR track.
But that's all in the rearview mirror, and we managed to make it out of Charleston with nothing more than a couple of spilled coffees.  Plus, we coined a term we've been using ever since:  the "Charleston style" turn, for when roadways leave no choice except to gun the engine, close your eyes, and merge into a stream of cars that doesn't seem terribly interesting in avoiding you.
No Place Like Home
We did have one other interesting experience while in Charleston.  On our final night there, at about 1 a.m. in the middle of a thunderstorm, a tornado touched down about 5 miles from our RV.  We know this because we were awakened in the middle of the night by screeching alarms from our phones, which warned of an imminent tornado threat in our area and advised we seek shelter.  Our motorhome is, of course, not terribly tornado-resistant – maybe we should start attaching it to the ground using tent stakes – so we headed to the campground bathhouse, which didn't seem all that strong but was at least made of concrete.
Now, there were close to 100 RVs at this campground, and we doubt any of them would hold up against the Big Bad Wolf's huffing and puffing.  So we were more than a little surprised to only find about 4 other people, total, seeking shelter.  We guess everyone else decided it would be better to go down with the ship?  Or perhaps they were just hoping to be sent to Oz, where maybe they can find a brain.
LAST BITS
What's next:  We just got back to our RV in Phoenix, Arizona, after driving approximately 6,700 miles for the holidays.  (You read that right.)  We're taking it easy for a few days.
Obligatory social media self-promotion:  If you want to follow along and you haven't yet, please Like us on Facebook and/or follow us on Twitter (@NothingMundane) and/or Instagram (NothingMundane) to make sure you get all the updates.  All the cool kids are doing it.
Shamefully missed a prior post?  We made a list of the most recent ones, just for you.