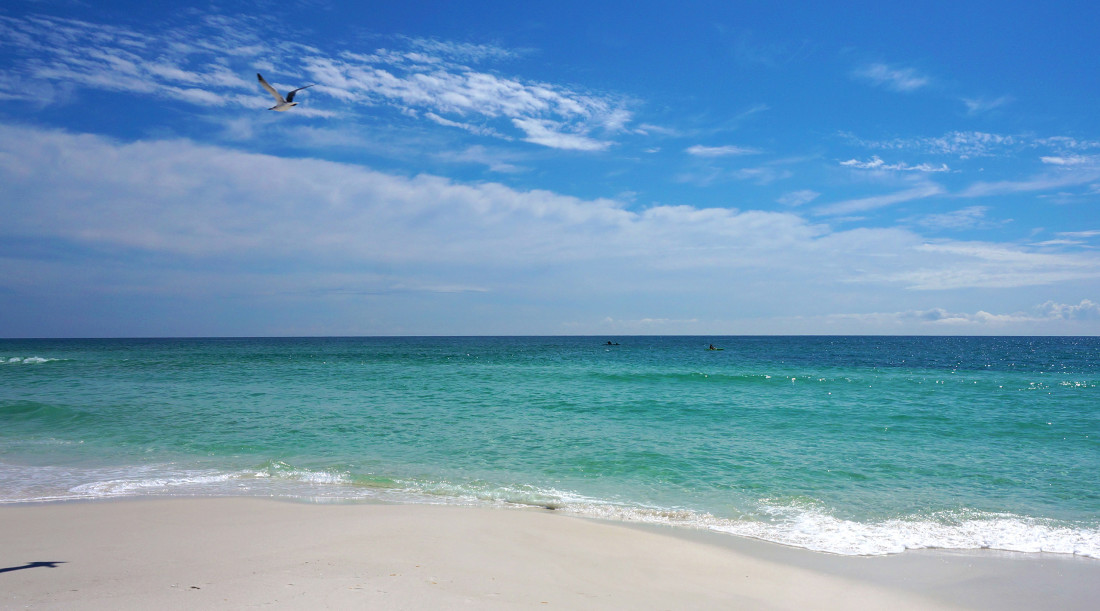 Week 14: Flo-Ride-Ah
We left beautiful Savannah behind and turned the corner on the United States, officially transitioning from I-95 South to I-10 West near Jacksonville, Florida.  Exciting!  At least if you've basically been driving on just two highways for the last six months.  In fact, we're still on I-10 today, very close to Los Angeles, after (slowly) taking it across the entire country.
Tallahassee Rain
The first stop on our westward journey was Tallahassee, Florida, basically just as a quick stop before heading somewhere more interesting.  We stayed for two nights, which is about the minimum we try to stay anywhere, since packing up and moving the RV can be kind of a pain.  Two nights turned out to be more than enough:  it rained continuously the entire time we were there.
At least we had a pretty campsite.
Incidentally, there was a private walkway down to the lake we were parked above, but we never headed down there.  You see, Florida has a certain reputation for… crazy.  And not even just crazy, but ultra-, bath salts-level crazy, the kind of crazy that earns Buzzfeed lists and an entire section of the Huffington Post.  (Our favorite headline at writing time?  A toss-up between "Florida Man Breaks Into Jail To See His Friends, Police Say," "Escaped Monkey Goes Bananas On Police Car; Eats Neighbor's Mail," and "Florida Man Bitten By Shark Kills It And Eats It As Revenge.")  It's the land of sunshine, alligators, and bad judgment.
All of which is to say that we are pretty sure we know what was down by the lake, and we weren't going near it.
Speaking of bad judgment, we visited a grocery store in Tallahassee that happened to be right next door to Florida State.  The shopping carts inside were amusing:  female college students with little but vegetables and diet soda, males with chicken breasts and protein powder, and an unwholesome amount of Easy Mac and boxed wine all around.
The parking lot was a zoo of a different kind, with the drivers displaying a combustible mixture of inexperience, obliviousness, and entitlement that made it one of the most harrowing drives of our entire trip.  Seriously – we narrowly avoided three accidents in a single row of the parking lot.  We might have driven across a mountain in the dark, but college kids with cars are a whole other level of danger.
Destin Sun
After narrowly escaping from Tallahassee, we headed farther west along the Florida panhandle to Destin, Florida.  Destin is a bit off the highway, and getting there required navigating past some giant, muddy puddles spread across the state highway.  Since we drive the equivalent of a war rig, we of course blasted straight through.  The RV was fine with this, but our poor tow car ended up covered with mud by the time we got to Destin.
"No problem," we thought.  It had just been raining continuously for two straight days; we were still on the Gulf coast, and we figured another storm would wipe it clean soon.  Just kidding!  It didn't rain again for 2 months, shortly after we gave up and got the car washed.
Muddy car aside, Destin was great.  It's a beach town, with pristine white sand and gorgeous, warm, blue-green water.  We sunbathed on our awesome pirate towel (see picture in gallery), played frisbee, and considered never leaving.
We stayed at a state park that was built right on the beach, in a space previously occupied by a freeway.  It was beautiful, quiet, and surprisingly private, and we wholeheartedly endorse the road-to-beach conversion.  However, we got hilariously lost on the way back from the beach to our camp site.  A long boardwalk connects the two halves of the park campground to the water, and we accidentally missed our turn.  We ended up on the wrong side of the park, and since it looks virtually identical (the park is symmetrical), it took us a while to realize it.
Fine, it happens.  Well, the campground on each side is built in roughly a figure 8 loop, and we walked the loop about 3 times before realizing what was wrong.  As it happens, the center-point of the 8 is a laundry station, and the people doing their laundry there expressed quickly-increasing bafflement as we proceeded to pass by six times while trying to find our RV.
Yeah… let's just say we're grateful to have GPS when we drive.
A happier highlight for us was having dinner and drinks right on the water, at a bar made from an Airstream trailer.  We sat outside where a local musician was playing the guitar and singing to, well, nobody else, and he was so grateful for our polite applause that he ended up playing some of our favorite tunes.
Listening to Sublime and drinking delicious craft beers by the ocean – does it get any better?
(That's not rhetorical.  The answer is no.)
We can't lie – this trip has been pretty awesome.
RECENT NEWS
What's now:  Currently, we are staying on the Salton Sea in Southern California, a saltwater inland lake that looks pretty but has become extremely toxic.  A beautiful sunset over a shoreline covered with dead, rotting fish; it's an interesting juxtaposition, to say the least.
What's next:  We are staying for two weeks just east of Los Angeles.  San Diego and Death Valley await.
Obligatory social media self-promotion:  If you want to follow along and you haven't yet, please Like us on Facebook and/or follow us on Twitter (@NothingMundane) and/or Instagram (NothingMundane) to make sure you get all the updates.  We promise, no rotting fish pictures.
Shamefully missed a prior post?  We made a list of the most recent ones, just for you.  To see every road trip blog post, click here.