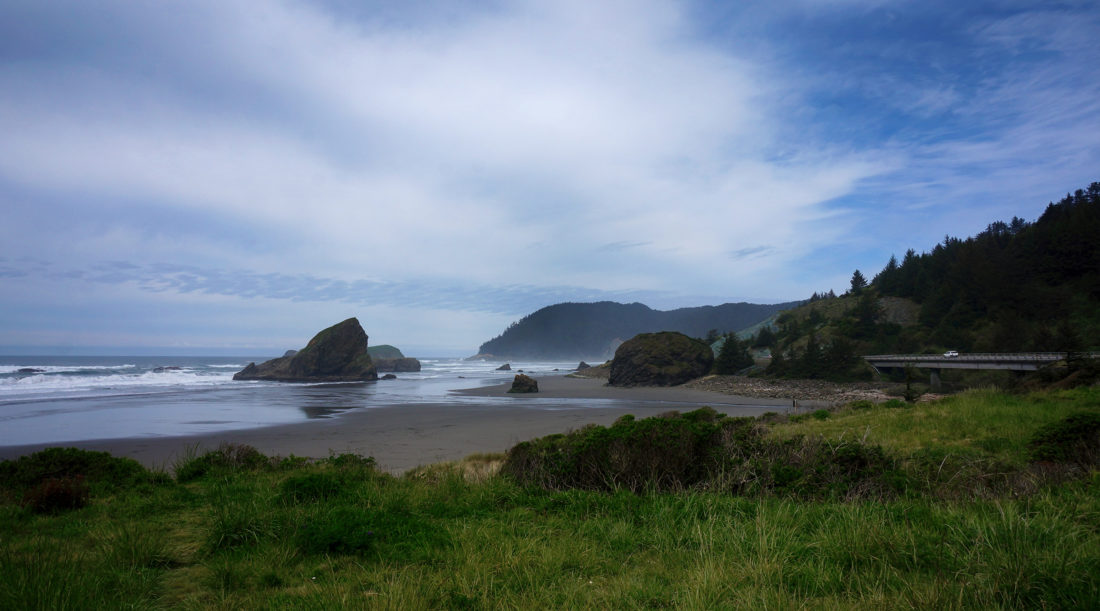 Week 42: The Wild Oregon Coast
We left California for good in mid-April, headed towards Oregon, after having spent just shy of three months in the Golden State. We had a lot of great adventures in California, and we were pretty sad to leave.
That said, the gas in Oregon is extraordinarily cheaper than in California, which made things a little more palatable.  (Unsurprisingly, the RV uses a lot of gas.)  Speaking of palatable, our next stop was a quick 2 nights along the Oregon coast. After our last, redwoods-sized redwoods post, a bite-sized blog sounds just right.
Dino-mite!
The drive up the Oregon coast on Highway 101 was spectacular, winding along the Pacific Ocean. The area is definitely hilly, and we feared a white-knuckle drive, but Oregon turned out to be a very RV-friendly state. The grades and curves were relatively gentle, and there were plenty of pull-offs, offering scenic views and a respite from angry tailgaters. We probably saw more RVs per mile on this stretch than anywhere else in the country (except Quartzsite!).
We stopped along the way to our destination to visit the Prehistoric Gardens, a quirky roadside attraction of local fame. The turn into the Gardens was pretty white-knuckle, due to… let's call it, "user error regarding the amount of braking required," but it was all worth since we got to take selfies with 23 life-size dinosaurs.


















At the time they were built, the displays and the statues were all scientifically accurate, which we appreciate.  Of course, since the oldest statues here were almost sixty years old, you won't find anything about feathers or avian evolution here. Nonetheless, the whimsical coloring and beautiful foliage more than made up for it, and overall, it was an A+ roadside stop.
Quick Sand
After our visit to the Jurassic, we pulled into our campground at the awesome Jessie M. Honeyman State Park. This was about the sixth state park with RV spots we passed in 50 miles; as we said, it's a very RV-friendly state. The next day, we started out by exploring a very surprising Oregon find: sand dunes!
We had no idea until we got there, but it turned out the whole southern Oregon coast features massive sand dunes, 80+ feet high! It seemed like every other place we passed offered dune buggy rentals or tours, but we kept things simple and just walked around the dunes behind our campsite. This pedestrian approach turned out to be rather exhausting, as the shifting sand made every climb three times harder than necessary, but we ended up with some awesome photos.
















Making Waves
The real reason we came to the Oregon coast was to visit Cape Perpetua, a narrow bit of coast with some unusual properties. The waves here crash hard, and they have eaten away at the rocky shore with spectacular results. There's the Spouting Horn, a narrow crevice which launches water into the air with each wave:
Just a few hundred yards further is the Devil's Churn, a long, narrow crack in the coastal rock.   Water enters and drains from the crack with each wave, as at Thor's Well, but the result is far more explosive.






Pictures can't possibly do it justice, so we took a video.  Unfortunately, the video doesn't really do it justice either, so just imagine the world shaking with each wave!
If you're curious, we visited Cape Perpetua just before high tide, as is recommended.  It was during a lull in a pretty fierce thunderstorm, so the waves were powerful. However, as we were photographing Thor's Well, the wind started gusting, first lightly, then with increasing power. The lull was over, and the wind quickly ramped up towards gale-force.  In seconds, the entire place cleared out of people.
We wisely – and quickly – retreated to a nearby pub to watch the storm howl over the ocean.  Cape Perpetua is definitely an exciting place to visit, but we wouldn't recommend going swimming.