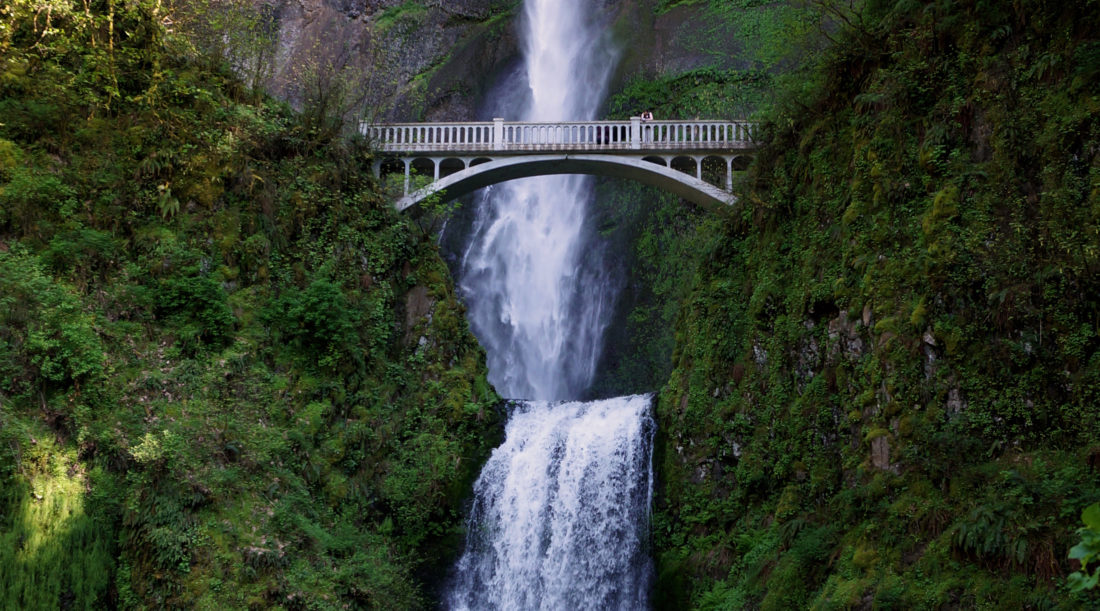 Week 43: Portland, Oregon
Portland, Oregon is a pretty magical place, and the City of Roses immediately became one of our favorite cities. We had high expectations to start with, and it exceeded them all – at least, until it started raining.
PNW Fever
Hang on, we're getting a little ahead of ourselves. We stayed in Portland for a while, by our standards (10 days), in no little part due to the fact that the RV park we stayed at had amazingly fast internet. For your wilderness-living correspondents, this was as exciting as having a chocolate fountain right outside our door.
Well, maybe not that exciting. But still, pretty exciting.
On top of the fast internet, the weather when we arrived in Portland was unusually beautiful – sunny, dry, mid-70 degree temperatures. The city itself is also very pretty – lots of trees, everywhere – so the whole experience was outrageously pleasant. In fact, on our first day in Portland, we saw a double rainbow in the grocery store parking lot.
We took advantage of the beautiful weather to scope out the city, and our love kept growing. There were delicious Voodoo Doughnuts, a waterfront market, food trucks as far as the eye could see, and the International Rose Test Garden – a testbed for experimental roses, free to stroll.  We were a little early for the roses, but the rhododendrons were in full bloom.























On top of the great weather, everyone in Portland is friendly and laid-back. It must be mentioned that they're also a bit eccentric – along with Brooklyn, Portland is ground zero for modern hipsterism – but we got along well with everyone we met. As far as we're concerned, the more handlebar mustaches in this world, the better.
We finally got our Honda Fit fixed, for real (previous issues chronicled here and here), and the friendly mechanic mentioned that the pervading worry in the town was about rising rent prices and the influx of professionals. "They're trying to turn us into a real city," he said, sadly.
Real city or not, there is an abundance of fun stuff to do in Portland. Our friends Autumn and Aaron happened to be visiting, along with their cute baby and Autumn's parents, so we met up with them for lunch at the Deschutes brewery (yum).
Later, we headed to the Oregon Museum of Science and Industry ("OMSI"), an awesome museum featuring an exhibit on video games (!) with dozens and dozens of playable games (!!). Pretty sweet, but the permanent exhibit was equally cool, with "hands-on" science toys like a Van de Graaf machine, water-pressurized soda bottle rockets (Heather was good at those), a chemistry lab, a vertical wind tunnel for paper airplanes, a crazy kinetic sculpture, and much more.
Science is just the best, isn't it?  The friendly and knowledgeable volunteers were even kind enough not to mention the fact that we were adults playing with exhibits clearly intended for children.










Oregon is Gorges
While staying in Portland, we explored the nearby Columbia River Gorge. A crucial but treacherous path to settlers on the Oregon Trail, the gorge cuts through a lush and mountainous region just north of Mount Hood. Years later, an excellent-but-narrow scenic drive was created that follows the river past numerous waterfalls. (Seriously, there are an unreasonable number of waterfalls here.)  Want to see some pictures? Of course you do.


























At the end of our drive we hiked up the hill behind Multnomah Falls. It was a tough climb, but the half-dozen beautiful waterfalls and striking views of the gorge were well worth it. Jake was particularly enchanted with a section of trail that passed through a high forest, lit by late afternoon sunbeams filtering through the canopy overhead. It remains one of our favorite hikes.
The icing on the nature-cake was Multnomah Falls itself, a towering waterfall with a picturesque viewing bridge installed in front of it. After the quiet of the woods, it was tough to deal with the crowds at the base of the falls, but we can't really blame them – this is one of the most scenic waterfalls in the country.  Selfie away!
The Hood
Our final visit in the Portland area was to Hood River, a small town to the east situated on the Columbia River gorge. It's a town known for two things: its extreme sports activities, and its beer. We killed two birds with one stone by eating lunch on the patio at Full Sail Brewing, which overlooks the river.   While we feasted, we watched dozens of windsurfers swoop, glide, and even flip across the water, an intricate and endlessly fascinating dance.






Pretty amazing. We have to say, based on our visit, the Portland area truly seems like a great place. After three days of sunshine, we were ready to live there forever… and then there were about six straight days of cold, constant rain. It was a chilling reminder that Portland's mild winters can still be, well, chilling.
So Portland might not be perfect – but it's still on our post-trip shortlist.