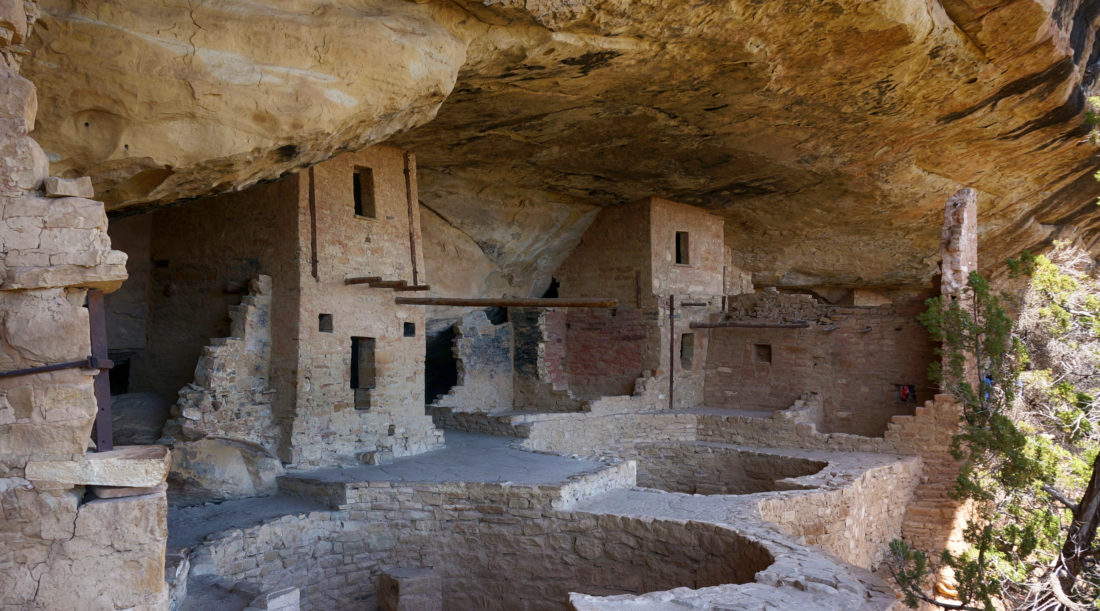 Week 50: Mesa Verde & Hovenweep
After a week in Moab and visits to Arches and Canyonlands National Parks, we continued on our roadtrip, heading southeast into southwestern Colorado.  We had originally planned to visit the famous Monument Valley at this point – it appeared in Forrest Gump, along with many, many westerns – but it didn't work out.  The area around Monument Valley is incredibly remote, and with so few services, we had been planning to just park in the desert for free.  However, with triple-digit temperatures every day, no air conditioning, and a living space that heats up like a greenhouse, we decided to save Monument Valley for "next time" and head for cooler climates.
Well… air conditioned climates, anyway.  We stayed in Cortez, Colorado, just northeast of the Four Corners (which we did not visit because it is a horrible tourist trap).  From Cortez, it was a short but winding drive to visit Mesa Verde National Park, and a longer but much straighter drive to Hovenweep National Monument.
One exciting development, by the way: Cortez had real stores!  Safeway, CVS, a place to change the oil on our RV – all very welcome for your weary correspondents, who had spent the last month in small towns in the Utah desert.
Mesa Verde
We only had two days in Cortez, but we made them count.  We first visited Mesa Verde National Park, a little-known park set, like Canyonlands' Island in the Sky, on top of a giant plateau.  Unlike Canyonlands, however, the scenery is not the draw here (although the views were gorgeous).












Unique among national parks, the main draw of Mesa Verde is the huge number of archaeological sites.  In particular, this is the finest place in the country to see Ancestral Puebloan cliff dwellings, located along the edges of valleys like the one below.
The area around the park has been settled since approximately 7500 BCE, but most of the cliff dwellings were built between 750 and 1300 CE.  They are amazing in person, surprisingly large and in excellent condition due to the dry desert air.  (It's worth noting that many were also restored from ruin by the park service.)  We previously saw cliff dwellings at two locations (one and two) in New Mexico, directly to the south, but the buildings at Mesa Verde blow the ones we saw out of the water.
Much of the park involves a self-guided driving tour, where we looked at various preserved archaeological sites.  This frankly wasn't all that interesting, but periodically an overlook would provide a view down into a nearby canyon, and we would excitedly point out a visible cliff dwelling.  They're well camouflaged, so we probably missed some – the park holds more than 600 cliff dwellings in total.
















After the drive, we had tickets to take a ranger-guided tour through the Balcony House, one of Mesa Verde's three largest ruins.  The tour group was huge, but we all fit inside the incredibly well-preserved main room.  In our photos, you can see different rooms – used for storage and sleeping – as well as the large central "kiva," the round cut-out in the floor that served religious and ceremonial purposes.


























The most important part about Balcony House is actually hidden.  In the back of the cave, there is a small, muddy pool of water, fed by a spring in the rock.  Access to drinkable water was hugely important in such an arid region, and all of the major cliff dwellings at Mesa Verde were built around such natural plumbing.
One other fun thing about Balcony House is that the Native Americans who used it did not use ladders or rope.  Instead, they climbed up and down the sheer cliff walls via tiny finger-holds carved into the rock.  Crazy!  Tours today are a little more forgiving, but we did still have to squeeze through a small tunnel in the rock near the exit.
If you ever decide to visit Mesa Verde, you might want to hit the gym first.
After escaping the crowds, we took one last stop to check out the Far View Sites, a short trail that links several ruins that are on the top of the mesa. These ruins are about 200 years older than the cliff dwellings, making them over one thousand years old (!). We were pretty much the only people here, other than a ranger stationed near the trail head. Ah, sweet solitude. Our favorite way to explore.











Hovenweep
On our second day in Cortez, we stopped at the excellent Anasazi Heritage Center*, where the friendly volunteer staff answered all of our dumb questions and even gave us some chocolate bars.  (One thing that became clear to us on our trip: most of our nation's parks and museums run on volunteers!)  The artifacts on display fascinated us, especially a seven-thousand-year-old basket, as well as the beautiful examples of modern-day basket weaving. And, of course, there was another archaeological site – ruins from the 12th century.
* The preferred word for these peoples now is Ancestral Pueblo; the term "Anasazi" comes from opposing Native American tribes, and was essentially a slur meaning "Ancient Enemy." 























After having our fill, we decided on the advice of the locals to check out Hovenweep National Monument, a tiny, extremely remote park located on the border between Colorado and Utah on the Utah side.  It's absolutely barren all around – we were frankly surprised to find that the visitor center had electricity.
But Hovenweep protects something very, very cool: the ruins of dozens of ancient brick towers, built hundreds of years ago by Native Americans – and then abandoned.
The towers at Hovenweep were built between approximately 1200 and 1300 CE, mostly along the canyon edges, with some on the canyon floors.  Nobody really knows why the towers were built, or why they were abandoned.  The largest are three stories high, the precision-cut stone and mortar still holding strong in the desert air.
You can get right up close to many of the towers, with others only visible in the distance.  With so many unique and arresting shapes, it's a photographer's paradise.  It was also quiet and still, as only about 4 other people were around in the entire area.  For the first time, we broke out our zoom lens and tripod, trying to capture the somber, slightly awed feeling we felt at being among the ruins.
























We probably still didn't do it justice, but we hope you like the pictures.