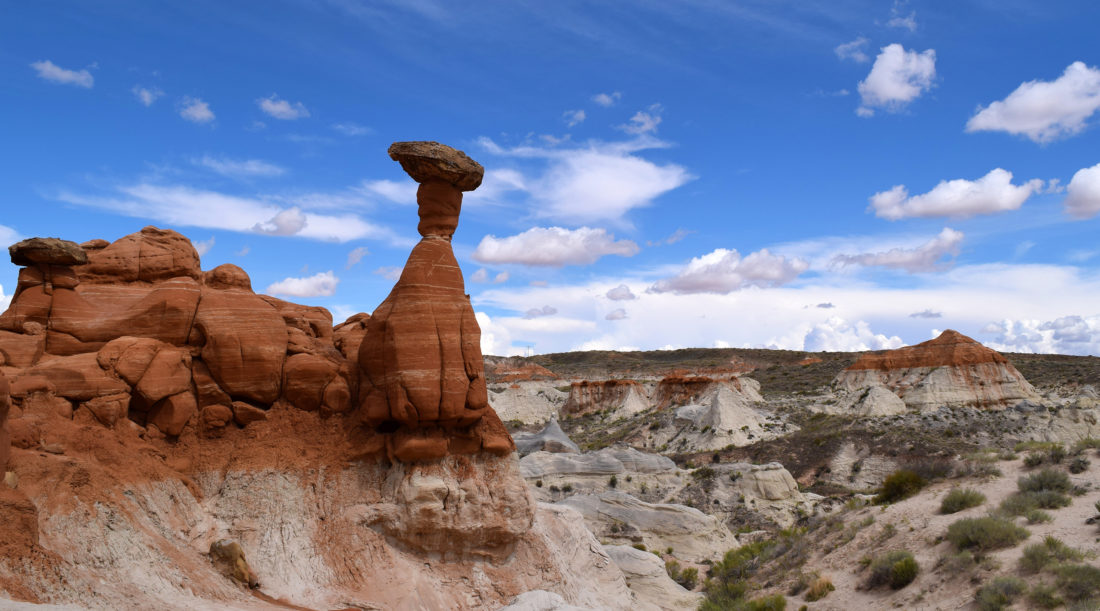 Week 47: Kanab, Utah
After a slightly weird caving experience at Great Basin National Park, we continued south through Utah, quickly leaving the interstate behind. Southwestern Utah contains some very rolling hills, and it was a bit of a tense drive before we finally made it to Kanab, Utah. We stayed for nine days in mid-May, mixing some amazing sightseeing with more everyday tasks like laundry and trip planning.
Nothing mundane, of course.  Never that.
Kanab is a small but busy town of only 4,300 people.  As any real estate agent can tell you, it's all about location, location, location, and Kanab has that in spades. Situated between three national parks (Zion, Bryce Canyon, and the north rim of the Grand Canyon – all coming up next) and numerous state parks and national monuments, the scenery around Kanab is breathtaking. As a result, it's a touristy place, but in a low-key sort of way, and we found the vibe more charming than annoying.
As in most tourist towns, the residents are enterprising. For example, there is a local newsletter with detailed write-ups on all the area activities, and it runs close to 50 full-length pages. It was quite helpful, but we didn't realize until later that every article was written by the same woman! Ms. Dixie Brunner, thanks for all the advice.
By the way, despite staying for more than a week, we didn't even come close to seeing everything.  Touristry in Utah requires some serious time-management triage.
In the 1950s, some similarly enterprising locals convinced Hollywood producers to shoot westerns in the area – including the TV show Gunsmoke. Tipped off by Dixie, we stopped by one of the old sets, now decaying slowly in the desert near some new housing developments. Sort of sad to see, but it made for some cool pictures.








Unlucky Numbers
As the headquarters for several federal park activities, Kanab has the unique distinction of being the location for a very special lottery. Six times a week, tourists gather at 9:00 a.m. sharp to try to win a coveted permit to see The Wave. You've probably never heard of it, but you may have seen a picture – The Wave features parallel bands of red and white rock curving gracefully in the shape of… well, a wave.  Here's a picture from Wikipedia:

[By Gb11111 – Own work, CC0, https://commons.wikimedia.org/w/index.php?curid=15724006]
There were at least eighty people at the morning lotteries, but only a few winners – only ten people total are allowed to see the Wave each day.  We tried three times, but never won.  Bummer!  At least we got to see something similar earlier in our trip at the Valley of Fire.
Hard Rock Life
With no Wave, we instead took another Dixie suggestion and visited the Toadstools. These are a series of super-cool hoodoos – weathered rock pillars – with caps of harder (and therefore larger) stone on top.





















The toadstools were pretty awesome, as was the general landscape.  What really blew our minds, though, was that the toadstools aren't even a big attraction. There is so much cool stuff in southern Utah that these amazing rock formations barely even merit a parking lot! We would never have known they were there if not for our Kanab newsletter, and we couldn't help but wonder what else is waiting out there to be discovered. (Answer: a lot.)
BAFFs
Our final stop in Kanab (aside from the national parks) was a pretty heart-warming one. Kanab is the headquarters for the Best Friends Animal Sanctuary, a non-profit group dedicated to ending euthanasia for unwanted animals. Their motto is "Save Them All," and although they have grown to many locations nationwide, the Kanab facility is the largest and most important. It is their "shelter of last resort," where un-adoptable animals of any species are sent to live out their days in the peace and quiet of beautiful Angel Canyon – mostly dogs and cats, but also pigs, horses, birds, and more.
We took a tour of the vast sanctuary, and it was really wonderful. Everything is thoughtfully designed with the animals in mind, whether it be bright, airy houses for the cats, or the dozens and dozens of individual and shared runs for the dogs – they have both a "Dogtown" and a "Dogtown II."
The fantastic trainers work diligently to rehabilitate every animal, even the ones that will never be adopted. Some have physical or mental issues – we saw a volunteer walking one dog which constantly turns in circles as it walks – while others are there for different reasons.  Many of Michael Vick's abused pit bulls ended up at Best Friends, and we actually got to meet one. She was smaller than we expected, but with an incredibly broad chest and the deepest bark we have ever heard. Like many "fighting" dogs, she actually had a very sweet disposition, but due to court order, she can never be adopted.
So, she gets to live here instead.
Best Friends is the rare kind of place that makes you happy about humankind. But of course this sort of thing happens in a lot of different places, and we'd be remiss if we didn't mention that Jake's aunt and uncle in LA, Fran and Bob, foster rescued cocker spaniels for another wonderful charity, Camp Cocker. Despite our cold, cynical hearts, we have to say thanks to Best Friends, Fran and Bob, and everyone who does such amazing work for animals everywhere.
Marketeering
Rather than end on a warm, sappy note, we'll share one more quick story. After leaving Zion National Park late one night, we grabbed a bite to eat a restaurant just outside of Kanab called Thunderbird, which advertises itself as the "Home of the Ho-Made Pies."
We just had to try them, but friends, we're sad to report: those pies appear neither ho-made, nor even homemade!  In fact, we're pretty sure some of the filling was still in the shape of the Sysco jug it came in.  We were so dispirited we didn't even get a picture.  To quote Lionel Hutz, "[t]his is the most blatant case of fraudulent advertising since my suit against the film The Neverending Story."
Ah, well.  We figured we'd just have to eat some more pie in the future to make up for it.  (Spoiler alert! We did.)