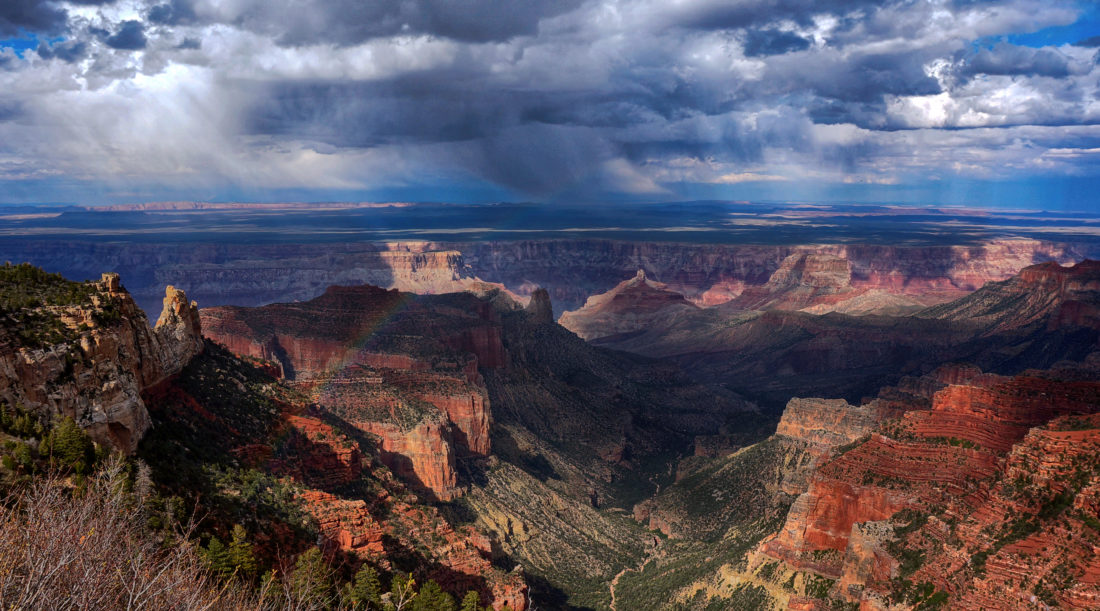 Week 47.1: The Grand, Grand Canyon
The Grand Canyon has been the focus of innumerable road trips, and it's been at the top of our "to-see" list for ages.  In mid-May, we finally got the chance, and we drove 70 miles from our campground in Kanab, Utah to the North Rim.  To be more precise, we went on May 16, which was fortunate, since the road to the North Rim had only opened for the 2016 year on May 15.  We had no idea.
If you ever get to choose, "clueless but lucky" is our recommended way to travel.
Aw, hail
Our drive to the North Rim traveled through beautiful desert landscapes – there are a few national monuments here – and then up, up, up, past grassy meadows and through a pristine alpine forest.  It turns out the road closes because it gets covered with snow: the North Rim is really high.  Like, 8,000 feet in the air high (the better-known, 10x more visited South Rim is about 2,000 feet lower).  There were only two towns in the entire 70 miles, one of which was just some campgrounds and a gas station / general store.
We finally made it to the Grand Canyon just before noon, straining to catch glimpses of the canyon through the trees as we drove.  We parked, walked down, and finally made it to the rim, and…
Holy crap.  It's incredible.
The canyon is so wide, and it's so shockingly… colorful.  We've seen a lot of amazing sights on our road trip, but the view left us in awe.









We took pictures along the canyon rim for a few minutes, ignoring the light drizzle.  Then, suddenly, black clouds began rolling in.  We were at 8,000 feet, on an exposed, rocky outcropping with sheer cliffs in multiple directions.
"Time to go," Jake said.
"Just a few more pictures!"  Heather said.
"No," Jake said again, as the menacing cloud rapidly moved towards us, lightning bolts crashing, "it's really, really time to go."  We managed to get back into our car just seconds before a huge, spectacular lightning-hail storm ripped through the area.  It was so fast and furious, we actually got several inches of hail built up on our car like snow!
Now, we normally try to eat our lunch in scenic spots as opposed to, say, the parking lot of the visitor's center, but something about not being pounded with lightning-hail made our Honda Fit feel like the best place in the world.  As a sweet, cynical bonus, we got to watch a worker across the street spend several minutes trying in vain to cover up a catering cart full of food he was delivering, until he finally gave up, hid under a doorway, and reconsidered his life choices.
Rim Shot
After lunch, full of food but thirsty for hiking, we drove over to the trailhead for the Kaibab Trail, which leads down and across the canyon to the South Rim.  After a mile or so of hiking down the trail, the views were breathtaking.
There were lots of donkeys on the trail, which was fairly entertaining, even though they can make the footing for hikers a little… treacherous.
We talked to a fellow hiker at an overlook, and it turned out he was hiking rim to rim – a 24 mile, single-day death march.  He was part of a tour group, apparently for crazy people, and he was really looking forward to the top, where he had been promised they would have beer.
"Almost there," we said.
"Everyone says that," he said.
Then we had to head back.  At 8,000 feet, that meant hiking steeply a few miles back up the canyon, leaving us breathless yet again.
Too many pics
Writing can't do justice to the Canyon, so we'll mostly leave the rest to Heather's pictures.  (She goes through a heroic number for each blog post, but especially for this one.)  Touring the canyon mostly involved driving around and stopping at viewpoints, so here's Point Imperial, at nearly 9,000 feet the highest point in the canyon.
Eventually, we reached the end of the scenic drive at Angels Window, a hole in a rock outcropping with a viewing platform built right on top.
We walked all around the rim of the canyon here and came away with some truly epic photos.  (Bonus: if you haven't already, click here to check out a 360-degree photosphere of the Grand Canyon in all its glory!)


























We finally headed back to Kanab near twilight.  There were deer everywhere along the road – we probably saw 100 in total – along with lots of tourists, stopping to take pictures of such an exotic animal.  We also nearly ran over a coyote, which trotted halfway across the road, checked us out for a moment as we skidded to a stop… then it just kept going, unimpressed.
Guess it was hoping we were an Acme delivery truck.