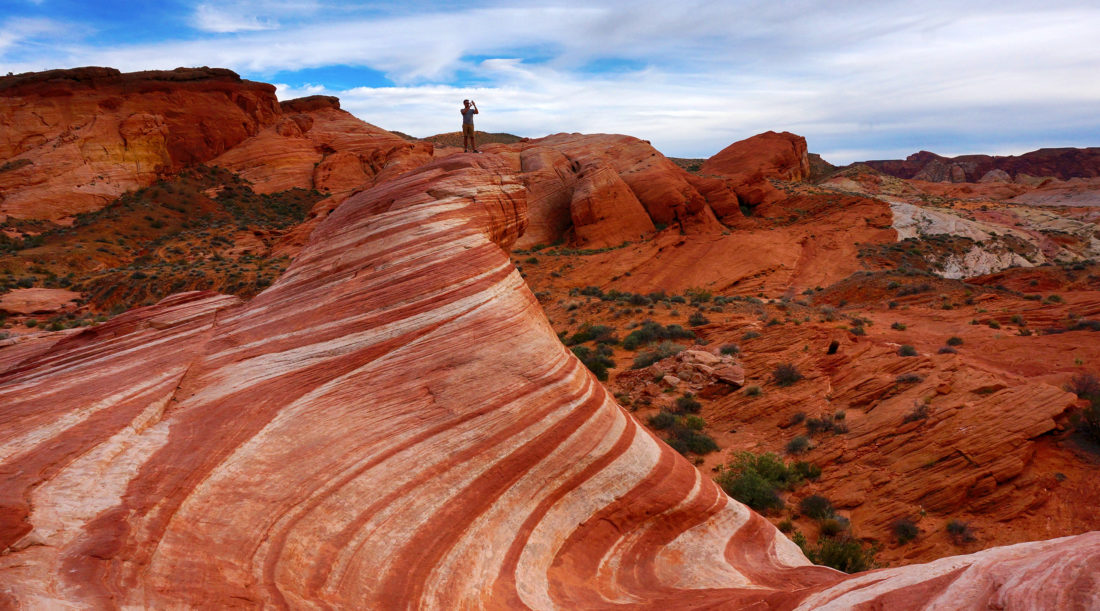 Week 36: Vegas, Baby!
Death Valley National Park was awesome.  However, it lacked some of the things we've grown accustomed to, like electricity and Internet, and we are Millenials through and through.  We will happily live, drive, cook, shower, and poop all in one vehicle, but not being able to browse reddit is a dealbreaker.
So, we hitched up our electric wagons and drove towards Las Vegas.  Let us tell you, friends, there is a whooooole lot of nothing between Death Valley and Vegas.  It's as empty as a New Year's resolution.  The only point of interest was a gas station on the California / Nevada desert, where we had planned to fill up.  When we arrived, we discovered that the gas station was named "Area 51" and it was decorated extensively with green alien stickers, statues, and banners.
That was weird enough, but it got stranger.  Because it was in Nevada and this is legal there, there was also a brothel.  Right behind the gas pumps.  Looked just like a motel, except charging more of an hourly rate than daily (we assume).
We were a little unsure of how to handle this unexpected scenario, so we ended up driving by it altogether.  That was a mistake – it turned out there weren't really a lot of other gas stations for the next 50 miles, or any for that matter, and things got a little hairy, fuel-wise.
On the other hand, neither of us got VD.
The Strip
Las Vegas has a LOT of RV parks because it's a popular destination for the winter snowbirds.  We are talking about winter travelers, of course, not actual birds – there isn't a whole lot of nature going on in the City of Sin.  This was both of our first times there, so we did take a visit to the famed Strip, but we can't say we were too impressed.
The Strip is an impressive display of commerce, but it feels like everything there is designed to siphon money from you (and it is). It's like a retail/gambling version of the Vampire Squid article about Goldman Sachs.  Not wanting to repeat the plot of the movie Lost in America – which we were warned about many times, for obvious biographical reasons – we decided not to gamble, and without that, the only option that seemed to be popular was getting drunk on something neon-colored in a 30-ounce cup.
We declined that option as well, and just wandered around for a bit before returning to our RV.  Maybe we're just getting old, but the fountains at the Bellagio were our favorite part.
Better Than The Strip
We expected all the above, so we came prepared with nature-related backup plans.  We first visited the Hoover Dam, where we admired the engineering and the art deco styling. We also got a great view of the dam from the Mike O'Callaghan–Pat Tillman Memorial Bridge, which was completed in 2010, and rerouted US highway 93 – the only way across the canyon – from its previous path along the top of the Hoover Dam. We can't even imagine how much of a bottleneck US 93 must have been prior to 2010, since the road across the dam is full of pretty views, hairpin turns, and tourists that do not understand how sidewalks work.
To put it another way, if you enjoy commuting through an active farmer's market on the edge of a cliff, this is the drive for you.
We also enjoyed some views of lovely Lake Mead, the reservoir behind the Hoover Dam, which was very low at the time.  The white "bathtub ring" in our photos shows you the old water level. The reservoir has since dropped to its lowest level ever, which we're sure is nothing the Southwest needs to worry about.












The Hoover Dam was cool, but our favorite trip was further out of town, at the Valley of Fire State Park.  The landscape here was stunning, and possibly Heather's favorite of our entire trip so far.  The desert rock formations were varied, colorful, and highly reminiscent of a Roadrunner / Wile E. Coyote cartoon.
We took a hike through the White Domes area, which featured great views and spectacular, colorful, wind-eroded rocks that alternated layers of orange, white, pink, and yellow sandstone. Pretty! It also had a great, narrow slot canyon, which is our favorite hiking feature.  Spooky!






















Another one of our favorite features of the park was the Dr. Seussian landscape at "The Wave."  The bright swirls of colors are really like nothing else.  Maybe the world's biggest and least-edible latte art?












There was a lot more, including petroglyphs and an old movie set.  As it turns out, many movies have been filmed in the Valley of Fire, including Casino, Austin Powers, Con Air, Total Recall, and the first Transformers movie.  We can see why – the backgrounds are magnificent, and the cars here turn into giant robots.  (Probably.)
















Such a cool place.  If you ever have a day to kill in Vegas, the Valley of Fire is a must-visit.  Even if you don't have any time to hike, the road through the park is super cool!
The only downside?  It felt like we took about half the park back with us inside our shoes.
Then again, every good trip needs a souvenir!