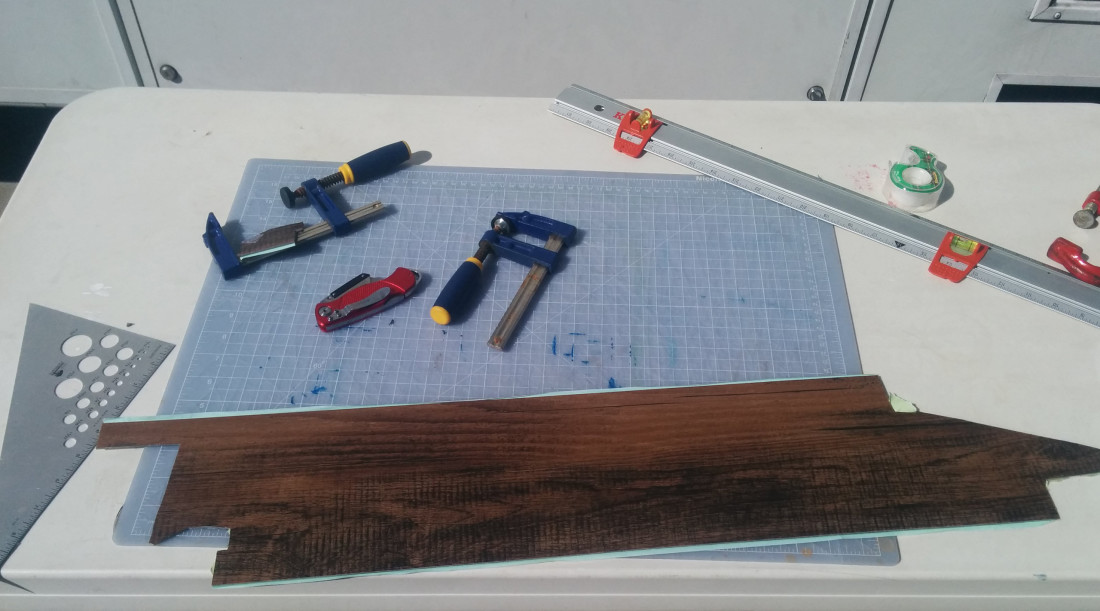 Intermission: Renovation
We're taking a break from our irregularly scheduled programming for some exciting news:  we renovated our RV!  Now, this may not be a surprise, since we've posted a few pictures on Facebook and Instagram, but we haven't posted the full set anywhere yet.
The majority of the work was done over the course of about 3 weeks in El Paso, Texas, while staying with Jake's mom.  We installed everything ourselves.  There will be some more details below, but a short list of the renovations includes:
Carpet removed, vinyl "wood" plank floor installed in most of the RV
New kitchen and bathroom countertops
New bathroom sink
New kitchen backsplash
New hardware (handles) for kitchen and bathroom cabinets
New slipcovers for the couch, throw pillows, and dinette cushions
New fabric covering for window valances
We also added a throw rug and a new, custom artwork by Heather.  We may end up making some additional renovations, but we're waiting until after the new year – 957 Home Depot trips in 21 days was enough for now.
Enjoy!
Before & After
Here's a few pictures showing our RV before and after the renovation.  Our RV is from 2002, and although it was in good shape when we bought it, much of the interior looked very outdated.  Even if it were new, RV furniture and decor tends to look pretty crummy.  While the floor and countertops took a lot of work, many of these fixes were simple and relatively inexpensive.
As you can see in the picture above, we took up the ugly old green carpet and replaced it with vinyl "wood" flooring, along with a colorful and inexpensive rug.  Heather sewed new slipcovers out of fabric for the couch and the dinette cushions, and she also made some artwork to replace the mirror in the upper left of the "before" picture.  She also covered the window valances with new fabric. Oh, and we replaced the broken cupholder!
The kitchen is where we did most of the work, and we're really happy with how it turned out.  We installed a new laminate countertop, which basically glues onto the existing countertop, as well as a new kitchen faucet.  Laminate sheets are the worst thing ever to work with (all they want to do is chip and slice your hands), but we showed it who was boss. We also added a backsplash, which is really just a bunch of stick-on panels (shh, don't tell anyone), and changed out the gold hardware with oil-rubbed bronze handles with a more modern profile.   Our favorite part is the new faucet – the old one wasn't even tall enough for our pots to fit underneath!
A close up of the new countertop, faucet, and backsplash.  The countertop was purchased from Lowe's, but we got the faucet and backsplash online.
Our tiny bathroom definitely looks a lot better now.  We removed the old sink, which was really small and cheap, and put in a new, copper sink we purchased online.  We also installed a "waterfall"-type faucet and a new countertop.  Because of time limitations, we didn't extend the new flooring up and around the toilet, but we have some extra planks so we may do that in the future.
An overall shot.  We think it turned out great!  Note, we didn't have a good overall "before" picture so we used a stock photo from the manual, but it's extremely close to what it looked like.
DIY Fun
We haven't tallied up the total cost of all the renovations, but it was probably substantially less than $1,000.  In part, this is because we did the work ourselves – we ripped up carpet, cut and laid flooring, glued countertops, and Heather even hand-sewed the slipcovers.  (It helps that we could only use the lightest, and therefore cheapest, materials.)  It was a ton of work, but we definitely learned a lot.
Here's a gallery of in-progress pictures for anyone interested.  We included captions, and you can see the whole story by clicking on the first one and using the arrows to move to the next picture in turn.  Mobile users should also be able to swipe to get to the next picture. (Unfortunately, it looks kind of crummy on mobile – that's something we need to figure out. For now, we recommend looking at it on something with a bigger screen.  We also uploaded the album to Imgur which may look better.)
LAST BITS
What's next:  Currently, we are in Phoenix, Arizona, enjoying unseasonably warm weather and unreasonably pretty sunsets.  Soon, we're headed back to the Northeast for the holidays.
Obligatory social media self-promotion:  If you want to follow along and you haven't yet, please Like us on Facebook and/or follow us on Twitter (@NothingMundane) and/or Instagram (NothingMundane) to make sure you get all the updates.  Every update is certified GMO-free!
Shamefully missed a prior post?  We made a list of the most recent ones, just for you.