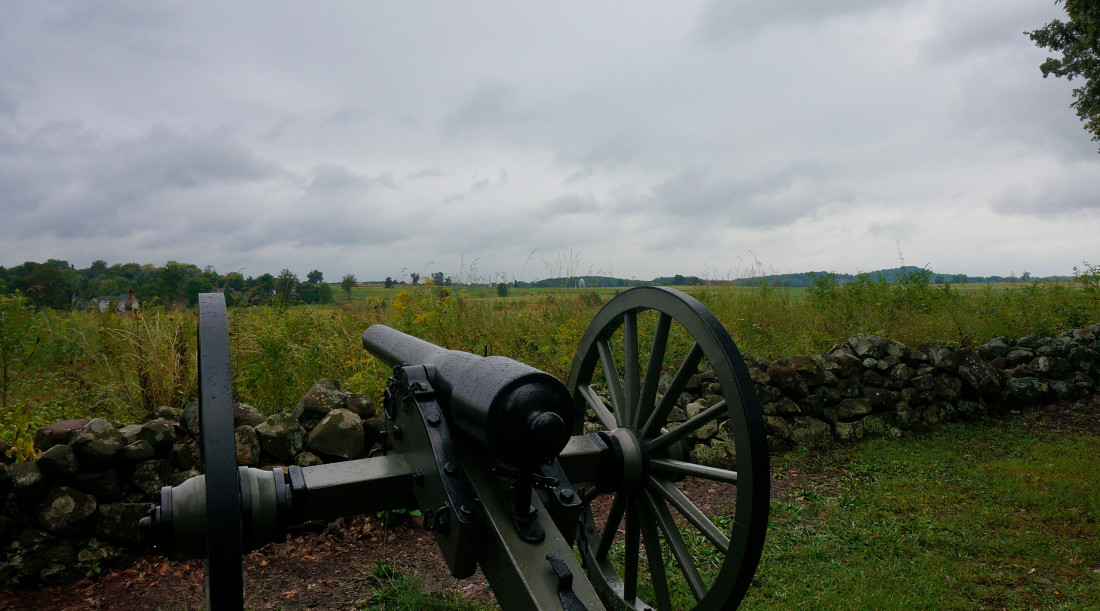 Week 11: Address – Gettysburg
After getting our fill of bagels, pizza, and herds of tourists in NYC, we packed up our RV and began the quickest part of our trip: getting to San Antonio for our friends' wedding.  Like the plot of a bad movie, we had exactly one month to make it to Texas, and we were about 2,100 miles away (as the RV drives).
These constraints required us to come up with an actual travel itinerary, which was a challenge.  For those who might not know, we are more or less incapable of planning ahead.  We were engaged for over three years before we finally had a wedding because it just seemed like it would be so much work.  (We were right!)  Well, although we grumbled a bit (read: a lot), and procrastinated a bit (ditto), we did eventually manage to pick a route to San Antonio. It consisted of 10 stops in cities, mountains, and beaches, and – spoiler alert – it worked! We made it to the wedding on time.
This blog post is about our first stop on this route: Dover, Pennsylvania.
Farm Country
Heather's friend from college, Trisha, and her husband Greg graciously agreed to put us up for 2 nights at their house in Dover.  Dover is south of Harrisburg, in southern-central Pennsylvania, and relatively near to Amish farm country.  Trish and Greg live in a cool old farm house that Greg has been renovating beautifully over the years, situated on a plot of land big enough to amaze your humble recently-Manhattan-dwelling correspondents.
Our favorite part?  We met the friendly women who live next door, who were tossing some wicked Frisbee – hard, fast, accurate forehands and backhands, even a hammer, all the while running and jumping gracefully to snag the disc out of the air.  Here's the fun part:  they were Mennonites, wearing traditional garb!  (Like this.)  Guess they've had a lot of time to practice while waiting for the crops to come in.
Speaking of crops:  Trish and Greg's house is in some of the world's greatest farmland, and although we visited a little after the summer peak, Trish's garden was overflowing.   There were more tomatoes than any set of humans can eat, and Trish provided us with (required we take) a pint of some good ones when we left.  She also had approximately one gazillion jars of delicious homemade pickles in the fridge, which we were happy to help eat.
Their toddler-age daughter Kyla is following in her mother's culinary footsteps, and at the time of our visit was baking a "cake" in the living room.  Sure, it was made of straws and popsicle sticks, but we're confident the cake is going to turn out great.  At least once it's finished baking – Kyla had been preventing anyone from touching it, or even going near it, for the previous several months.
Side note: the cake is in the exact center of the living room.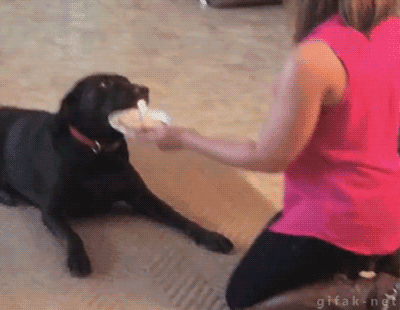 Four Score and Several Months Ago
We didn't have much time to spend in the Dover area, but we did take a short drive down to Gettysburg, Pennsylvania, to explore some history for a day.  We really enjoyed it.  The new national museum at Gettysburg is a top-notch facility, featuring a gajillion artifacts from the battle, along with a film narrated by Morgan Freeman.  He should really narrate everything.
Our favorite part was the "Cyclorama" – a gigantic, 360-degree painting of the Battle of Gettysburg.  You stand inside of the Cyclorama on a raised platform, while they make sound effects and flashing lights to simulate musket fire.  It sounds much cheesier than it is.  The painting is beautiful, and tremendously, extraordinarily detailed; it's the sort of thing you can stare at for a month and still find something new.
Apparently this style of painting used to be all the rage in the late 1800s, before there were movies and television sets and iPads.  On the one hand, it's hard not to feel a certain nostalgia for the "simpler" days of giant circular paintings that take four years to create; on the other hand, you can't even play Angry Birds on it, so, you know.  Kind of useless.
We also enjoyed the museum itself.  It was full of lots of interesting quotations, many along the lines of, "Yes, the Civil War was in fact about slavery."  The negative reviews of the Gettysburg Address were also pretty entertaining:
We also drove around the town and Gettysburg battlefield.  It's definitely cool to stand in the same fields and hills where the battle took place, and the battlefield is absolutely studded with monuments to every group that fought there, both Union and Confederate.  There is something hard to capture about the experience.  "Pickett's Charge" is famous as a heroic, doomed infantry march, but we couldn't really understand it until we stood where it happened.
Turns out the Confederate army just walked across a mile-long, empty field, directly into the teeth of Union defenses and cannon fire.  "Charge" is misleading, since they weren't even running (!), and it worked out about as well as you might expect.  Which is to say, the Confederate army was utterly crushed.
Next time, maybe a light jog would be in order?
LAST BITS
What's next:  Currently, we are still at Jake's mom's house in El Paso, Texas.  We replaced the floor of our RV! We're working on the counters, faucets, and sinks next.
Obligatory social media self-promotion:  If you want to follow along and you haven't yet, please Like us on Facebook and/or follow us on Twitter (@NothingMundane) and/or Instagram (NothingMundane) to make sure you get all the updates.  It's a win-win-win.
Shamefully missed a prior post?  We made a list of the most recent ones, just for you.