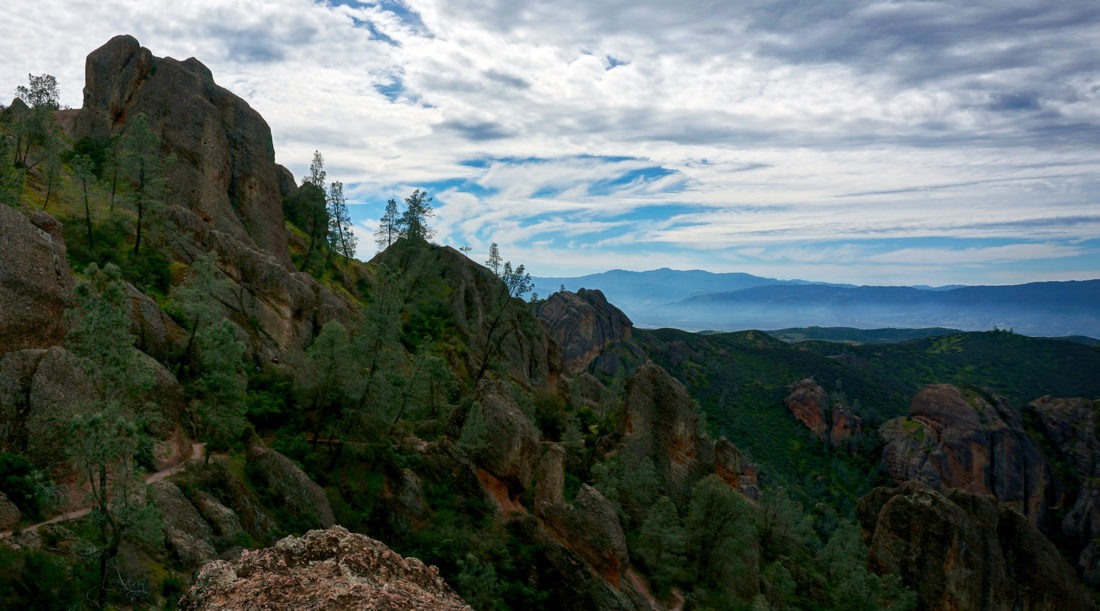 After a wet week in Morro Bay, we headed up the California coast on Highway 101.  Our destination was the 59th and newest national park, a place that most people probably haven't even heard of: Pinnacles National Park.
Spoiler alert:  It's awesome.
Exactly Like The Stone Age
Pinnacles is more or less in the center of California, fairly close to a lot of population centers, but it felt very remote.  Highway 101 is about a half-hour away, connected by beautiful, curvy roads that might have been our favorite RV driving of the entire trip.  Our campground at the park had electric hookups, which is somewhat rare and very welcome for a National Park, and it was spacious and empty.
The one drawback – if it is a drawback – is that Pinnacles has no cell service whatsoever.  We've stayed in some fairly remote places, but the Internet blackout at Pinnacles was the most complete yet.  Even Death Valley and Big Bend had service sometimes.  The lack of Internet terrified us at first, but to be honest, it was actually kind of nice.  It's so rare to be able to silence the outside world completely, and we found that not having the Internet as a time-waster made us incredibly productive.
In three days, we wrote six blog posts, deep-cleaned our living space, made a video tour of our RV, and went on two mind-blowing hikes.  Incidentally, we got about 95% of the way through editing that video tour, but then we got our Internet back, and never finished.  There is probably a lesson to be learn-
ooh, Facebook notification!  Better check that out.
To The Batcave!
The primary thing to do at Pinnacles is hike.  The park area is fairly small, so unlike most of the national parks we have visited, we actually got to see most of it.  On our first day, we hiked down to some talus caves, which are essentially canyons that have been roofed over, incompletely, by boulders.  While some sunlight enters the caves through cracks, other places are completely dark. Bats apparently love them.
The talus caves at Pinnacles blew us away.  They were too dark for good pictures, so here's what it was like: we were completely alone inside the caves (it was a weekday afternoon), hiking over and through a swollen stream that ran down the center of the trail.  The dim, inconsistent sunlight, along with our dim, inconsistent flashlights, created dramatic shadows that jumped and flickered as we went deeper into the cave.  We heard – and felt – a roaring waterfall, hidden in the darkness, glimpsed only through the occasional beam of illumination.  It was wet, disorienting, and utterly amazing.
We climbed a narrow metal staircase alongside the waterfall and emerged, blinking, into the sunlight.  The wet and wild caves receded, and we continued on.  Soon, we found ourselves walking an ancient stone stairway, underneath a boulder…
… alongside another waterfall – and yes, it was as awesome as that sounds.
There was a lot more, including beautiful views of a reservoir and some adventurous cliff-side photo-taking, but no need to type it out.  Take a look at the pics below.




















The Pinnacle of Pinnacles
After exploring the talus caves, we figured things couldn't get any better, but we were wrong.  The next day, we embarked on a long hike through the center of Pinnacles National Park, walking the top of a ridgeline for miles.  It was definitely a tough hike, but the views were staggering.
The beginning of the hike switchbacked up a lush mountain trail, where we caught views of the rocky peak that we would soon be hiking along. The sky was ridiculously blue, the grass was super green, and there were pretty wildflowers everywhere.











Eventually we reached the top, and enjoyed views in every direction from the ridgeline.  Continuing on, we came to our favorite part, the High Peaks section.  The trail here featured iron bar ladders, narrow pathways, and tiny, hand-carved stone steps.  These are fun hiking features in general, but on the top of Pinnacles, you navigate them just a few feet from thousands-foot high cliffs.  With the wind blowing like crazy, it definitely got our blood pumping!  But we're all about adventure, and friends, it doesn't get much more adventurous than this.
















Definitely one of our favorite hikes of all time.
Flora and Fauna
Two final things before we sign off.  First, Pinnacles is known as an endangered condor nesting ground / sanctuary, and birdwatchers were extremely common throughout the park, excitedly binocularing the birds soaring around overhead.  That's all fine, but you know what?  We saw about a million condors while on the West Coast, and we saw them absolutely everywhere, except at Pinnacles!  Weird.
Second, there are some really big pinecones at Pinnacles.