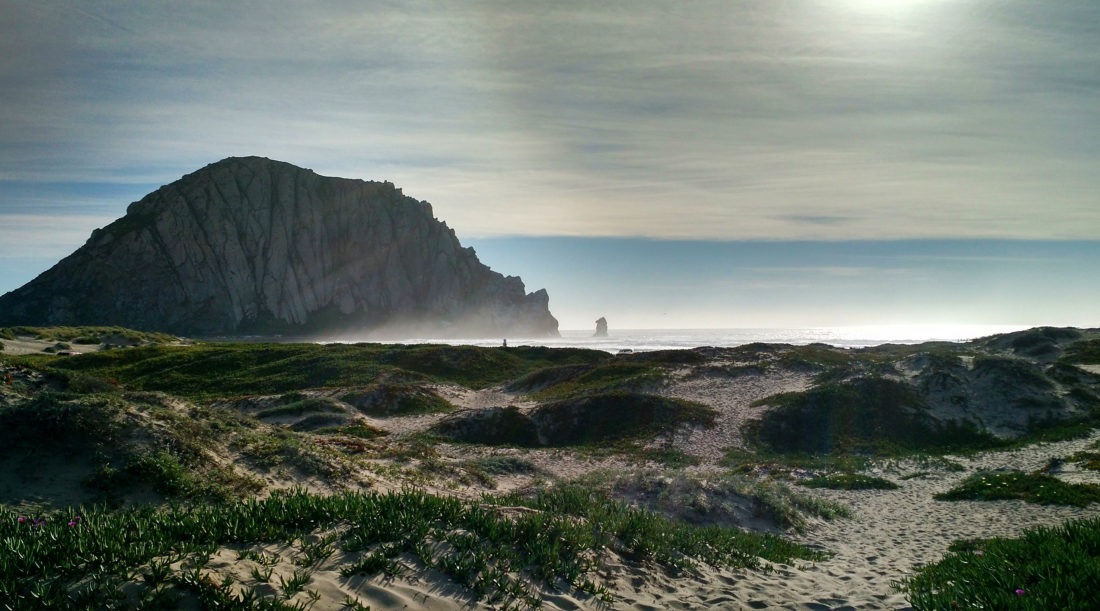 Week 36.1: Morro Bay Rocks
Our visit to Las Vegas was memorable, especially the Valley of Fire, which was a fitting end to our time in the desert (at least for a while).  From Las Vegas, we left early in the morning for the coast of California, 420 miles due west and the longest drive we've taken in our RV.
The trip took about 9 hours, and we passed through an incredible array of landscapes.  The most striking was the Mojave desert, utterly dry – this was the rare desert that is actually just sand.  The interstate highway we were taking then ended, and we continued on single-lane roads into the central California valley, bustling with industrial agriculture.  From there, it was on to the rolling foothills near the coast.   Coming from the desert, we were excited to see grass carpeting the hills, especially since the early spring grass in California is electric green.
We stopped for a brief rest / photo op.  Soon, twisting and turning our way through the hills, we made it to the small town of Morro Bay, and parked our RV in a campground about 100 yards from the beach.  So long, desert!
Rock On
The highlight of Morro Bay is Morro Rock, a volcanic plug that rises strikingly from the Pacific Ocean just off the beach.  It's dominatingly huge in person.  The weather wasn't great while we were there, but the clouds just ended up making the rock look even more magnificent.
As for the town itself, well, Morro Bay is a beach town through and through.  It's probably a lot of fun in the summer, but this was early March, and the weather was gloomy and cold (mid-50s).  So, it would be an understatement to say there wasn't much going on.  The streets were nearly deserted, and while some stores were open, the clerks inside seemed confused by our presence.
At least the sunsets still brought their A-game, tourist season or not.
Morro Bay is close by to San Luis Obispo, a charming college town about 20 minutes away.  We visited for Jake's birthday and enjoyed some great burgers and beers, beautiful scenery, and eclectic shops.  There was a speakeasy-type bar underneath a barber shop, a pretty old mission church, and a fairly horrifying gum wall.  What else could a man want?
News Castle
We were in Morro Bay for a week, but it rained so much we didn't really do all that much.  Our most interesting side-trip was to Hearst Castle, a real-life castle made by William Randolph Hearst from the purchased remnants of European structures.  The view from its many balconies is breathtaking, and the castle itself it beautiful, as are the many surrounding guest houses.
The indoor pool is particularly spectacular. Those are 24-carat gold-infused tiles lining the ceiling, floors and walls.  It's the only way to swim!
Hearst apparently had a constant, unending party at this castle for decades, inviting famous celebrities, athletes, dignitaries, and others to stay and enjoy his legendary hospitality.  It was pretty nifty to sit and watch a short film in the same theater that Charlie Chaplin (and many other famous movie stars) sat in.
Interestingly, after Hearst died, the entire place was closed and then turned into a museum, almost overnight.  Guess he was the literal life of the party.






























The Truest Repairman
We did have one other cool experience while in Morro Bay, of an unlikely type.  We visited a local automotive repair shop for help with an engine issue that had been troubling our Honda Fit since our drive back and forth across the country for the holidays.  Don Truhitte, the mechanic and owner of the shop, was an awesome and knowledgeable guy, but the part replacement he made didn't totally fix our issue.  We don't really blame him, since two other garages also failed to figure it out.  The car was not reporting the root problem correctly in its diagnostics (valve adjustment needed).
Don did ultimately determine that a valve adjustment was needed, but we had to get going to our next stop, so there was no time to do the work.  He felt so bad about not being able to fix it that he discounted our bill considerably.  That was nice!  But then, as we were leaving, he walked over and gave us another $50 in cash – refunding his entire labor charge.  We tried to refuse since he had worked for hours on our car, but Don insisted we take it, even though he knew we were traveling through and would probably never be back to Morro Bay.
Now that is some honest service!  We're still pretty amazed.  Thanks for being one of the good ones, Don.