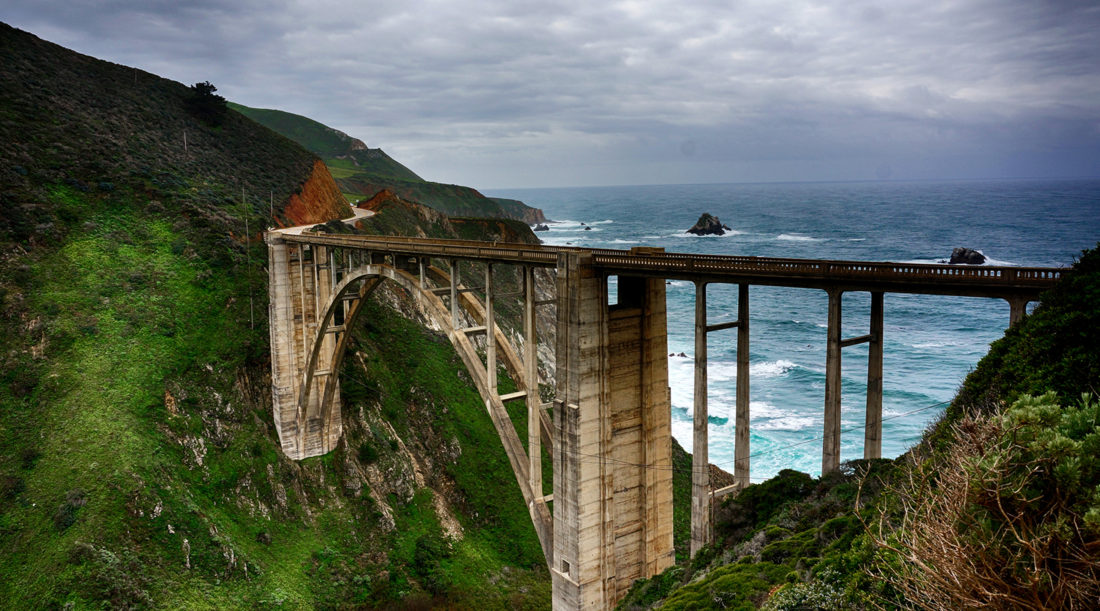 Week 37.1: Cruising on Highway 1
After some exhilarating hiking at Pinnacles National Park, we headed north for a quick stopover in Monterey, California.  The distance wasn't far, but getting there required about fifteen miles driving on Route 1, a scenic highway notorious for its cliff-side curves.  Luckily, the section we drove in the RV was pretty straightforward, an especially fortunate fact given that wind was gusting the entire time.
If you've ever seen the extremely boxy profile of our RV, you might not be surprised to learn that driving it in the wind is a little like piloting a sailboat with an engine.  We battened down our hatches, however, and arrived at Monterey for a weekend that… turned out to be drenched with rain.
We used the one break in the storm for a trip down to Big Sur, described below.  Otherwise, we didn't have a chance to do much sightseeing – the most exciting thing we did in Monterey was get some new hiking gear at REI.  (Worth it!)
Scenic Drive
With our in-town options washed away, we spent our few precious sunlight hours driving down to Big Sur, a heavily forested coastal area accessible only by Route 1.  The term "Big Sur" encompasses several state parks and a national forest, but it is mostly known for spectacular driving, hiking, and coastal views.
We're happy to report that Big Sur did not disappoint.  The stretch of Route 1 we drove on with our RV was pretty milquetoast, wind aside, but the drive from Monterey to Big Sur is anything but.  The road winds its way around gorgeous coastal cliffs, and while it can be quite curvy, it never felt unsafe.  The scenery was more than worth it, with jaw-dropping views of mountains meeting the ocean that are second only to those found in Acadia National Park.












That said, while the bridge is cool, few places on Earth can match the surreal beauty of our next stop.  At McWay Falls, a waterfall drops down 80 feet onto a pristine ocean beach.  Unfortunately, you can't actually get down to the beach, but the view is amazing nonetheless.
Even cooler?  Prior to the land being gifted to the state, people lived in a house where that photo was taken.  Imagine that as your backyard!
We Made A Huge Mistake
Our final destination on Route 1 was Julia Pfeiffer Burns State Park, where we hiked the Ewoldsen Trail.  Recommended by several websites, it was definitely a nice hike, but it turned out to be a lot more, well, grueling than we expected.  We expected a quick four-mile loop, and instead got something like six, with a total elevation gain of more than 2,000 feet – more than the highest hikes at some national parks!














But we made it, and we have the pictures to prove it.  This was our first-ever visit to a redwood forest, and we were amazed at the size of some of the trees.  As we later learned, however, the trees in Big Sur are almost all "new-growth," i.e., cut down by settlers sometime in the 1800s and since regrown.  The really big trees are much, much older; for California redwoods, a 200 year old, 150+ foot tall tree is basically just a baby.
Don't worry.  The adults are coming up soon.