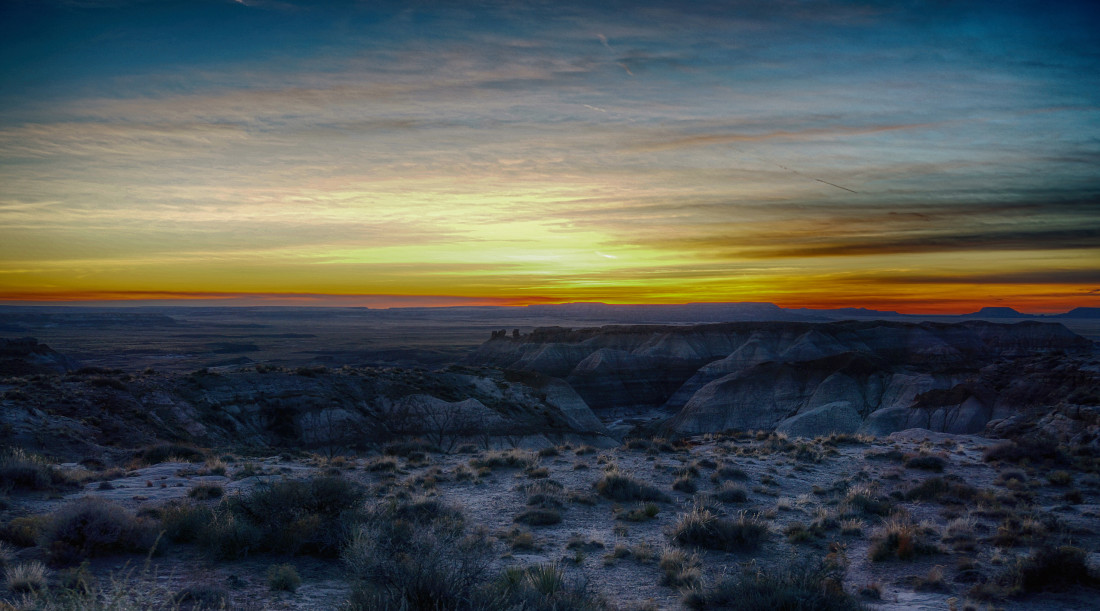 Week 24: A Forest of Stone
One of our goals of our road trip is to see all the cool stuff you always hear about, but rarely get to see.  Lots of people visit the Grand Canyon in their lifetimes, but how many go to Death Valley?  (a million people per year, actually)  Well, a big item on our road trip bucket list was seeing the Petrified Forest in northern Arizona, the next stop on our tour after Albuquerque.  The idea always just amazed us – wood that turned to stone?!
So we checked it out, and we have to say, petrified wood is pretty cool, but it may have been a little too high on our bucket list.  That said, the park has more than just petrified wood, and is definitely worth visiting.
Mmm, Dessert
We entered Petrified Forest National Park off interstate I-40 (easiest national park to get to ever), which started us in the northern half of the park.  This area doesn't have petrified wood; instead, it's a preserved part of Arizona's Painted Desert, a huge stretch of beautifully colored badlands in northern Arizona.  (Badlands is the term for when the area is dry, hilly, and covered with ridges like bunched up fabric.)
The terrain was mostly flat, so we could see for miles in every direction from the overlooks.  With bright colors and numerous striations in an otherwise featureless desert, it was extraordinarily scenic. Reminds us of the surface of Mars (probably).
While exploring the Painted Desert, we stopped at the Painted Desert Inn, which is now owned by the park service and serves as an art gallery.  (It's also home to an extremely lucky artist-in-residence!)  The upper floor features a preserved 1950's style diner that we found pretty groovy.










Downstairs, we found a single room with some cheese and crackers set out.  A lonely-looking volunteer employee told us that the park service was having a party for the whateverth anniversary of the Inn, but it seemed like they forgot to send out any invitations.  (Or maybe it had something to do with being a Tuesday afternoon in December in the empty part of Arizona.)
The volunteer proceeded to talk at us for a while, in a heartfelt but misguided attempt teach us about a local historical figure we have definitely since forgotten.  [Ed. note – we think it was this guy]  We were too polite to interrupt, but we got to eat a lot of cheese while they rambled, so all in all it turned out pretty well.
Mmm, More Dessert
After admiring the scenery in the Painted Desert, we drove back over the interstate to the Petrified Forest proper.  There were some petroglyphs along the way, but we couldn't get any good pictures of them.  Honestly, after Gila, Albuquerque, and Bandelier, we were feeling petroglyphed-out, so we moved on quickly.
The scenery continued to be beautiful, subtly changing from area to area but still maintaining a stark beauty.  We saw the pinks and reds of the Painted Desert shift to blues, purples and grays in the next section of the park, where the ancient Blue Mesa rock formations can be found.












Hard Woods
We soon came to the Petrified Forest.  Cool fact time!  The trees that created this petrified wood fell more than two hundred million years, then became encased in silt and volcanic ash.  Over millions of years, silica leeched into the trees via the groundwater, replacing the organic core with solid rock.  They still look just like wood from the outside, but it's pure stone.
Break off the bark or look from the side, and you can see that the rings have been fully replaced, sometimes with dazzling colors.  Interestingly, the crystalline structure of petrified wood causes it to cleanly break apart into round sections.  Although it's the hand of nature, it looks for all the world like two people with an old-timey saw went through and cut it into pieces!
Petrified Forest National Park features a huge variety of petrified wood, although it's not the only place it can be found.  In fact, there used to be much more wood at the Petrified Forest, but people have been stealing it for over a century.  Luckily, plenty remains, including some really huge pieces that would be rather… difficult to acquire.  The largest weighs 44 tons.
















As a final note, you may have noticed a lot of crow pictures in the galleries.  Well, aside from being easy to photograph, crows were everywhere in the park, and not remotely afraid of humans.  Crows: the squirrels of the desert?
Extra Credit
While visiting Petrified Forest National Park, we stayed in Holbrook, Arizona.  The RV park was fine, although a little odd.  The attendant was friendly, and we definitely were taken care of hookup-wise, since each spot had row after row of sewer connections.  This is pretty weird because we really could only ever use 1; it felt a little like getting 20 calculators to "help" take a math test.