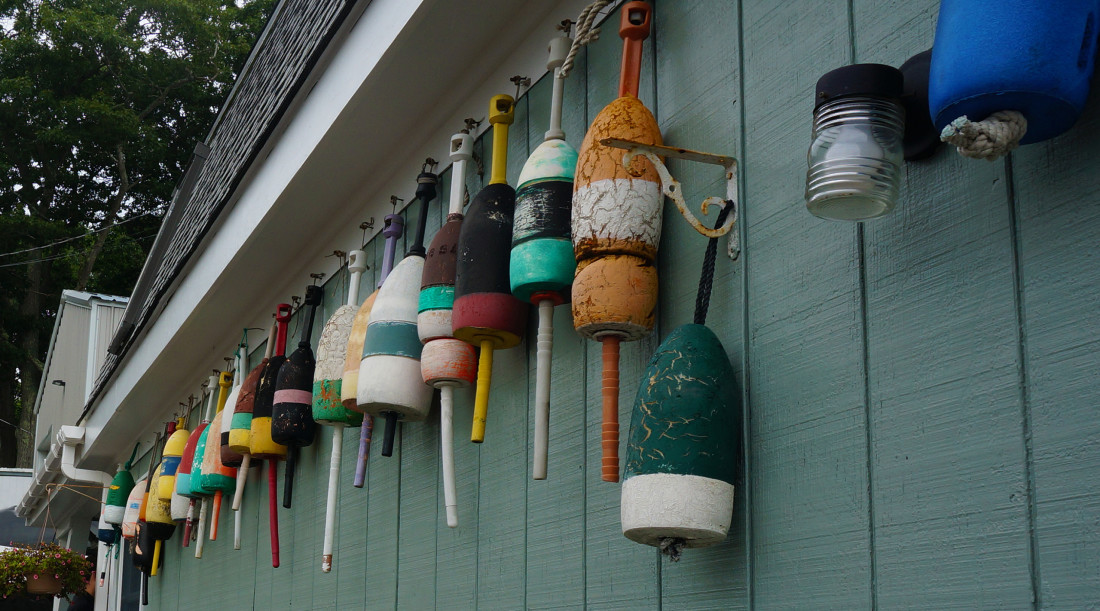 Week 8.1: Maine, Part 1
Hey friends!  We are writing this from Austin, Texas, which is pretty entertaining since the blog post is about Maine.  We may be slightly behind on our writing. Since our adventures in Maine, we have driven the RV something like 3,000 miles.  The RV gets an extremely efficient 7.5 mpg, so the gas cost was… not something we are going to calculate.  It's been pretty busy, at least for people who don't have jobs.
While we may be behind on our blog posts, there is no need to fear, dear reader.  We are still committed to delivering high-quality, low-punctuality travel blogging. We were just feeling a little burned out.  Like Jack Donaghy, we needed a vacation from our vacation.  (We're sure your sympathy levels are high.)  Luckily, we've now crossed off the one and only item on our schedule – the lovely wedding of Danny and Rose! So now we are about to slow our roll.  The many, many people who have told us to write more blog posts can expect a slight uptick in blogging productivity as a result.
OK, enough from Texas.  Back to Maine.
Tired Out
So there I was (I = Jake), driving from Massachusetts to Maine in the motor home all by myself.  Heather drove behind me in our car, since we didn't have the towing equipment for our car yet.  We had just sailed through New Hampshire and crossed into Maine, and I was blasting out some tunes, as four hours of being cut off by Massholes that have no idea I could COMPLETELY CRUSH THEIR CAR takes its toll.  At some point, the back right tire of the RV goes flat, and I am completely oblivious.  Note there are two rear tires on each side of the RV, so it's not as obvious one is flat as it would be in a car.
Of course, the flat is obvious to Heather, as she can see all of this happening.  She flicks her lights at me, but it was the middle of the day, and I can't really see behind me anyway.  She honks, but my windows are closed, and please see above re: tune-blasting.  She calls several times, but my phone is on vibrate and does not alert me.  This could be bad.
Luckily, I happened to decide at this moment pull off at a rest stop. Heather thought I finally caught one of her signals, but I just wanted to get some lunch.  Specifically Popeye's, which usually makes me instantly regret my life choices.  But not this time!  Like an extremely salty fried chicken lighthouse, Popeye's guided me to safety before any serious damage was done.  
Then we had this conversation:
Me, hopping out of the RV:  "Hey, looks like the tire is flat.  Why didn't you tell me??"
Heather:
The tire was destroyed, but we had a spare.  However, it turned out the spare was unremovable, even by the roadside assistance guy, since it had essentially rusted to the frame of the motorhome.  So we carefully drove over to a nearby tire place, and we learned that the spare was the original spare tire from June 2001.
Since I prefer my spare tires to be a little newer than the date of my high school graduation, we ended up with two new tires.  We purchased the "unnecessary extended warranty" on these under the theory that Murphy's Law guarantees they will now never, ever have issues – so far, so good.
On to the Brown Compound!
Brown Compound
Our flat tire adventure set us back a few hours, but we made it to our destination, the Brown Compound, just after the sun had set.  We were headed to the main house, which is on a private road off of a semi-remote cul-de-sac, with only handmade signs to mark the correct road.  Being idiots, we of course drove down a road that "felt right" rather than bothering to read all the signs with a flashlight.  This decision worked out beautifully, assuming "beautifully" means "frantically and repeatedly turning around an RV in a narrow forest road owned by strangers in the dark."  Which, come to think of it, it usually does not.
The Brown Compound is so called (informally) because our friends and their family, the Browns, own a group of summer houses in the area right next to one another.  The legend goes that the first and biggest house was won in a classic fiddle duel with the devil.  The rest were won in a less-classic recorder duel with the devil's young nephew, but hey, fair is fair.  Of course, we made all of that up, but they're pretty sweet legends, so think about it, Browns!
Anyway, we had a great time hanging out at the Compound, and the Browns were fantastic hosts.  It was our first time sleeping in a real bed since we started our trip, and we even got some surprisingly good cheesesteaks from a man in a trailer at the end of their road.  (Not as shady as it sounds.)  We played shuffleboard, which was possibly improved by the fact that their dog Reggie kept trying to bite the pucks as we slid them – only got hit once! – and Jake even made friends with a dragonfly.
The highlight of the visit was heading out on the Browns' boat, Todaro, which to our knowledge has no devil-related acquisition backstory.  Captain Rhea and First Mate Dan were steady hands at the helm, and we saw live lobsters in a tank, followed by about a million seals on the aptly-named "Seal Island."
We finished the outing off with some lobstah rolls overlooking the bay.  It's the kind of day that we could happily repeat many times, especially since we didn't pay for any of the gasoline for the trip.
Oh, and we also saw this amazingly-named boat.
It was a great time with the Browns.  Thanks guys!!
Re-Maine-der
Sorry about that pun.  Not to make promises we don't intend on keeping, although that is exactly what this is, we promise our post covering the rest of Maine will be available soon.  It is mostly just about Acadia, but there will also be Chipotle and a giant boot, so please be prepared appropriately.
Last Bits
What's next:  Currently, we are in Austin, Texas, keeping weird and working on shamefully old blog posts.  Next up:  Big Bend National Park, Texas.
Obligatory social media self-promotion:  If you want to follow along and you haven't yet, please Like us on Facebook and/or follow us on Twitter (@NothingMundane) and/or Instagram (NothingMundane) to make sure you get all the updates.  Do you hear us?  All.
Shamefully missed a prior post?  You can check them out below; Candy Crush will wait.