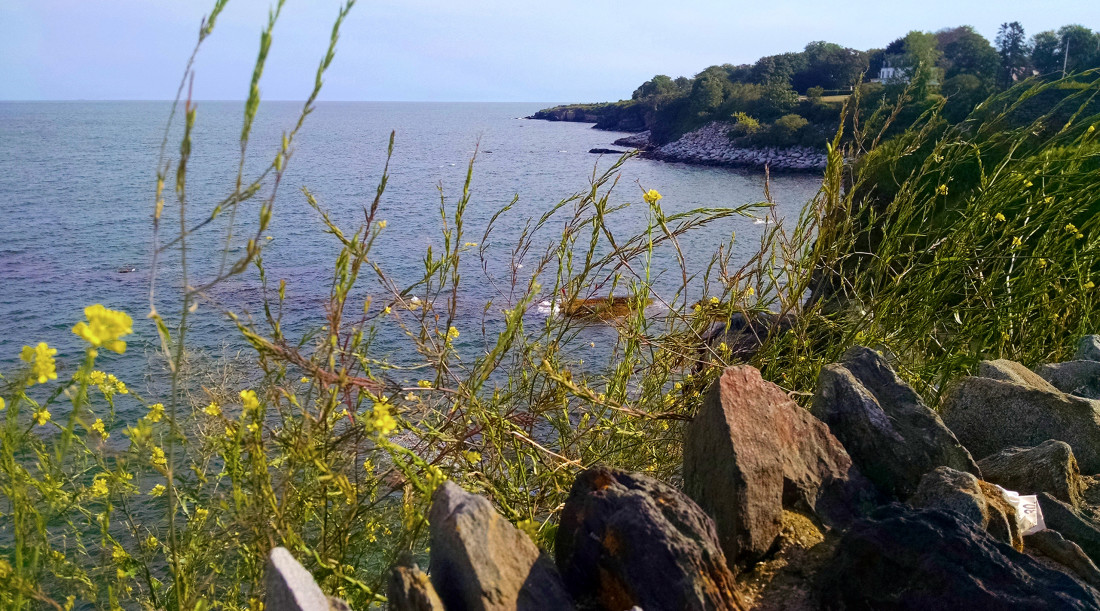 Week 6: Road Through Rhode Island
Cast your mind back to the halcyon days of early August.  Everything was different then; the summer still stretched before us, Labor Day just the fevered nightmare of students and wearers of white.  Geno Smith hadn't yet been punched in the jaw by his own teammate, and Zimbabwe had not yet defeated New Zealand by seven wickets in Harare, which is an actual headline we found (six balls to spare!).  Donald Trump was somehow a viable presidential candidate… well, never mind that one.
But we at Nothing Mundane did not yet have a car.  And now we do!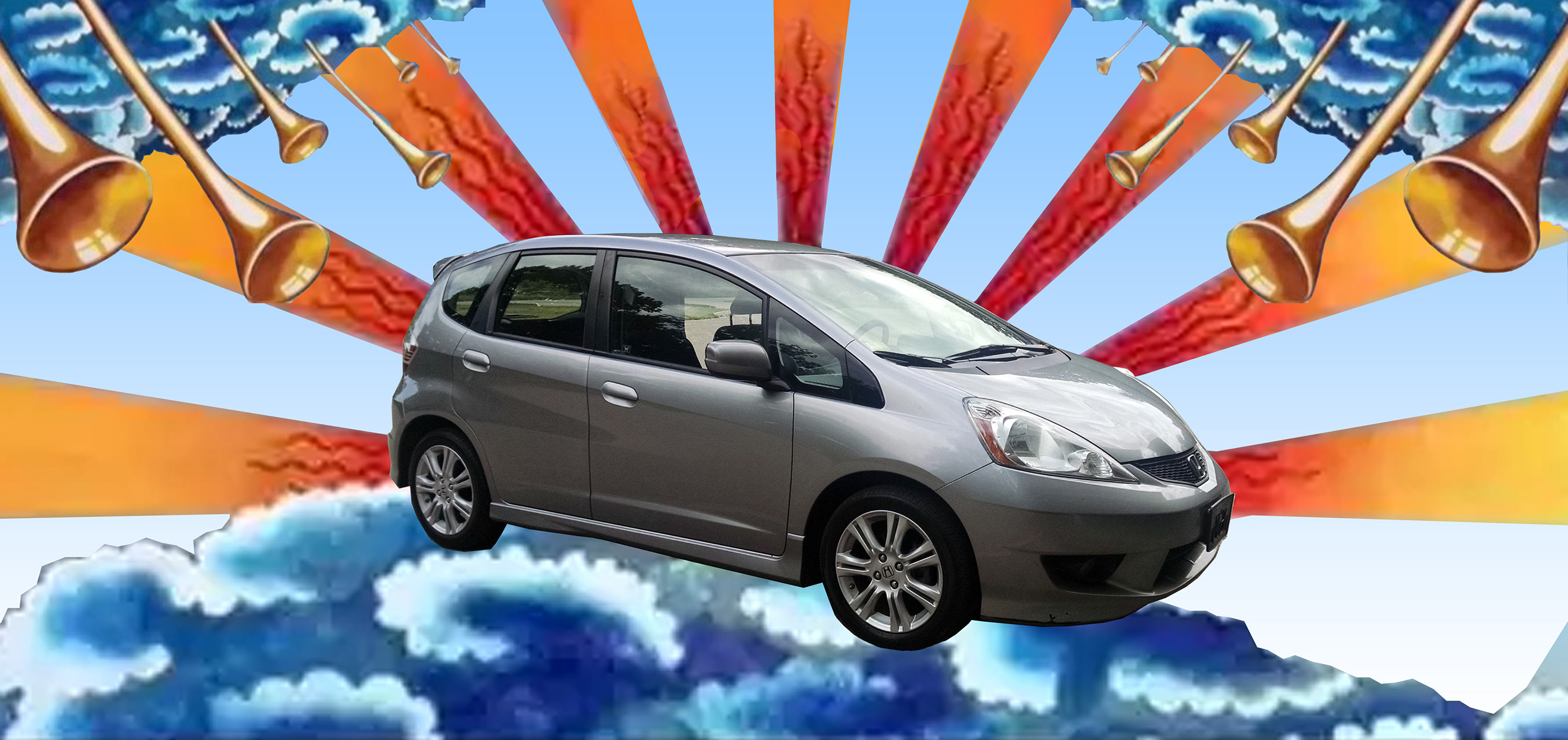 Yes, in early August while staying in Rhode Island, we successfully purchased a used 2010 Honda Fit, which is tiny, hopefully trustworthy, and eminently towable behind our RV.  It's been a huge improvement over our previous world, in which we had to drive our thirty-one foot motorhome over questionable roads into unfamiliar small towns in order to do basically anything.  This would typically involve a lot of hopped curbs, panicked 27-point turns in the middle of busy intersections, and our nemesis:  speed bumps.
Ever gone over a speed bump with your house?  Everything sounds like it's going to break:  dishes, glassware, the crystal chandelier decorated with razor blades which dangles directly over us while we drive.  It can be a little nerve-wracking.
But now, those days are (mostly) over, thanks to our glorious new (extremely used) car!  Wonder what we did with it…
Providence
So glad you asked.  The first thing we did after getting the car was drive to nearby Providence, Rhode Island.  Providence turned out to be pretty unexciting, except that the roads are insane and were entirely under construction, which was a fun test for our brand new (extremely used) car.  We walked around the campus at Brown (motto:  "the grandfathered Ivy") and ate some crepes, but didn't end up with much in the way of pictures or stories.  We did spot this very strange sculpture which we rather enjoyed, though.
Next up was the Newport Cliff Walk, which is a semi-famous path along the ocean in Newport, Rhode Island with nice views and large houses.  Newport is in southern Rhode Island while Providence is more northern Rhode Island, so it took upwards of forty-five minutes to drive there.  In Rhode Island, that qualifies as a road trip all by itself!  (Just some trash talk from a Connecticut native)

We saw these warning signs all over.  We took their meaning to be "Caution:  Do not jump off of the cliff while decapitating yourself," which really threw our afternoon plans for a loop.
There were a lot of old and pretty houses along the cliff walk, along with a lot of hedges hiding said houses.  We especially enjoyed the the blue and yellow construction wrapping on the house in the picture above, and felt pretty clever for making jokes about an Ikea being built there, until about 3 other groups of people passing by did the same thing.
Maybe they were semi-professional travel jokesters too?  Yeah, most likely that's what it is.
The Fantastic Umbrella Factory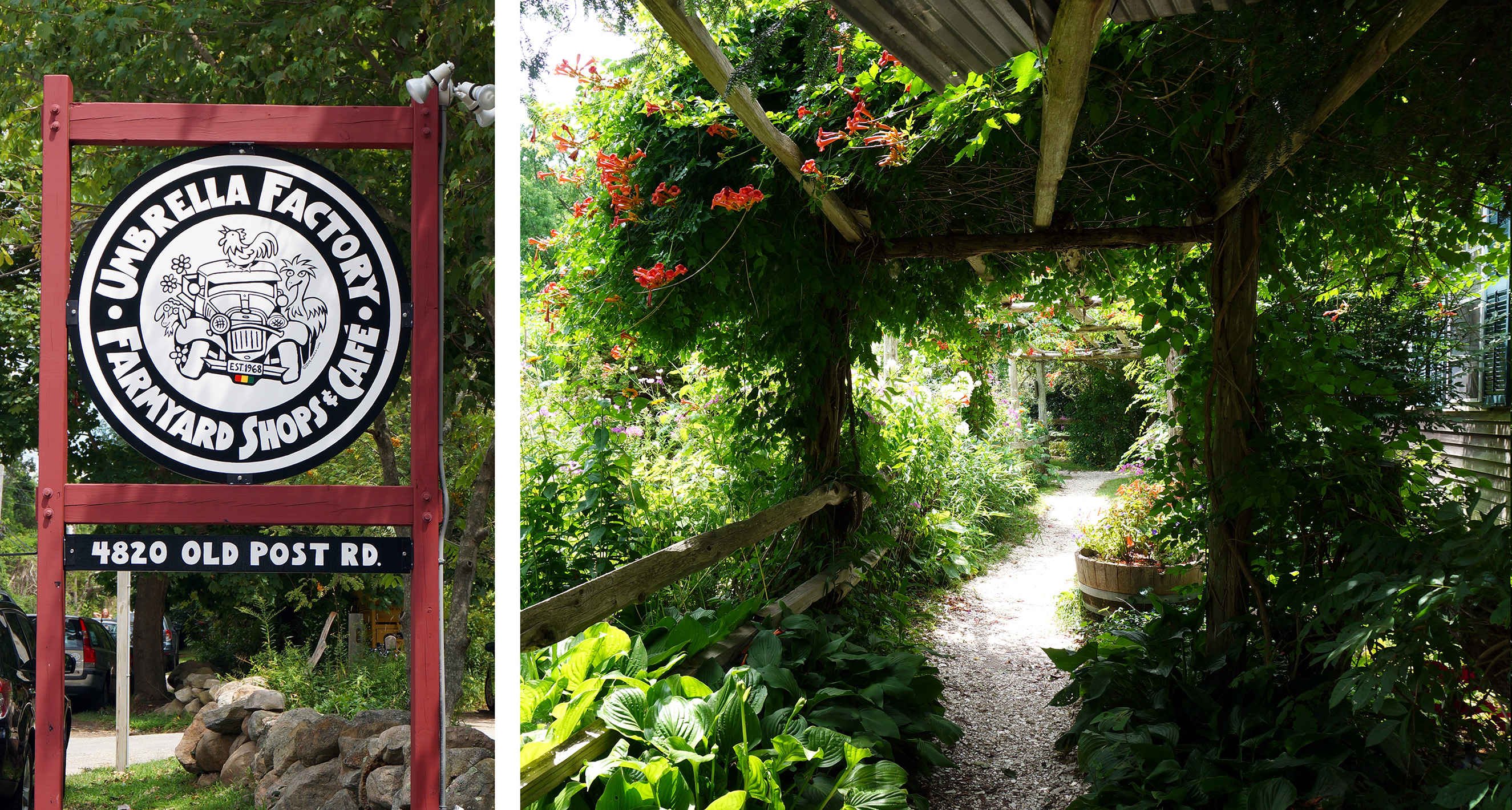 Our final stop in Rhode Island was the Fantastic Umbrella Factory, which confusingly is not a factory and which does not sell umbrellas.  But it is pretty fantastic!  The FUF, as we'll call it to save a tiny amount of time, is basically a hippie bazaar / petting zoo: it features a great cafe, cool gardens, chickens and rooster and goats and emus, a bamboo forest, and lots of tie-dye.
My Big Lebowski Vitruvian Man shirt totally played at the FUF, which may give you a sense of the kind of place it was.  We also got to see a pretty impressive rooster that seemed to have some peacock in its blood.  The pictures don't quite do it justice – it sort of looks like it's getting turned down by the other chickens here, but trust us, this rooster was the cock of the walk.
It's a pretty small state, so that's all we've got for Rhode Island.  If you're interested, see below for a few more pictures of the weird and cool world of the Fantastic Umbrella Factory.
What's next:  Currently, we are in southern Pennsylvania, seeing some friends and hoping to tour Gettysburg tomorrow.  Next up:  friends and fatcats in Washington, D.C.
Obligatory social media self-promotion:  If you want to follow along and you haven't yet, please Like us on Facebook and/or follow us on Twitter (@NothingMundane) and/or Instagram (NothingMundane) to make sure you get all the updates.  They're essentially non-toxic!
Shamefully missed a prior update?  You can catch up below; we'll keep your dirty secret in the meantime.