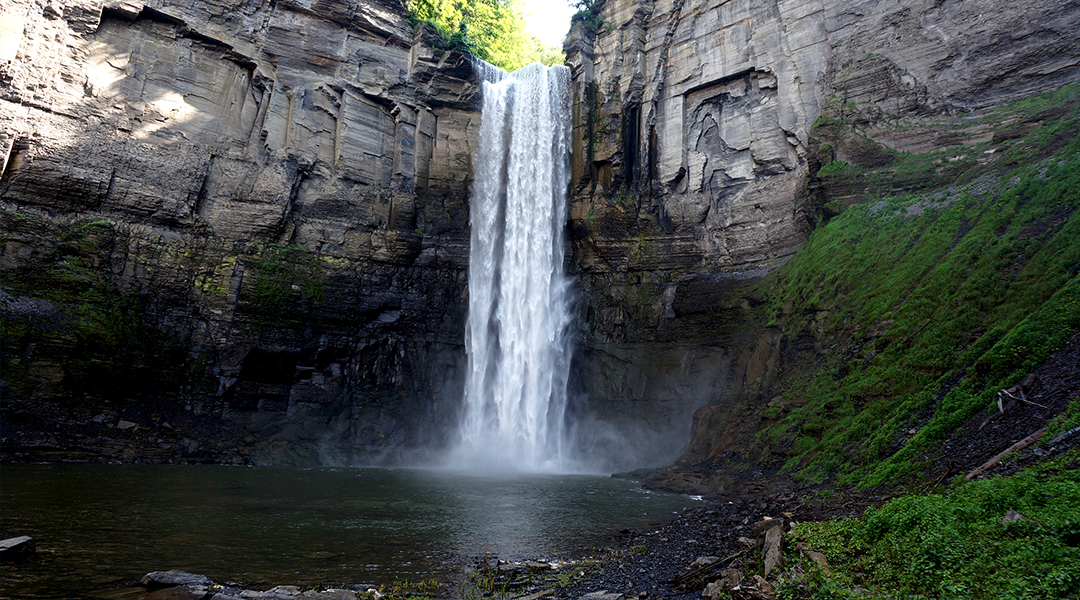 Week 2: Ithaca is Gorges
After the numerous short stays we wrote about in our week 1 (ish) travelogue, we decided to try to spend a full week in one location in order to reduce the number of times we had to drive our RV.  We headed to Ithaca, New York, a place where we lived from 2005-2008 while Heather got her Masters in Architecture from Cornell (ever heard of it?).  We loved living in Ithaca, especially during the summers, and our wedding was at the Ithaca Farmers' Market in Fall 2011.
A lot has changed in Ithaca – R.I.P., Chapter House and Ithaca Commons – but the Farmer's Market is still there.  The last time we were there we were dressed a tad more formally, but aside from our clothing, it looked pretty much the same.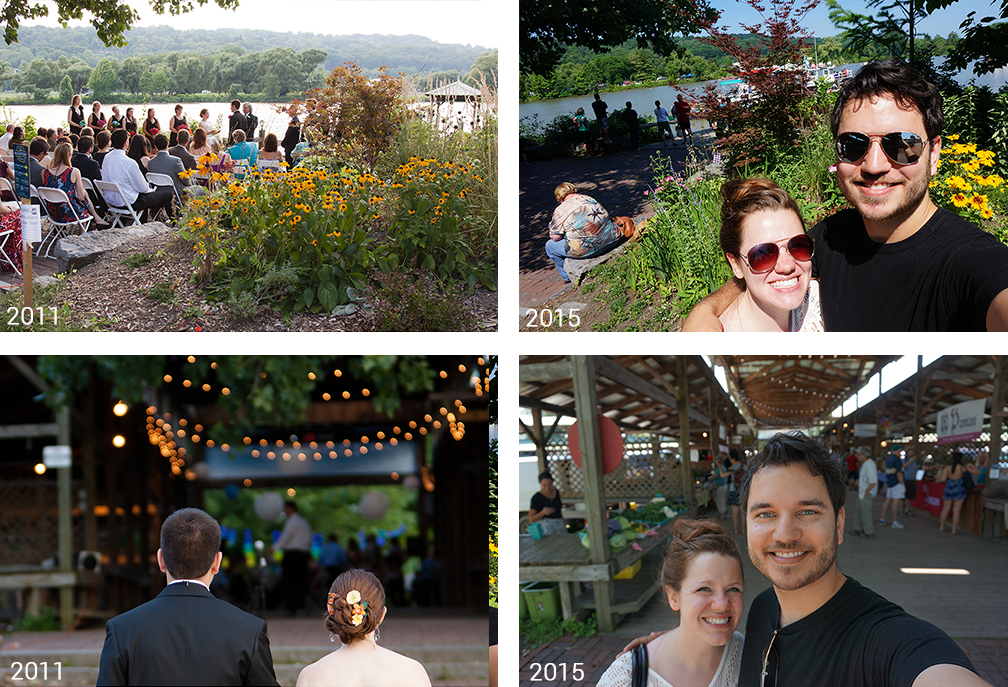 We spent the week staying at Taughannock Falls State Park, bookended by visits to a nearby commercial camping site.  State parks are cool and very cheap, but they usually have minimal hookups – Taughannock actually had an electric hookup, so we didn't have to run off the batteries, but there was no permanent water or sewage access.  There are different ways to deal with this, but our approach so far has just been to stay at a commercial RV park from time to time to replenish some tanks and, umm, dump the others.  Traveling in an RV is glamorous!
Taughannock Falls
Taughannock Falls was very pretty, and we did both the gorge trail and rim trail.  According to Wikipedia (always a good start to a sentence), the Falls are "the tallest single-drop waterfall east of the Rocky Mountains."  The last time we were here we thought it was a little puny – too much length, not enough girth (nudge nudge) – but there has been a ton of rain in Ithaca lately so it was looking quite swollen.
We hiked for two days in this area and took a ton of pictures.  We also have a new gallery add-on on our website to show them off – let us know what you think!
Ithaca Falls
We also stopped by Ithaca Falls, a criminally underrated waterfall very near the Cornell campus.  As we said, there has been a lot of rain lately, so the Falls looked spectacular.  We took some wedding photos here four years ago, so we've got a comparison shot that illustrates it pretty well:
Cascadilla Gorge
Since we were on a tour of our previous wedding photos locations, we also stopped at the bottom of Cascadilla Gorge, which has a cool trail that runs from Cornell into town. Let's compare with four years ago!
Being in Ithaca for the week was a lot of fun, and we loved seeing some old haunts and familiar faces.  Right now we're in Watkins Glen State Park, which is a truly beautiful and unique place where we took SO MANY more pictures.  We hope you like waterfalls!