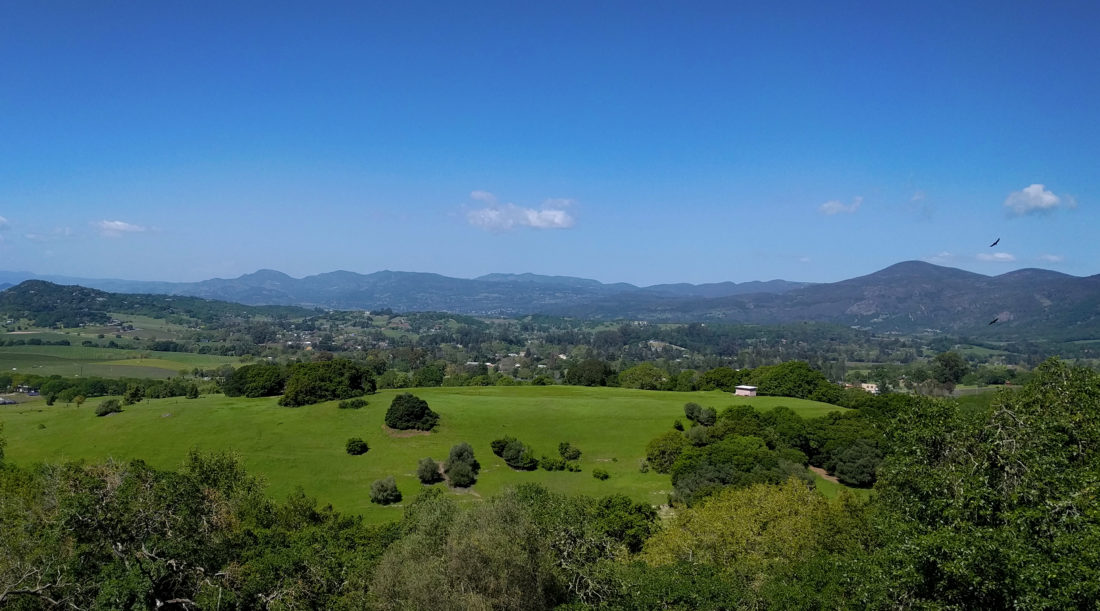 After exploring the breathtaking Yosemite National Park, we drove back northwest to Napa, California, and its famous wine country.  We're not the biggest wine people, but we definitely enjoyed the beautiful countryside, and we had a few unexpected adventures along the way.
Bay Area Redux
Napa sits just north of San Francisco, and we realized once we got to Napa that we were as close to the Bay Area as we had been at our previous campground.  So, we made another trip into the city, where Jake had lunch with some former co-workers, and Heather ate by herself (her choice) at the amusingly-named "Breaking Bread."  Afterwards, we drove across the Golden Gate Bridge, and tried to visit the Muir Woods redwood grove – but even on a random weekday afternoon, it was too full for us to park or enter.
Bummer!  You'll have to wait until our next blog post for redwoods, but we did film a hyperlapse video of driving across the Golden Gate Bridge. As nifty as it is black-barred!
Muir Woods was a bust, but we had better luck visiting Berkeley, California, where we wandered around the downtown area and grabbed some pizza from the locally-famous Cheese Board Collective.  We really enjoyed Berkeley – we're suckers for hippie college towns – and the University of California-Berkeley campus was even prettier than we'd hoped it would be.










The Gothic Castle
As we mentioned, we aren't particularly savvy wine-drinkers – our analysis is usually something along the lines of "hmm, tastes like wine" – but considering we were in Napa, we had to check out a winery.  Jake's former co-worker Liz drove up from San Francisco to hang out, and we headed to Castello di Amorosa, an insanely authentic medieval castle that doubles as a winery.












We're not kidding when we say "authentic."  This castle is the real deal.  The details are pretty mind-blowing – here's Wikipedia:
"Key details and building techniques are architecturally faithful to the 12th and 13th century time period. Among many other features it has: a moat; a drawbridge; defensive towers; an interior courtyard; a torture chamber; a chapel/church; a knights' chamber; and a 72 by 30 feet (9.1 m) great hall with a 22-foot (6.7 m)-high coffered ceiling.

The torture chamber has an authentic 300-year-old iron maiden which Sattui states he bought for $13,000 in Pienza, Italy, a replica rack, prison chambers and other torture devices. The great hall features frescoes painted by two Italian artists who took about a year and a half to complete and showcases a 500-year-old fireplace.

The masonry, ironwork and woodwork was fashioned by hand using old world crafting techniques. Building materials included 8,000 tons of locally quarried stone, in addition to paving stones, terra cotta roofing tiles and some 850,000 bricks imported from Europe. Extending into the hillside adjacent to the castle lies a labyrinth of caves some 900 feet (270 m) in length. Beneath the castle are a 2-acre (8,100 m2) barrel cellar and tasting rooms where visitors can sample the wines-all sold only at the Castle."
OK, it might be a tourist trap, but who cares?  It's awesome and preposterous, the wine tasted like wine, and our server hooked us up with a free tasting of their expensive reserves.
Which also tasted like wine.
Blows, Goats
Speaking of tourist traps, after visiting the castle we stopped at the "Old Faithful Geyser of California."  The name is a little aspirational – it does indeed have a geyser that blows regularly, but the volume can't compare to the real Old Faithful.  Can't blame them for trying, though, and the high-class cabanas they scattered around the geyser were a nice attempt.  That said, we don't foresee "bottles, models, and blow" becoming a popular combination anytime soon.
Wait a second…
If we're being honest, we only really stopped at the geyser because they also have a petting zoo with fainting goats, which freeze up and fall over when scared.  But it was pretty anticlimactic in person – we've seen videos that make them look adorable and easy-to-seize, but these goats definitely weren't like that.  The adults mostly ignored our attempts to startle them; the babies would freeze, but mostly at random, and it was more disturbing than cute.  At least there were also some crazy rams, and we did enjoy the "guard llama" keeping watch over its flock.








Medieval Napa
The town of Napa is charming, with lots of classy shops and good food, although it's extremely upscale.  We first visited the Oxbow Public Market for some beer, tacos, and fancy-people-watching.  The number of polo shirts was out of control.  Next, we headed to the nearby town of Yountville, which is even fancier.  Our destination was Addendum, the "cheap" fried chicken stand attached to Ad Hoc, a restaurant operated by the famed Thomas Keller (French Laundry, Per Se).  Boxed fried chicken lunches were a mere $16.50 apiece, and we want to be angry about that, but we can't because they were SO FREAKING AMAZINGLY GOOD.
We also spent a lot of time in our campground, Skyline Wilderness Park, which used to be a mental health asylum but has now been converted into a lovely park.  It's huge and has an impressive collection of hiking trails, along with a beautiful native plant garden.  Astonishingly, the entire park has been run by volunteers since the 1970s.  It's genuinely cool to see people so dedicated to nature and their community.










While we were staying at Skyline in their little RV park, we noticed a huge festival in the grassy field next door.  Turned out that the "March Crown" festival was being held at Skyline.  It's basically a giant medieval style tournament, complete with swords, bows, armor, and a royal court – just like in the movie Role Models.
We walked over, expecting a Medieval Times-style festival, but this was a gathering of people deep into the life – there were no turkey legs to be had, unless you brought your own.  We were too late for the fighting, so there wasn't much to do, and we felt a little uncomfortable just walking around and gawking at everyone in their medieval getups.  It might not be our thing, but it's hard not to respect the level of effort people put in, and besides, who are we to judge someone else's hobby when we live in a big metal box?
So we quietly left, and felt thankful we weren't camping out in plate mail.