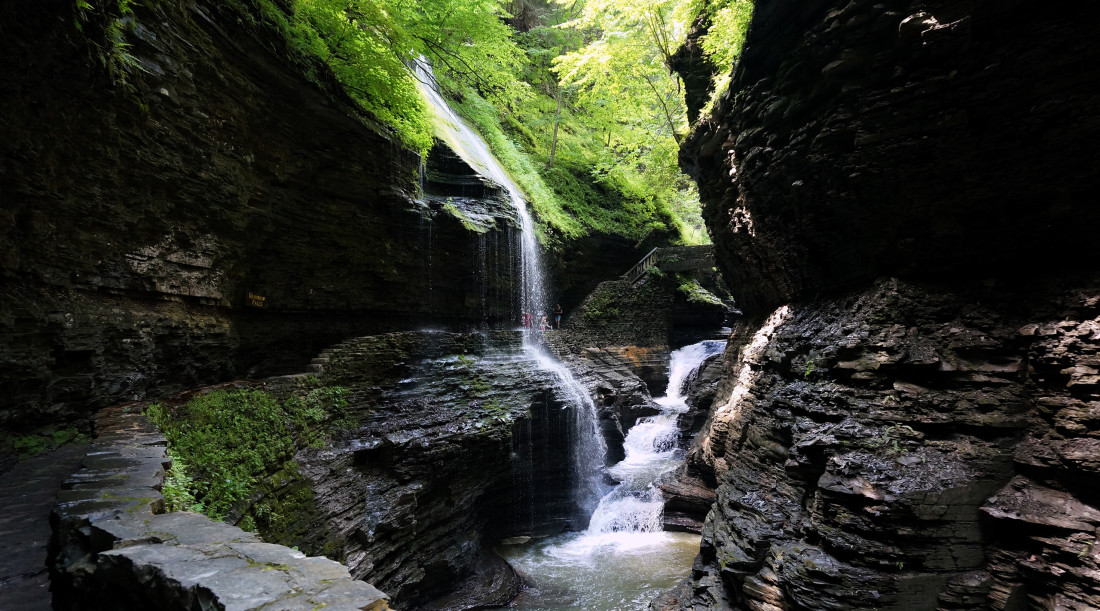 To start off Week 3 of our roadtrip, we spent 3 nights camping at Watkins Glen State Park.  Watkins Glen is a jewel of a park located about 30 miles west of Ithaca, NY, where we stayed in Week 2.  It is rated #3 on USA Today's list of Best State Parks in the United States, and it totally rocks.
Watkins Glen seems like the sort of park that hobbits would build, with a hiking trail that wanders through a beautiful, steep-sided gorge, handcut stone walls and bridges, sparkling waterfalls, and even a lily pond.  The trail is cut into the walls of the gorge itself, and it goes much closer to the water than you normally can at these kinds of parks.  Possibly this is because the park was first built in the 1860s, before we had the word "safety."  (As you will see in our photos, the park also features what can only be described as a "pre-ADA number of stairs.")
Whatever the reason, the park is frankly breathtaking.  Rather than try to describe it further, just look below at some of the many, many pictures "we" (OK, Heather) took at the park.  There are captions on some of them if you click through the gallery.  Keep reading after the gallery for a few bonus pictures and some shameless self promotion.
Bonus stuff:  The campground at Watkins Glen State Park was fantastic, with generous camping sites nestled beneath gigantic trees.  Our neighbors were slightly insane, but aside from that, it was as good as it gets.
On our last night in Watkins Glen, a huge thunderstorm was forecast to hit us dead-on, but luckily just missed to the south.  This was good, since the lightning we could see from our window was enough to scare anyone.
Following the storm, the sky – which, at 6 o'clock on a bright summer day, had gone almost as dark as night – lightened into an amazing sunset.  Heather endured many, many mosquito bites to photograph it for you, so be sure to feel appropriately appreciative.
What's next:  We've had a few adventures since Watkins Glen which we're going to write about separately, including trips to a ridiculously cool sculpture park and Lake George.  Currently, we are in Connecticut near Black Rock State Park, where it is rocky and extremely hot.  Later this week, we're traveling to Hammonasset State Park to get our beach on.
Obligatory social media self-promotion:  If you want to follow along and you haven't yet, please Like us on Facebook and/or follow us on Twitter (@NothingMundane) and/or Instagram (NothingMundane) to make sure you get all the updates.  If you like what you see, we would be very grateful if you could tell your friends and online advertising buyers about us.
If we get ten more followers, we'll buy one of you a puppy!  So, please check for packages regularly.